Chrissy Metz, This Is Us star Chrissy Metz has longed to become a country music star for years. Now the actress is succeeding, with her new country music song, "Go Girl," getting rave reviews.
Learn how Chrissy grew up loving country music, how she feels about her achievements in this genre so far, and what Metz dreams of accomplishing as a country singer.
Chrissy Metz: This Is Us Star Goes Country, Girl!
For Chrissy, music has become a way to express her feelings and explore a talent that's at once separated from and merged with her role as Kate on This Is Us. And the contrast between Metz and her character is somewhat ironic.
The writers and producers of This Is Us have moved Kate's singing career from a primary storyline (remember way back when, young Kate longed to become a professional singer like her mother?) to a minor plot point (Kate gets a job as a music teaching assistant at her son's school).
At the same time, Chrissy's country music career has soared. And we think it's not just a coincidence that Metz sounds at once defiant and proud in her newest song, "Go Girl!"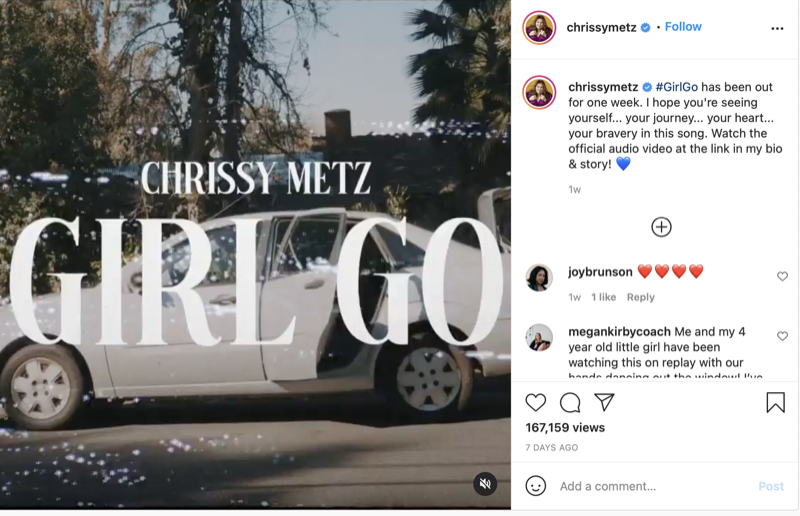 On her Instagram, Chrissy shared a clip of her country music tune after "Go Girl" had been released.
"I hope you're seeing yourself… your journey… your heart… your bravery in this song," wrote Metz.
This Is Us Star Reflects On Meaning Of New Country Song, 'Girl Go'
To craft her new country music song "Girl Go," Chrissy teamed up with Dan Fernandez and two well-known country music singers/songwriters, Faren Rachels and Lainey Wilson. The song stems from time Metz spent in Nashville, where she wrote and recorded country music.
For Chrissy, the song describes how she felt growing up and daring to take a risk in Hollywood.
"'Girl Go' was inspired by the beginning of my journey from Gainesville, Florida to Los Angeles and just needing somebody to believe in me and say, 'Go — go and do it, be bold, be brave, be courageous,'" explained Metz. "I remember being that bright-eyed, very eager, excited girl to pursue her dreams and this really encapsulates that moment."
Since the days when acting and singing professionally was only a dream, Chrissy has soared. Thus far, in addition to having a key role on This Is Us, Metz has achieved her debut at the Grand Ole Opry. She also is working on her first full-length album.
Listen to her song and watch her video below.
As for what's next, Chrissy told Garden and Gun that she is now going back and forth from Nashville to Los Angeles to work on her very first album. Metz has yet to title it.
Her lifestyle is busy, and the actress/singer admits that "some days I'm like, Do I have clean underwear on? Like, Which way is up?" But, girl, she wouldn't trade it for anything!
"We all deserve what makes us happy, ya know? I try to remind myself of that every day," summed up Chrissy Metz.
Be sure to catch up on everything happening with Chrissy Metz. Come back here often for Chrissy Metz news and updates.