Fan favorite Bluegrass bands will be returning to the stage at the Tallgrass Music Festival for its 17th year.
Tallgrass Music Festival 2021 Details
The event will start on October 15 at 6:00 p.m. It will take place on the grounds located behind the Skiatook Sports Complex on W. 133rd St. N. Bands will perform from 6 p.m. Friday to 8:45 p.m. Friday and 1 p.m. to 8:45 p.m. on Saturday.
Tickets can be gotten for $5 per car on the opening day and $10 per car on Saturday.
The Baker Family will be returning to perform at the festival this year. The group, which includes Mom, has won a lot of trophies over the years for their lively performances and musicianship. They also appeared on season 12 of America's Got Talent. The musical family, who regularly rate high as a fan favorite band in surveys, was named the 2016 ICGMA Bluegrass Band of the Year.
Also among the lineup is the Roving Gamblers. The Roving Gamblers was started 30 years ago by Walter Shook, lead singer and guitarist, with a couple of friends who believe that Bluegrass music should be fun. Their performances, often incorporated with infectious laughter, is well-received by fans.
Springstreet is another band that will be returning to the festival stage this year. Founded in 1990 by Mike Williams and Steve Carroll, the band's sound has evolved within the last 20 years through a combination of bluegrass, gospel, folk, country, and even some classic rock 'n' roll from time to time. The band will be performing on Friday at 7 p.m.
Route 3 is among the lineup this year. The band has been playing together for 15 years and is the winner of Bluegrass Artist of the Year at the 2020 Arkansas Country Music Awards.
"The Tallgrass Music Festival is in its 17th year and is growing every year in popularity among the bluegrass crowd," Nunley said.
Camping sites are available for both RV and tent camping. For more information about the festival, you can visit skiatooktallgrassfestival.com.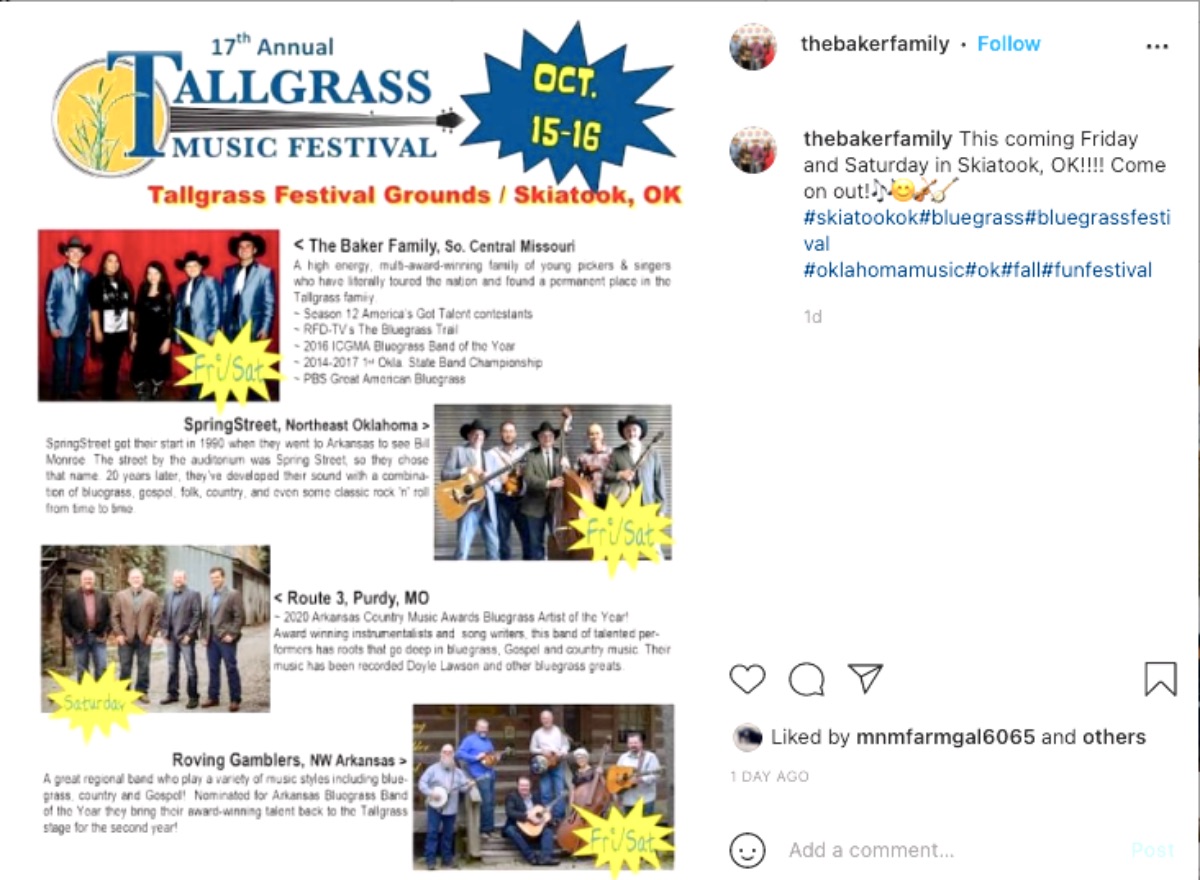 Tallgrass 2021 Festival Lineup
Band Lineup
Friday, October 15
6-6:45 pm – Roving Gamblers
7-7:45 pm – SpringStreet
8-8:45 pm – The Baker Family
Saturday, October 16
1-1:45 pm – Route 3
2-2:45 pm – Roving Gamblers
4-4:45 pm – The Baker Family
5-5:45 pm – Route 3
6-6:45 pm – Roving Gamblers
7-7:45 pm – SpringStreet
8-8:45 pm – The Baker Family
Be sure to catch up on everything happening with the Tallgrass Musical Festival. Come back here often for all Tallgrass Musical Festival spoilers, news, and updates.