Dolly Parton news shows that the phenomenal singer and humanitarian has a new accolade on her legendary resume: comic book hero. The country music legend will be featured in an issue that is the latest addition to TidalWave Comics' Female Force series which is dedicated to inspirational women.
Who else is in such exalted company? The Tennessee native will join the likenesses of nun Mother Teresa, former US first lady Michelle Obama, singer Cher, and women's rights campaigner Gloria Steinem.
The 22-page issue is entitled Female Force: Dolly Parton and is a biographical comic about her life. It will be released on March 31, in both print and digital formats.
Dolly Parton is a Living Legend
Writer Michael Frizell had this to say about the larger than life female legend: "Writing about Dolly was a joy. Her creativity, philanthropy and humanity are legendary."
The news of the comic book in Dolly's honor comes after the singer requested that a statue of herself not be erected at the Tennessee State Capitol as she doesn't think it's an "appropriate" with everything that is happening in the world right now.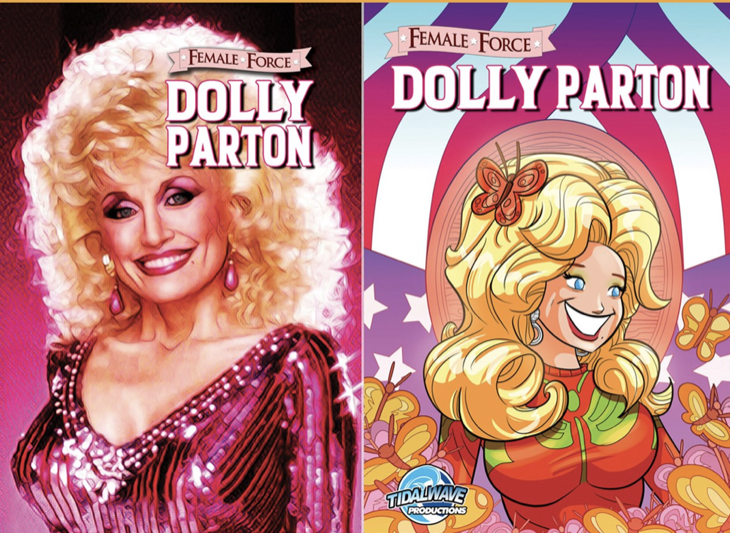 Dolly Parton Has a Comic Book
There had been a movement advocating that the beloved country star have a statue in her honor for everything she has contributed to Tennessee, but the singer politely declined. She tweeted: "I want to thank the Tennessee legislature for their consideration of a bill to erect a statue of me on the Capitol grounds."
"I am honored and humbled by their intention but I have asked the leaders of the state legislature to remove the bill from any and all consideration. Given all that is going on in the world, I don't think putting me on a pedestal is appropriate at this time."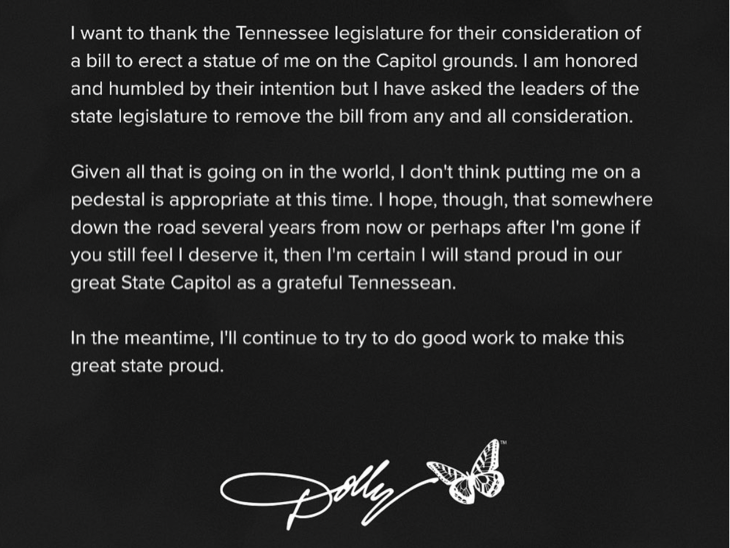 Dolly Parton Has Initiated Many Humanitarian Efforts
She went on to say, "I hope, though, that somewhere down the road several years from now or perhaps after I'm gone if you still feel I deserve it, then I'm certain I will stand proud in our great State Capitol as a grateful Tennessean. In the meantime, I'll continue to try to do good work to make this great state proud."
In January Democratic Representative John Mark Windle suggested the idea for a statue of Dolly to be erected. He said that the tribute would recognize, "all that she has contributed to this state."
Be sure to catch up on everything happening with Dolly Parton. Come back here often for Dolly Parton news and updates.
Photo Credit: Dolly Parton Instagram