Dolly Parton, country legend that sang "Vaccine" in place of "Jolene" has gotten her second dose of COVID-19 vaccine, Moderna. Parton is truly leading by example by getting a second "dose of her own medicine."
Dolly's Fight against Coronavirus
Dolly Parton, 75, has proven that she simply can't keep living with the lockdowns and the cancellation of all the music festivals and festivals in general, the COVID guidelines, and the deaths that the pandemic has caused and could still cause.
It was a rough time for the whole world when the pandemic broke out a little over a year ago. At first it seemed like nothing, and then it was a something that quickly became everything. The world locked itself down, traveling was shut down and restricted, and human beings were cut off from socializing with each other.
It was quickly clear we were no longer suffering from the coronavirus; people's livelihoods were taken away, mental health plummeted, relationships were severed and people panicked. Dolly decided to try and help any way she can in order to stop the pandemic that has caused pains in many different ways. The Coat of Many Colors singer donated a million dollars to the Nashville, Tennessee, hospital in order to fund research into what would later become the Moderna Vaccine.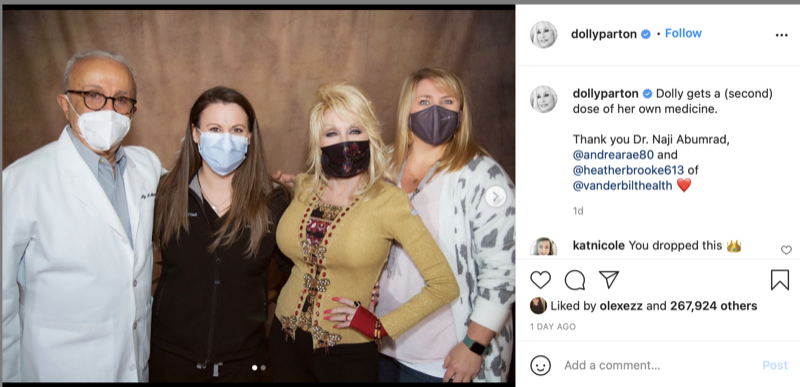 She didn't stop with the donation, but as soon as the vaccine was out, she campaigned for people to go get a shot so that we can get to feeling better "the sooner we get back to normal."
When she got her first shot in early March, she posted a clip of it on her socials just to get people to know that there's absolutely nothing to worry about. She jokingly changed her famous song up to suit the occasion, but nevertheless told people that she's very serious and that they should not hesitate to get their own shots.
When the vaccine rolled out, Dolly was adamant and insisted that she would wait her turn so that it doesn't seem like she's "jumping the line" just because she "donated money."
Dolly's Second COVID-19 Vaccine
Dolly Parton tweeted the news that she's gotten a second shot and is now rightfully and fully vaccinated from the pandemic.
"Dolly gets a (second) dose of her own medicine," the tweet reads. Dolly further thanked the people at the hospital who made it possible for her to get her second shot. "Thank you Dr. Naji Abumrad, Andrea Colhurn and Heather O'Dell of @VUMChealth."
Be sure to catch up on everything happening with Dolly Parton. Come back here often for Dolly Parton news and updates.
Photo Credit: Dolly Parton Instagram