Larry Gatlin, the country legend, and former member of the Gatlin brothers, recently revealed that he's the man with the addiction mentioned in Matthew McConaughey's 2020 "approach book". He figured it out by a happy coincidence since he's never read the book and McConaughey didn't feel the urge to drop in the hint.
Seeking Refuge from Addiction
It was just another day for Larry Gatlin when his phone rang and he picked it to hear his daughter's excited voice. She had just gotten into reading Matthew McConaughey's New York Times bestselling book Greenlights.
A book McConaughey himself describes as "stories, prayers, poems, people and places and a whole bunch of bumper stickers."
"She said to me, 'Dad, you are in Matthew McConaughey's book … I know that's you,'" Gatlin, 72, shared with PEOPLE in an exclusive interview.
And she was right! If you get to Part Five: Turn the Page of the memoir, you'll get to hear this amazing story of a man, known simply as "Larry", who was trapped in the confines of addiction and didn't know where to go or who to turn to. He struggled to rid himself of something he knew quite well was killing him, but it was also something that controlled him enough to hold him tight in its grips. He needed help and he was running out of options.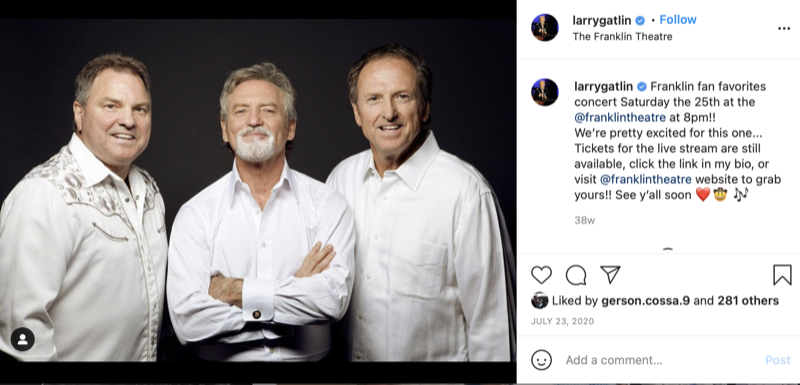 According to Larry Gatlin's own words, that man was the legendary Larry Gatlin with the cool southern accent and the country swag.
"I remember the day, it was October something of 1999," Gatlin says, taking us back to his days as one of the country group Larry Gatlin and the Gatlin brothers.
"[University of Texas Football] Coach [Darrell] Royal and I were talking. We had hit it off right away. For me, he was one of those people that you meet, and you instantly don't have to explain anything to each other. We were at this Pro-Am party at this golf tournament, and Coach Royal caught me with white powder on my nose."
Following the book's description, "Larry" went on to tell Coach Royal that he strongly fears he'll ever conquer and completely be free from his cocaine addiction. He went on to list a bunch of excuses as to why he couldn't possibly let it go. But Royal, who sadly lost the battle to Alzheimer's disease in 2012, stopped his complaints mid-way.
"He told me, 'Larry Wayne, I have never had any trouble turning the page in the book of my life,'" Gatlin fondly remembers of the time, a time that now lives on in the book through McConaughey's recollections. Gatlin ended up having to listen to the audiobook version. "He said to me, 'It's time you turned the page.'"
Gatlin appreciated the advice and proceeded to do just that. Royal didn't only stop with the life-changing advice, but took Gatlin to get help at a drug and alcohol rehabilitation center based in California.
"Coach Royal did not send me to treatment … he took me to treatment," Gatlin remembers. "Darrell knew what I was doing. He was one of the smartest and wisest men. And his wife? They both really did save my life. I think about it every day. Hopefully, I'll be there to help somebody sometime like they did for me. I would be long dead if it hadn't been for them."
Living Sober, Happy and Grateful
It's been 37 years since Gatlin became sober, and he's not ready to forget his family and friends who helped him to make it this far, because he doubts he would have been here by now if he kept taking the drugs. After all these years, Gatlin finds he is still eager to tell his story to anyone who would listen. He hopes to save other people, as someone once saved him. But never did he imagine that his story would make it all the way into McConaughey's book.
"I'm so very grateful to Matthew," Gatlin says of the 51-year-old actor. "You never know when what we read is going to change our lives. I was able to kick my addictions thanks to my wife and my family and my God and an incredible program of recovery. But now, I truly believe there will be people that will read Greenlights and they are going to thank McConaughey for putting my story in there."
While the book was released October last year, Gatlin recently joined the #Greenlightschallenge with a short video he used to announce to the world that he's the Larry in the book. The #Greenlightschallenge is a social media movement in which people post videos of themselves reading the book while trying to imitate McConaughey's unique style of reading.
With his drug addiction days behind him, and having to recently resume touring with his two famous brothers, he says that life is good. He also admits that the dark times may make you feel like there's no light, but the light is there, if only you look harder enough, he encourages.
"Lord knows that I have done some things I wish I hadn't done," concludes Gatlin, who was diagnosed with COVID-19 in early March. "But it brought me to right here, right now, sitting on this back porch on this swing watching my wife [Janis] chase away the bees from her honeysuckle plants. Life is so very good. And quite frankly, I'm proud to know Matthew and I'm thankful for him. But yeah, put my name in the book son!"
Be sure to catch up on everything happening with Larry Gatlin right now. Come back often for country music and celeb news and updates.