Loretta Lynn has truly been through a lot of whirlwind in her life, from getting married when she was still barely out of childhood, to her husband's constant cheating and his death, the loss of two of her 6 children, and a stroke in 2017 which ended her nearly 50-year touring career. It's all sure to make the bravest person doubt themselves and their worth at times, but Loretta has proven that even in times of self-doubt, you can still inspire others, even when you're at your weakest, you can still make others stronger. And who wouldn't simply adore her for being who she is?
Still Woman Enough
Lynn, a country music star with many groundbreaking achievements in country music and music in general, has just announced the release of her 50th studio album, and it's coming on (wait a second I need to breath) March 19! With this new album, not only will she be taking us back to her 2002 biography, but it will be celebrating women in music, with Reba McEntire, Carrie Underwood, Margo Price and Tanya Tucker making an appearance on the album.
The 13-song collection includes new compositions as well as reinterpretations of songs from her previous, and extensive, catalog. It's a packed album with the very first track on the album Still Woman
Enough featuring .
"I am just thankful to have some of my friends join me on my new album. We girl singers gotta stick together," Loretta Lynn said about the upcoming album, "It's amazing how much has happened in the 50 years since 'Coal Miner's Daughter' first came out and I'm extremely grateful to be given a part to play in the history of American music."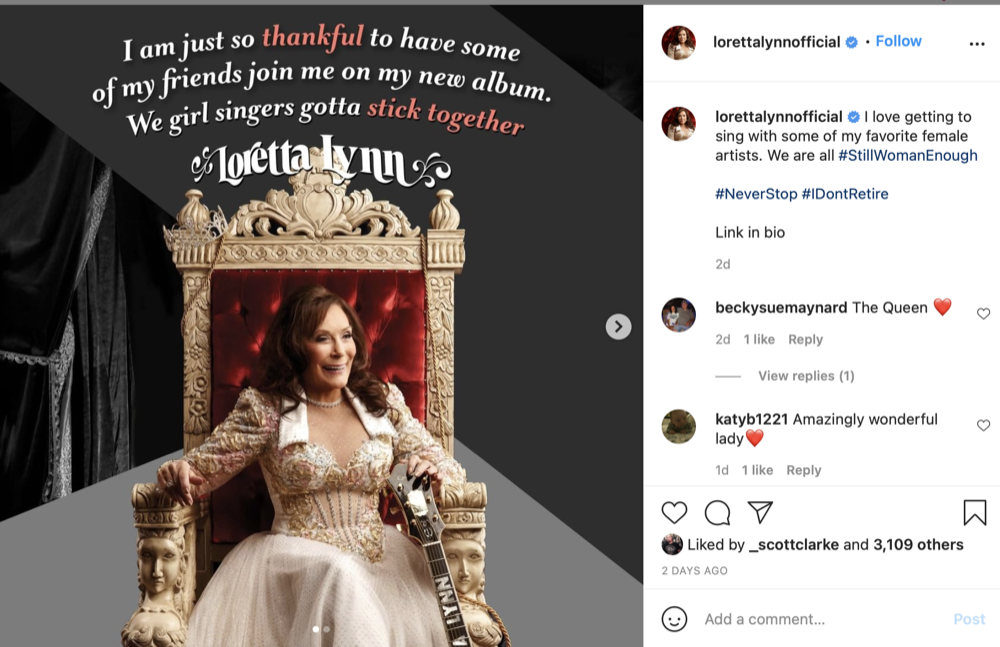 Loretta Lynn on Releasing New Album and Her Hopes for the Future
In an interview with Parade, Loretta Lynn revealed her goal for creating the 50th album, "Recording is what I do, who I am. I guess I just want my fans to always have something new from me to listen to."
"We as women sometimes feel we are not enough- smart enough, pretty enough, on and on. I've had the same struggles. So I made the sayin' still woman enough as my pep talk to myself. When I wrote the song, I wanted it to be about being strong and liking who I was as a woman," she clarified her decision to choose the name of her 2002 memoir as the name of her latest album.
As for collaborating with other female country music singers, she said that she loves "each one of the girls." She also talked about Tanya who has been her friend for almost 50 years, Reba and Carrie who are "the best in the business" as well as "good people." As for Margo, she says that they've known each other for a few years, and she's a great songwriter and writes from the heart. She further added that she sees something of herself in Margo.
She also said that she's not a risk taker, and telling the truth has always been her number one priority even if the radio bans her music for it, but it's not all that bad, as most of her banned songs usually end up topping the charts.
As for retiring, she admitted that she hopes she'd keep writing a song right up until the very end.
Come back to Country Music Lane for more Loretta Lynn music, updates and news.