Country singer Stephanie Quayle, who appears on Rolling Stone's "Artist You Need To Know" recently released a single co-written by fellow country artist Maren Morris. In an exclusive interview on Good Morning San Diego, the artist talked about her new single and the joy of getting to know that live music is starting to open up again. She can't wait to bring her new music to fans live on stage.
Stephanie Quayle on What Her New Single "Wild Frontier" Means to Her
She confessed that the song "hit me in the face" just hearing the title alone. The song was penned by Shane Mcanally, Ross Copperman and Maren Morris and when she got a hold of the song, which she describes as "such a gift", she knew she had to sing it.
And she did, with her beautiful country accent and voice, she sang about the depth of true love in relation to a place. "This love will be legendary/ Long after we're gone and buried here/ On this wild frontier," she sings in the second verse of the song.
She further said that she understands the song and loves it because it speaks about an "unbridled love" that is without boundaries. She describes the song as speaking about being yourself when you're in love with someone, also adding that it makes her think of how she and her husband fell in love in Montana.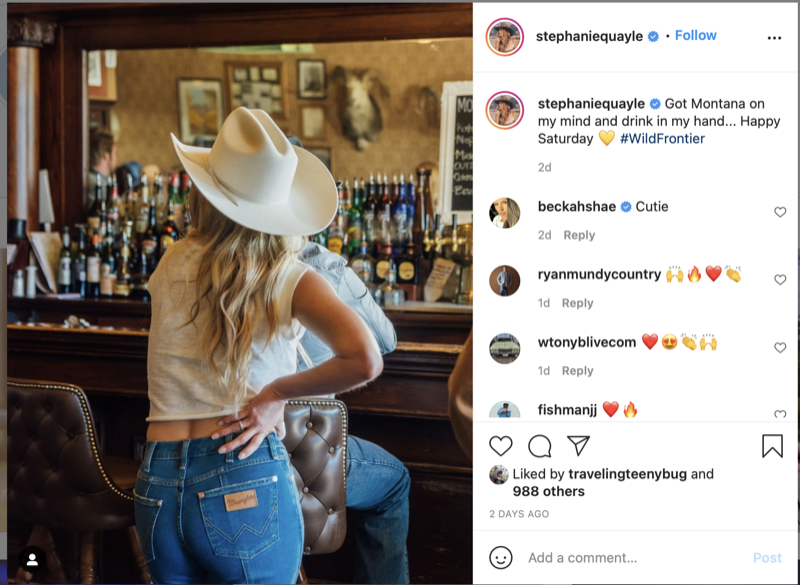 She calls the song "an earworm and super hooky," also saying that her fans are really enjoying the song. She later added that she also loves the song because it pays a tribute to the western world of which she is "a part of."
As for the songs she's currently releasing, she reveals that she actually recorded the tracks virtually last year due to the pandemic and the lockdowns. It didn't make the songs any less special, or the artist any less proud of them.
"If you get too far, follow the North Star/ When you're lost it's gonna lead you back to my arms/ Keep your eyes on my horizon/ I'll be waitin' even if it takes a million years/ We can stay right here/ On this wild frontier/ I'll be your wild frontier," she sings in the chorus of her song "Wild Frontier" which was released on March 19 and is available on Spotify, Apple Music and YouTube.
Stephanie Quayle on Her Musical Career
As for her musical career in general, the country singer, 41, says that she's proud of where she's currently at and feels super grateful getting to perform at the Grand Ole Opry eight times. She describes herself as a proof to people that if you "keep on keeping on" you'll definitely achieve your dreams.
Be sure to catch up on everything happening with country music. Come back here often for Stephanie Quayle news and updates.
Photo credit: Instagram