After a whole year of waiting, Brad Paisley finally gets his chance to headline Nashville's 4th of July Concert. It's been a rough year for the state, and concert planners are promising to put behind all the gloom and go all out this year with the biggest fireworks show in Nashville's history, and Brad Paisley, for one, is excited to count down the days.
Concert Details
Nashville's Fourth of July Concert was canceled in 2020 following the coronavirus pandemic and the lockdowns. During its last proper show in 2019, over 330,000 guests were in attendance.
This year's event will feature a full-audience, with over 200,000 people expected to attend the free concert.
It was recently announced by the Nashville Convention & Visitors Corp that country artist Brad Paisley will be the main event at the annual Let Freedom Sing! show. The day's events will be presented by Dr. Pepper, and it will take place on Lower Broadway at the intersection of First Ave and Broadway.
The fireworks display will go off from across the Cumberland River, near Nissan Stadium, and the Nashville Symphony's performance will be synchronized with the fireworks show. Other soon-to-be announced acts will also be performing at the venue.
"After the year that Nashville has had, from a tornado to a bombing, Nashvillians deserve something to look forward to coming out of the pandemic," Butch Spyridon, President and CEO, Nashville Convention & Visitors Corp, said in a statement. "More than ever, we want to deliver a world-class concert and fireworks show to commemorate July 4th and give back to our community. As well, our visitors have always supported us through challenges, and this is the perfect way to welcome them back and welcome live music back to Music City."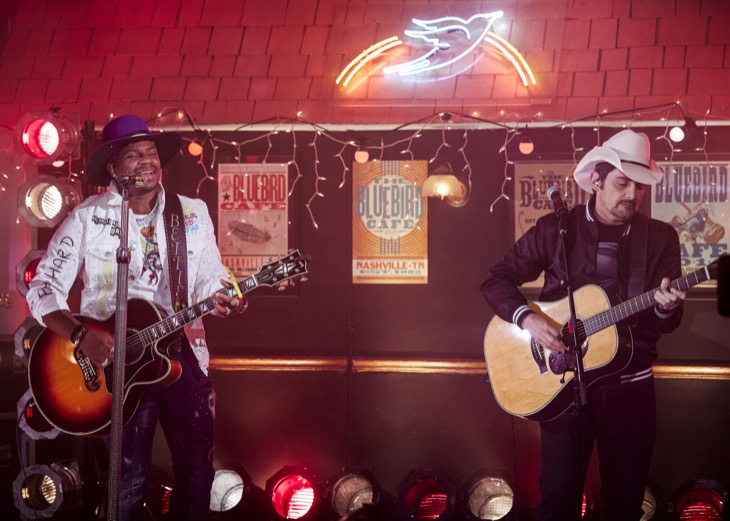 Brad Paisley is Eager to Perform at Nashville's Fourth of July Concert
Brad Paisley recently joined the list of celebrities encouraging people to get their COVID-19 shots. In partnership with Vanderbilt Health, he urged fans to save concerts and shows by getting their coronavirus vaccine so that events can return at full capacity. He shared the message in an empty stadium, telling fans that they're the ones who dictate the future of live music.
The singer/songwriter has done his best to perform his music for fans any way he can, including at-home shows, getting on Zoom calls with fans and playing a drive-in show in Nashville last summer.
Not to say that music is the only thing that kept him busy during the pandemic, because the animal lover got to spend more time at the farm and he and his wife recently opened up a free grocery store in Nashville to help those in need.
"It means everything to me," Paisley shared with CNN about his feelings headlining the Fourth of July show. "It means everything to my family, my band. It means a lot to my wife – the thought of me actually going back on the road and leaving the house once coming up is something she's really looking forward to." The "No I in Beer" singer further added: "The idea of playing at Lower Broadway in Nashville and sort of saying 'Look what we accomplished,' that we have gotten through this thing, is going to be, I hope, one of the most amazing moments of my career."
Be sure to catch up on everything happening with country music. Come back here often for Brad Paisley news and updates.
Photo credit: Photo: Jon Morgan/CBS ©2021 CBS Broadcasting, Inc. All Rights Reserved