Alan Jackson, the best-selling country music singer/songwriter, and his wife Denise have recently sold their astounding hilltop Estate outside of Nashville. The mansion was put on sale sometime last year for the fetching price of $23 million. This would break down to an estimated $100,594 each month.
The sale went through on March 10, 2021 for $19 million, which breaks down to payments of $82,030 and $863 per square foot, according to real estate sources. Looking at the estate property, I'd say it's definitely worth the dough.
The Massive Hilltop Estate
This sweet little hang has 5 bedrooms, 8 bathrooms and a climate controlled garage that can hold up to 15 cars
It was officially listed by the French King Fine Properties, which called the stately home a "monumental stone residence."
The traditional, dreamy home, was designed by Architect Ron Farris to look formal with something of a Renaissance flare to it.
The house's view from the top would marvelously show it surrounded by a startlingly beautiful cluster of finely green trees. I know, it's a view that surprisingly soothes the eyes.
From the surrounding forest to the vegetation that lines the interior of the house, it's a nature lovers' best dream.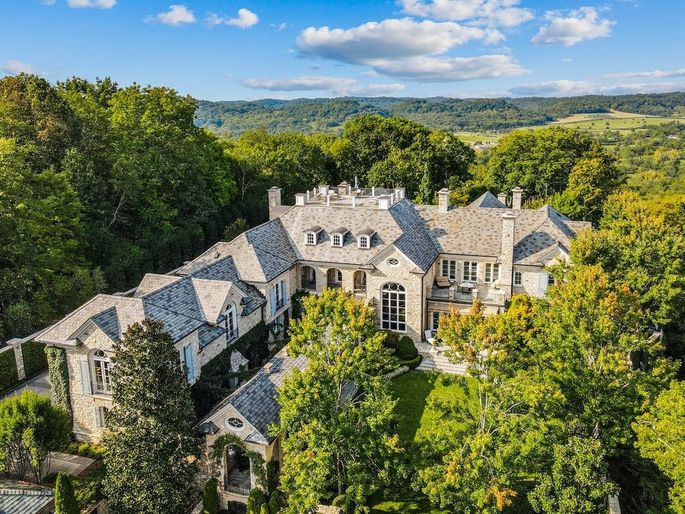 And if the outside of the mansion isn't showy enough, the inside has decided to try and top it with polished wood paneling and a giant flower center-piece (is it possible to get Jackson and his wife to reveal if they're taking the flowers with them, just a thought).
The bedrooms are all well situated suites, while the formal dining and living areas are made with long arched doorways and oversized windows, coupled with the skilled woodwork that gives off a grand vibe.
The house includes a bar, a media room and multiple indoor and outdoor fireplaces.
The very spacious exterior includes a pool and pool house, perfectly manicured and terraced lawns, an outdoor kitchen, a fire-pit, and I've mentioned it before, a climate controlled 15-car garage, you know, for the extra cars.
This beautiful wonder sits on a hilltop that is surrounded by 120 acres of green space. The property is a gated private residence that sits inside Laurelbrooke community, which is equipped with its own separate gates that are guarded around the clock.
Previous Property Sales of the Jacksons
The Jacksons are definitely not newcomers when it comes to real estate properties as they previouslyresided in an 18,622-square-foot antebellum mansion named Sweetbriar in Franklin. Jackson modeled the house after Tara in Gone With The Wind, as he had it custom-built to his very specifications.
They sold the residence in 2010 for a price of $28 million. (More Photos HERE!)
Another real estate that they previously owned which later went to the market and was sold off was an astonishing lakefront mansion located in their hometown of Georgia. They listed it for sale in 2017 for $6.4 million.
The best-selling country artist and his wife, who is also a best-selling author, seem to have a genuine interest in fine property. I wonder where their next real estate adventures will take them.