Alan Jackson has been on the spotlight for more than three decades. Within that time, he has risen to become one of the bestselling music artists of all time, having sold over 75 million records worldwide.
 More than a year ago, the Newnan native was diagnosed of a degenerative nerve condition, and in his recent interview with The Today Show, the country music legend opened up about the condition and how it has affected his career.
Alan Jackson Talks About the Nerve Condition He's Been Struggling with For a Decade
During his Tuesday morning interview with The Today Show, the 62-year-old singer opened up about being diagnosed with Charcot-Marie-Tooth disease, which he said makes walking normally and balancing difficult.
"It's genetic that I inherited from my daddy… There's no cure for it, but it's been affecting me for years. And it's getting more and more obvious. And I know I'm stumbling around on stage. And now I'm having a little trouble balancing, even in front of the microphone, and so I just feel very uncomfortable," Jackson described.
According to the National Institute of Neurological Disorders and Stroke, CMT is one of the most common inherited neurological disorders.
"Progressive muscle weakness typically becomes noticeable in adolescence or early adulthood, but the onset of disease can occur at any age. Because longer nerves are affected first, symptoms usually begin in the feet and lower legs and then can affect the fingers, hands, and arms. Most individuals with CMT have some amount of physical disability, although some people may never know they have the disease," the organization said on its website.
"It's not going to kill me. It's not deadly," Jackson assured fans. "But it's related (to) muscular dystrophy and Parkinson's disease."
As for how this could affect his touring and performing career, the "I'd Love You All Over Again" singer promised that he'll find a way to manage.
"I'm not saying I won't be able to tour," he said. "I'll try to do as much as I can."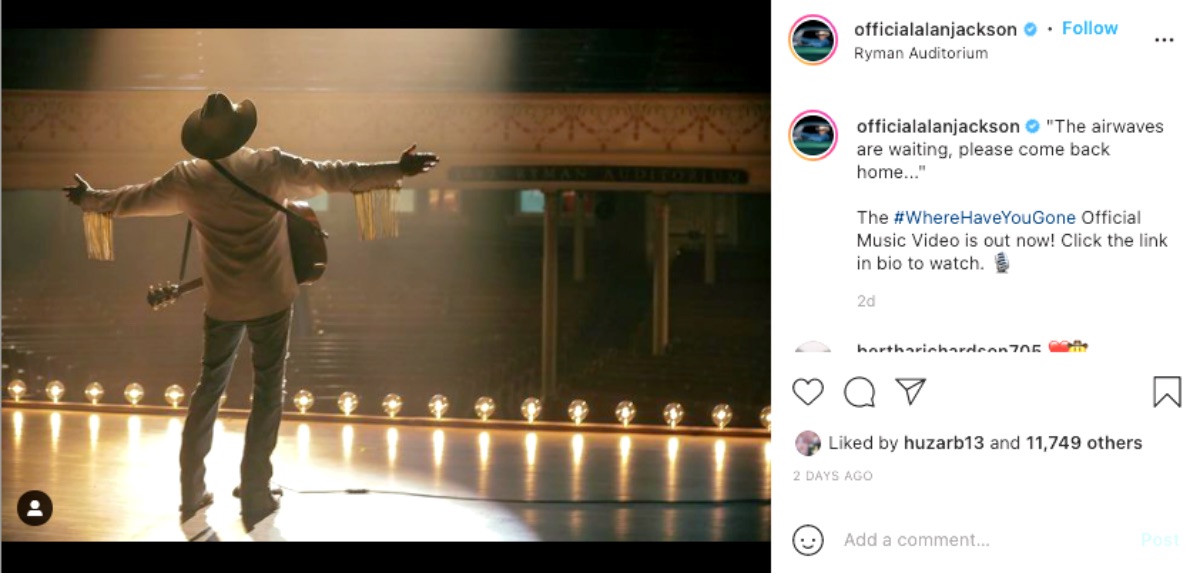 Alan Jackson Talks Creative Freedom with His Music
Alan Jackson is known for writing many of his songs and for incorporating traditional honky-tonk with mainstream country pop sounds. For his contributions to country music and music in general, he has received numerous awards, including 2 Grammy awards, 16 CMA awards, 17 ACM awards and has been inducted into the Country Music Hall of Fame and the Nashville Songwriters Hall of Fame.
During his chat with The Today Show, he shared that he's happy to have gotten to where he is now as a musician.
"I feel a little more freedom now, because I'm not trying to worry about getting on the radio and fitting into their limitations," Jackson said. "I've always believed that the music is the most important thing. The songs. And I guess that's what I'd like to (leave) if I had a legacy."
Be sure to catch up on everything happening with Alan Jackson right now. Come back here often for all Alan Jackson spoilers, news, and updates.