Dwight Yoakam,  according to a recent press release, the multi-platinum album selling country artist will be performing in Buddy Holly Hall on Thursday, October 21, located at the Helen DeVitt Jones Theater. Doors will open at 8 p.m. for the concert.
Dwight Yoakam's concert details
Tickets to see Dwight Yoakam Live in Concert are set to go on sale to the general public at 10 a.m. on Friday, April 23. You can purchase tickets online at buddyhollyhall.com, by phone at 806-792-8339, or at The Buddy Holly Hall Box Office, located at 1300 Mac Davis Lane. The box office is open from noon to 4 p.m. on Mondays through Fridays. The venue presale will happen on April 22 at 10 a.m.
Yoakam is a bestselling country music artist known for his unique style of country music. He also performs music in country rock, honky-tonk and bluegrass genres. He first gained widespread popularity in the mid-1980s and has since sold more than 30 million records worldwide, also recording more than 20 albums and compilations.
Yoakam has sent 5 albums to the very top of the Billboard albums chart and has charted more than 30 singles on the Billboard Hot Country Songs charts. He has twelve gold records under his impressive country-music career belt and nine platinum albums, including a triple-platinum This Time.
He has also received an award for Artist of the Year from the Americana Music Association and in 2019, he was inducted into the Nashville Songwriters Hall of Fame in the Songwriter/Artist category.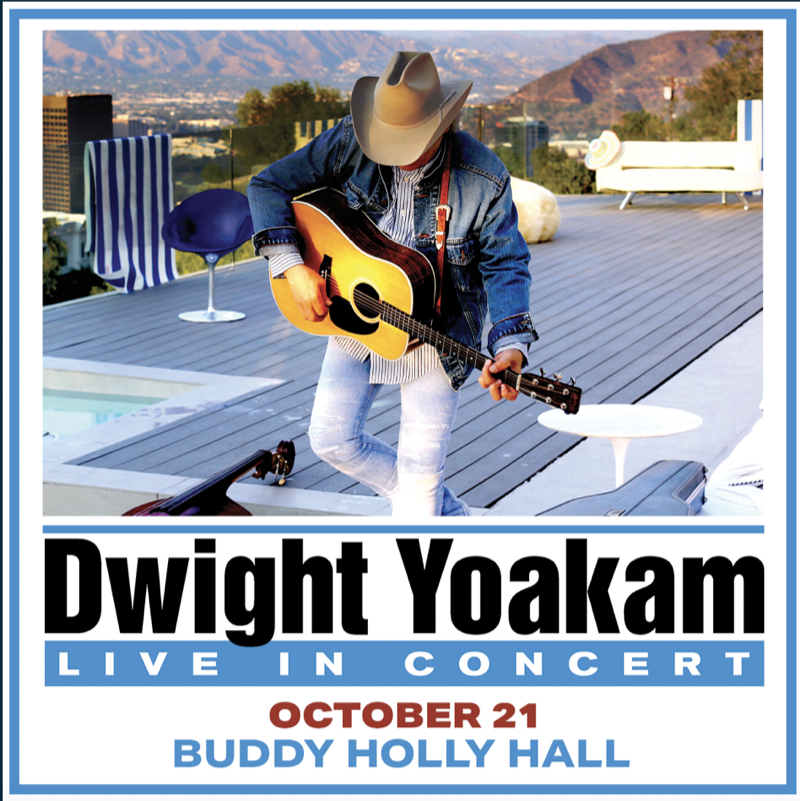 Tickets for the Dwight Yoakam performance at the Buddy Holly Hall of Performing Arts and Sciences range from $39.99 to $139.99.
The Buddy Holly Hall is known for its aesthetic beauty and amazing acoustics and many famous stars have performed at the venue since its opening day in 2017.
COVID-19 Safety Concerns
Due to the ongoing pandemic, guests over the age of 10 are required to wear a mask over their nose and mask, while in line to enter the building, in the lobby, restrooms and while seated for a performance at the Buddy Holly Hall. You are allowed to remove your face mask only while eating or drinking.
Social distancing is encouraged and hand sanitizer dispensers will be available throughout the venue.
Every information regarding booking and reservations can be found at the Buddy Hall official website.