Vince Gill, Multiple Grammy award winner has signed a deal with Gruhn Guitars to facilitate the sale of the guitars he used during his glorious musical career. The Country Music Hall of Famer who had many of his songs like One More Last Chance and I Still Believe In You topping the charts in several countries globally, has a vast collection of guitars to his name.
George Gruhn Excited About Partnership With Vince
The renowned Guitar expert and head of Gruhn Guitars, George Gruhn, was full of excitement at the collaboration with Vince, as his music shop in Nashville will be helping the country music legend sell his guitars. The sale of part of Vince's cherished guitars was made known on the 2nd of April via a Facebook Live video post by George, where he showcased a wide collection of guitars, as well as a mandolin, banjos, and some lap steels.
Vince Gill's Golden Guitar Collection
There is a wide range of guitars that buyers can pick from, with some of the guitars been personally used by Vince himself. In the video, George picked out a very nice-looking guitar made by Wariner, the Takamine Steven Wariner category. This particular guitar model which was given to Vince as a gift from Wariner goes for $2,000. There is also a Montorado Telecaster guitar model played by Vince which goes for $3,000.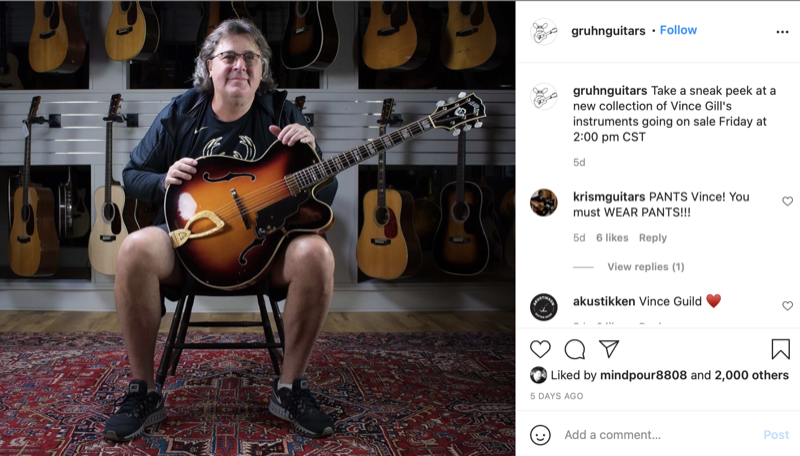 George also showed a Gibson guitar with a 'The Vinny" logo, which is a tribute to the golf tournament hosted by Vince. There are even prized guitar models for the rich folks, with the 1957 Gibson Byrdland and the 1957 Gibson ES-175D guitar models that Vince played at different live renditions with the popular country band, The Time Jumpers. The former is selling at $15,000, while the latter is pegged at $20,000.
Several guitars that he played at performances with the Pure Prairie League are also up for sale. Buyers can get a feel of how Vince felt at many of his amazing tour performances with the 1994 Takamine EF381C-12 that he played for ten years between 1980 and 1990. This particular guitar comes with a price tag of $7,000.
The Vince guitar collection which numbers about thirty-one has a price range between $2,000 to $20,000.
Items Attached During Purchase
Buyers of the guitars will get a photograph of Vince attached to the guitar, and an authentication certificate signed by both Vince and George.
George said he was honored to be a part of the channel through which the twenty-time Grammy Award winner's guitar collection will become the cherished possession of new owners. Vince Gill is one of the most recognized personalities in the country music genre. He is a Country Music Hall of Famer with 22 Grammy Awards wins, and a host of songs that topped the charts globally.
You can pay a visit to the website of Gruhn Guitars to see all the guitars from Vince's collection that are up for sale.
Be sure to catch up on everything happening with Vince Gill,. Come back here often for Vince Gill news and updates.
Photo Credit: Vince Gill Instagram