Faith Hill's Daughter Gracie McGraw certainly has her parents' full support behind her, because after she got some heartwarming words from dad, mommy shared her own beautiful words for her eldest child's 24th birthday. What a day, right? According to Tim McGraw, it's the "Cinco de Mayo" but the smart girl has already figured it out.
Faith Hill Wishes Her Daughter another Great Year with a Heartfelt Message
Country singer, Faith Hill took to Instagram on her daughter's birthday, May 5, to share her love for her daughter in a post she says that she couldn't write without crying.
"This incredible young woman turns 24 years old today," she began the message. "I cannot write this post without tears rolling down my face," she continued. "We are so proud of you for being who you are, unapologetically. I wish I had that wisdom at 24 years old. You have taught me so much in the last few years that has forced me to reflect on how it must be growing up in today's world with crazy parents like us."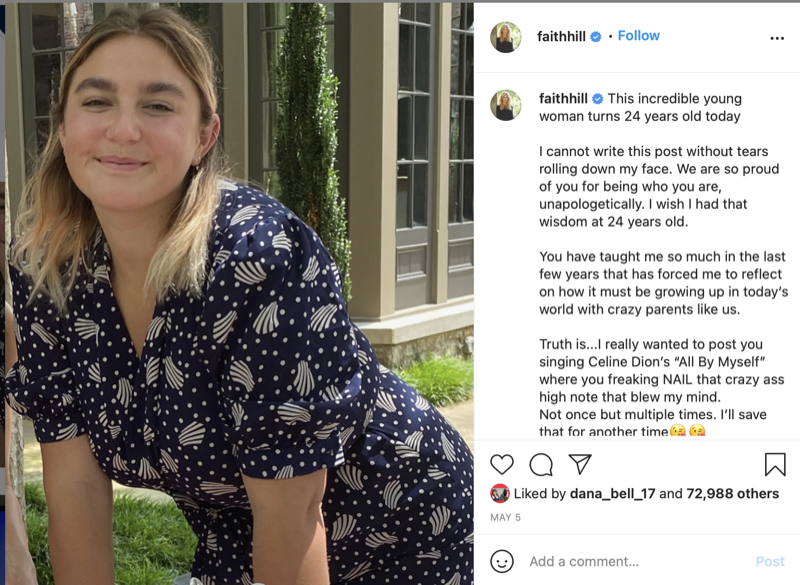 And by "crazy parents" if she meant country music legends, then yeah, she's spot on. Faith Hill is one of the most successful country music artists in the world and her husband Tim McGraw is one of the bestselling artists in the world with over 80 million albums sold worldwide.
"We cannot wait to see what you do," she went on to write. "It is going to be insane. The most important thing…is that you will always be YOU!!!! And that is something full grown adults have a hard time achieving."
We hope to see what she does too. Gracie McGraw, who graduated from New York University, is currently pursuing an acting career, probably with a side order of singing, because as the iconic Tim McGraw once observed "PIPES!!!!!!……Dang, this girl can sing!"
And if you don't believe Tim McGraw because he's the father of the girl in question, maybe you should listen to the words of a singer. "I could listen to Gracie all day," singer Rita Wilson commented on a post of Gracie sharing her musical gifts in a duet with her dad as they drove along on a beautiful afternoon. They sang along to the 1981 hit "What Kind of Fool" by Barbra Streisand and Barry Gibb.
In addition to Gracie, the superstar couple who have been married since November 1996 also share daughters Maggie McGraw, 22, and Audrey McGraw, 19.
Keep checking Country Music Lane for daily country music news and more Faith Hill updates.
Photo credit: Faith Hill Instagram