On Tuesday, the Grammy-nominated chart-topping Thomas Rhett released his latest single "Country Again," along with its music video. According to Rhett, the single "Country Again", which also bears the name of the upcoming album, inspired the entire record.
Thomas Rhett Releases His Most Traditional Single in Years
The country music singer/songwriter will release "Country Again: Side A", the first of a two-part project, on April 30. The first single that Rhett shared with his listeners took them back to his roots, in those good old traditional country days.
The song is definitely what fans expect to hear of Thomas Rhett in his "It Goes Like This" days, with winding acoustic guitar lines that finely blend with flashes of fiddle as the singer reminisces on the things he'd stopped doing for a long time, and how good it felt to be able to find those things he loved and enjoy it again.
The name of the song "Country Again" nicely fits with the message of the song, which is a message that speaks on departing from something you normally found comfort in. It is kind of true that he found "Country Again", since his more recent musical projects have had a pop blend that strays away from the traditional Rhett-sound fans first knew him with.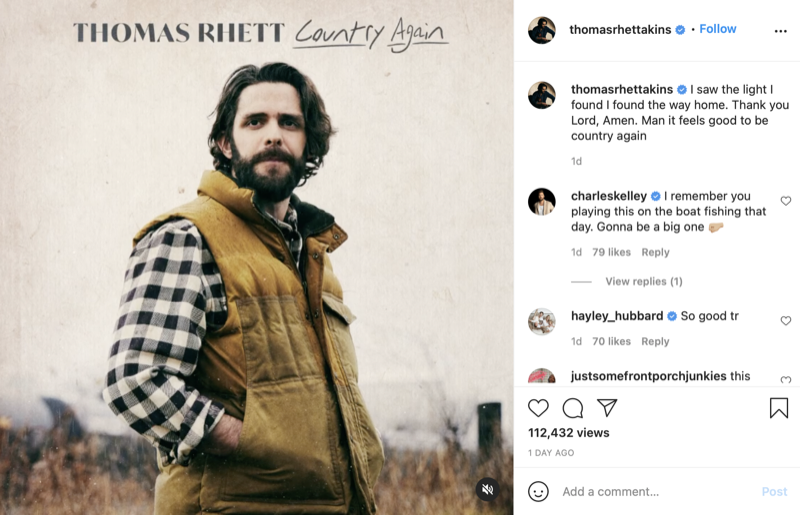 "Country Again" Lyrics and Meaning
The song is also about how being constantly busy can draw someone away from their family members that they're usually close to, "I quit huntin' with my daddy, guess I didn't make the time/ And it's been a year since I've seen a deer and a smallmouth on the line."
Perhaps the song suggests that the pandemic and the shutdowns have helped him be present more in the lives of people who he loves, because he later sings, "I spent way less time in Nashville, more time in L.A/ My back home buddies, they quit callin', thought I had too much on my plate/ But last night, we cracked some cold beers and cranked Eric Church to ten/ Man, it feels good to be country again."
I believe that anyone can relate to the song, what with the busy world and everybody's goals and careers, it sometimes feels as if you've drifted away from the things you normally loved. But the quarantine would surely have helped people reconnect with their friends and families and their roots. Maybe you finally have the time to play that game you used to have no more time for, or you can now really meet and talk to your loved ones without checking the damned clock every passing minute.
In the video, we see Rhett standing in a room all by himself, playing on his guitar and slowly singing his heart out.
Be sure to catch up on everything happening with country music. Come back here often for Thomas Rhetth news and updates.
Photo credit: Thomas Rhett Instagram