Eric Church is on the side of people getting vaccinated so that concerts can come back. He wants to get back to touring amid a throng of fans packed tightly around him, their arms waving like a many-tentacled creature. It may be a very specific picture for him, but he really wants you to know that "you've got to get needles in arms."
Eric Church's Billboard Cover Story
Eric Church has taken his time as the new man on the cover of the Billboard magazine to campaign for people to go get vaccinated. The CMA Entertainer of the Year remarkably had his cover picture taken when he was getting his second COVID-19 vaccine shot.
Billboard revealed that Church approached the publication with the idea, in order to encourage music fans to get their vaccines as soon as they can so that everybody could get back to having fun, and artists and lovers of music can return to a fully-loaded concert.
In the Billboard cover story, when the pandemic first forced tours to cancel, Church was quick to meet with epidemiologists, industry members and venue managers to talk about ways to return to touring in a safe way. "All I've ever done is play live shows. That's my whole gig."
These conversations predicted that tours would not resume until early 2023. Luckily, with the swift development of COVID-19 vaccines such as Moderna, Pfizer, and Johnson & Johnson, the timeline to crowded shows has been accelerated.
It's no surprise that Church isn't only excited to return to performing, but wants people to help make that dream a possibility. When the COVID-19 pandemic shut down the concert industry, it denied Church – and other artists – of the act that gives his fans great joy, makes him feel that he's achieved a purpose and offers a temporary respite from the outside world.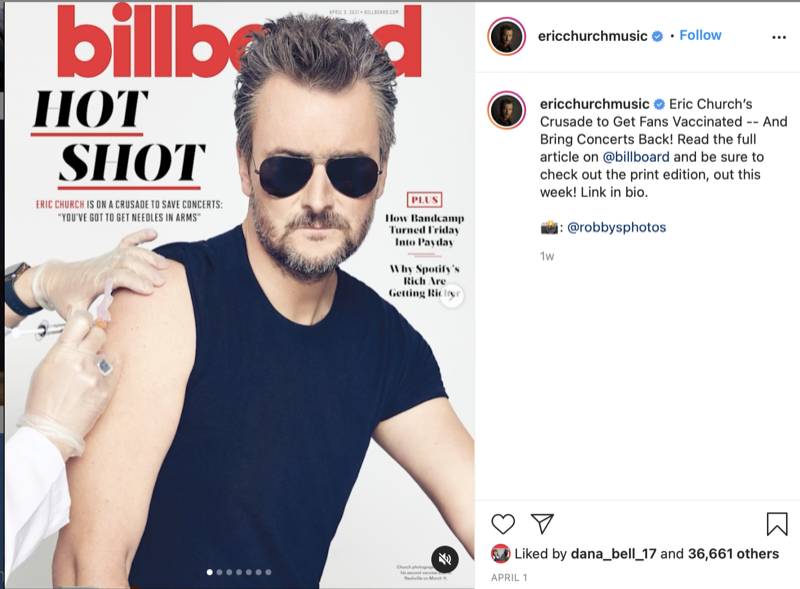 Why Church wants you to get vaccinated
"That has been the hardest thing about COVID: It takes what you do," the Springsteen singer reminisces. "I used the music and the stage to get me through some of those darker things that were more personal," he said. There was this one time he had a near-fatal blood clot in his chest in 2017 and another time when he had to deal with the death of his younger brother in 2018. "Take that away, and you've got to deal with some of the stuff you maybe haven't dealt with."
Seeing that a lot of people are averse to getting their 'double shots', Church says that he doesn't have a problem with people who don't want to, "I'm a liberty guy, too. I get it. But I view this a little differently than most other things. We've never encountered this."
He announced that he has plans of undertaking an arena tour in the fall to support his upcoming three-album collection Heart & Soul, which releases beginning April 16.
Church revealed that he simply can't wait to get back to touring, which is something that he incredibly loves doing, as fast as possible. He loves to play shows because it inspires people and brings people together, as opposed to politics whose job is to cause division. "Those things that unite us are music and sports. The times when, whether you're a Democrat or a Republican or whatever, you throw your arm around the person next to you."
Be sure to catch up on everything happening with country music. Come back here often for Eric Church news and updates.
Photo credit: Eric Church Instagram