Trisha Yearwood, the Grammy and Academy of Country award winner, talked to RADIO.COM's Katie Neal for the Superstar Power Hour, which was broadcast on all the RADIO.COM country stations nationwide on their spotlight feature Leading Ladies of Country.
Yearwood's been one of their featured Leading Ladies throughout the month of March, being the most named artist by female Country artists as an astounding female who makes great music and still finds time to guide them on their journey through the music industry. Now I'm wishing I'm in the Country music industry just to have the iconic Trisha Yearwood tutor me as well, dreams right?
Trisha Yearwood on releasing a yummy new book
Trisha has fully recovered from her fight with COVID and she's grateful to her husband who not only helped her through the awful times but made sure to keep everyone they love safe as well, and she warmly thanked her fans for their sweet little prayers and messages whilst she was sick.
And then she shared a third good news, because according to her "good news comes in 3s." For the first time in five years, Trisha is treating her fans to a cookbook filled with her tricks and all she's learned in the kitchen over the years. After a year of social distancing, Trisha's new book is set to hit the shelves in September, fittingly titled, Trisha's Kitchen: Easy Comfort Food for Friends and Family.
"I think, when we all got put home in March of last year, everybody handled it differently," Trisha says. "I got my office cleaned, I got my closets organized… and after that, I was like, 'I've gotta do something.' I think it's been about five years since I've released a cookbook. They take time to put together, but I thought, 'I'm home, I cook anyway, I have all this Food Network, Trisha's Southern Cooking experience under my belt.' I think the confidence I've gained through doing that show and developing recipes, I thought, 'I've got enough stuff here to put another book together."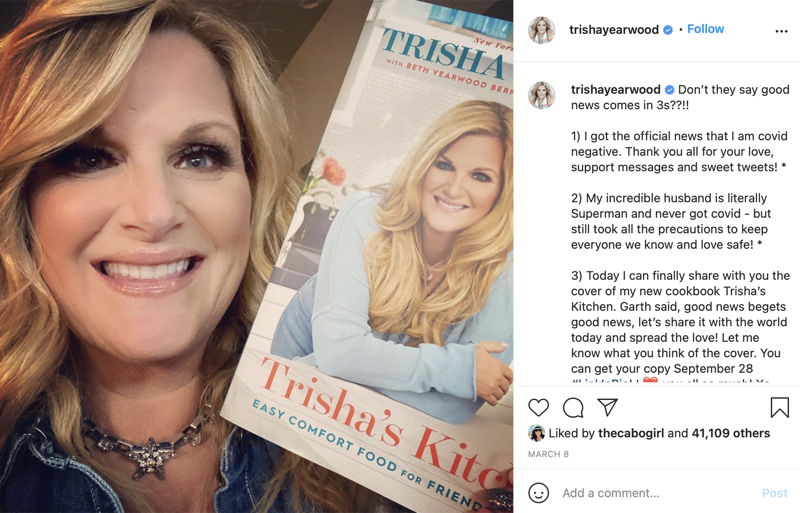 She added that she's excited about putting out this book, because it's something she's been working on for years and testing on her family. She did go on to say that Garth helped make a lasagna recipe that's incredible for breakfasts or dinners.
Trisha Yearwood shares her thoughts on what it's like to be a resident advisor
She also spoke on what she feels about her role as a kind of tutor who is always happy to help anyone who reaches out for advice. According to her it's an incredible thing to get to know these up-and-coming artists and even get to sing with them and perform with them. "I've finally kind of embraced the role of, 'hey, I have been around for 30 years, so I'm not the new kid on the block anymore,' and I've really enjoyed being friends with some of these young girls."
She then goes on to talk about Lauren Alaina, who she calls 'Junior' because she's from Georgia, and Caylee Hammack who gifted her with homegrown loofahs.
"Just getting to know these girls and remembering how it's an exciting time for new women in Country music right now. It reminds me a lot of how it was in the early nineties when all of us kind of came on the scene at once," Trisha recalls. "I just got to sing with Hailey Whitters on what she calls kind of a tribute to 'She's in Love With the Boy.' I'm happy. I think Country Music for women is in really good hands and I'm happy to be the old chick that they like."
Be sure to catch up on everything happening with Trisha Yearwood Come back here often for Trisha Yearwood news and updates.