Good news to everyone eager to see Trisha Yearwood on the screens again. Sweetly, she is returning to the Kitchen and she confirmed it via her social media handle.
On one of her live sections on Facebook, Coffee Talk, Trisha revealed that her beloved cooking show will Kickstart soonest. The often talked-about Trisha's Southern Kitchen is set to resume production in a few weeks from now.
About Tricia Yearwood
Patricia Lynn Yearwood officially known as Tricia Yearwood is an American singer, actress, author, television personality, and celebrity chef, born on September 19, 1964. She became a popular name in the entertainment industry after rising to fame with her 1991 debut single "She's in Love with the Boy". The song became a number one hit on the Billboard country singles chart. Tricia continued with a series of major country songs during the early 90s to mid-1990s.
Tricia's Awards as a Singer
Tricia's numerous hit songs have earned her several awards and nominations, including three Grammy Awards, three awards from the Academy of Country Music, and three awards from the Country Music Association. Moreover, she has also been a cast member of the Grand Ole Opry since 1999.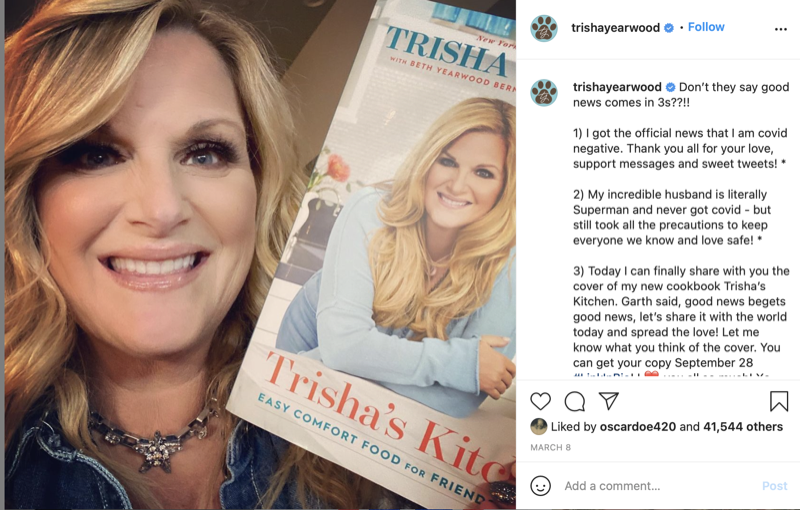 Tricia Yearwood Spread Her Wings in Other Careers
Tricia spent several years of her musical career focusing on other projects like acting and cooking. She became a renowned writer after she published three successful cookbooks, which appeared on The New York Times Best Seller list. In 2012, she took her cooking skills to the screens and began a culinary television series on the Food Network called Trisha's Southern Kitchen.
Tricia Releases Crucial Details about this Year's Filming
Trisha while sharing filming details with viewers said "We're finally, I think, in a couple of months going back into production for another season. The last episode we filmed was in February 2020, and I am happy we are resuming Trisha's southern kitchen production soon".
About Resuming Trisha's Southern Kitchen Production Amidst Coronavirus
Trisha said, though the Covid-19 pandemic had halted several events last year and restricted filming, she is happy the Covid-19 vaccine is now accessible to make things easier in this current year. Nevertheless, she and her team will continue to follow local guidelines on set to make the environment as safe as possible.
In her statement, she said, "Everybody on our crew is anxious to get back together. And now that everybody has the opportunity to get vaccinated, even though we'll be following COVID protocols and masked up, we feel that we can finally talk about safely going into production. So I'm pretty excited about that."
When Did Trisha's Southern Kitchen become a Sensation in our Screens?
Trisha's Southern Kitchen, for the first time, debuted in 2012 on the Food Network. Since then, it has won several awards including a Daytime Emmy Award for Outstanding Culinary Program in 2013, and was nominated again in 2017.
Are there any Other Achievements aside from Trisha's Culinary Skills?
Interestingly, the culinary celebrity aside from cooking knows her routes around writing. She is set to release her latest cookbook, Trisha's Kitchen: Easy Comfort Food for Friends and Family, on September 28, 2021.
Be sure to catch up on everything happening with Trisha Yearwood Come back here often for Trisha Yearwood news and updates.
Photo credit: Trisha Yearwood Instagram