Country superstar, Jason Aldean born Jason Aldine Williams is an American singer, songwriter, and record producer. He was born on February 28, 1977, in Macon Georgia.
His Early Music Days
Aldean kicked off his musical talents at an early age and made his first public appearance as a singer at 14. He also was Keen on playing baseball at Windsor Academy, drawing the interest of college teams. However, rather than leap into an athletic scholarship, he pursued his music career after high school. With his father shuttling as his booking agent, Jason began performing in bars and other small venues throughout the Southeast. Fortunately, he became a sensation after signing with Warner-Chapell Publishing, prompting a move to Nashville in 1998.
About His Music Career Over the Years
Jason spent his first years in the country music industry toiling in obscurity. He came into the spotlight with a self-titled album in 2005, and since 2005, Aldean has been signed to Broken Bow Records, a record label for which he has released nine albums and 35 singles. His 2010 album, My Kinda Party, is certified quadruple-platinum by the Recording Industry Association of America (RIAA). In 2012, Jason's album Night Train was certified double-platinum, while his 2005 self-titled debut, 2007 album Relentless, 2009 album Wide Open, 2014 album Old Boots, New Dirt are all certified platinum.
Aldean has received four Grammy Award nominations throughout his career, twice for Best Country Album. Many years down the line, he has become one of the country's top musicians on the strength of acclaimed albums like Wide Open and My Kinda Party. Within ten years of music hits, he garnered his first Academy of Country Music Entertainer of the Year Award in 2016.
About Jason's Parents
Jason lived with his mom, Debbie, after his parents divorced when he was only 3. However, they both showered him with love and care notwithstanding that they had gone their separate ways. Moreover, he spent summers with his dad, Barry, in Florida.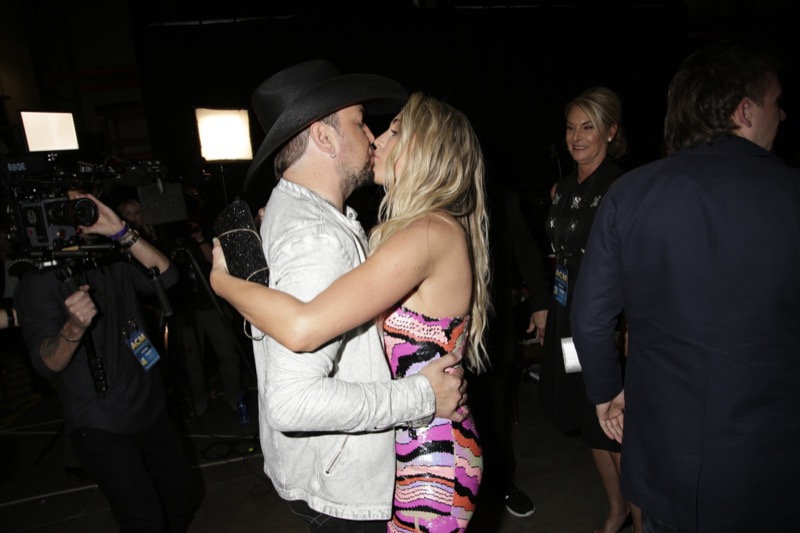 About Jason's Marriage
Jason Aldean tied the knot with his first wife, a high school sweetheart, Jessica Ussery. They married on August 4, 2001, and had two daughters, Keeley (2003) and Kendyl (2007). Sadly 2013, Jason filed for divorce in April 2013.
After two years of filing a divorce in his previous marriage, Aldean married his second wife – a former American Idol contestant and pro football cheerleader Brittany Kerr, in March 2015. They both welcomed their son, Memphis on December 1, 2017. The following summer, the couple announced that they were having another child; their daughter, Navy. Sweetly, she was born on February 4, 2019 – a year before the Coronavirus pandemic took a toll in the world.
Tragic Moment For the Country Superstar Some Years Back
Sometimes on October 1, 2017, Aldean had just begun performing "When She Says Baby" at the Route 91 Harvest Festival in Las Vegas. While performing, his pregnant wife behind the stage, a gunman began firing into the crowd from the 32nd floor of the nearby Mandalay Bay Resort & Casino. Aldean and his wife fled the scene unscratched. However, at least 58 people were killed and over five hundred people were injured as a result of the rampage.
Shortly afterward, the singer released a statement in which he announced he was temporarily postponing his tour. In his statement, he said postponing the tour was the right thing to do as an act of respect for the victims that had experienced that horrific shooting.
Be sure to catch up on everything happening with country music. Come back here often for Jason Aldean news and updates.
Photo credit: Scott Kowalchyk/CBS ©2018 CBS Broadcasting Inc.