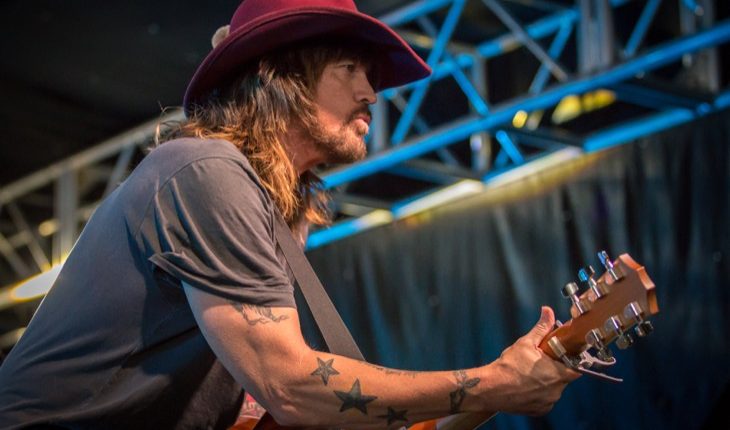 As surprising as this might sound, Billy Ray Cyrus never got down on one knee to propose to his fiance Firerose. Whether Billy Ray stood up to propose or he sat down, the fact remains that he didn't propose with a ring either. Ooopss…shocking right? I know!
How Billy Ray Cyrus Proposed To Firerose
Following the engagement speculation surrounding the lovers, and the shiny diamond ring on "that" finger of Firerose which never escaped our notice, Firerose has finally revealed how the "Achy Breaky Heart" singer popped the question.
According to Firerose, Billy Ray didn't ask for her hand with a ring or on a bended knee, nope. That's not how it happened. Firerose revealed, "Billy looked at me and said, 'Do you, do you wanna marry me?' And I was just like, 'Of course I do. I love you,'" Firerose then added Billy Ray's response, "He said, 'I love you. I wanna make this official. I wanna be with you forever.'"
Billy Ray said that while he and Firerose's relationship was still fresh, that was during the pandemic, some dark feelings which he has been nurturing within him began to slowly fade away.
"There was sickness and death and hard times. All of a sudden, the life that I've always known as a touring artist didn't exist anymore. A moment of so much change. And at the same time, Firerose, who had been such a light of positivity, such a best friend."
"And then, when we began sharing the music, it just evolved more into, as musical soulmates, to soulmates, happy, pure love that, to me, I didn't know could exist. Again, we're musicians, first and foremost, both of us. And we found this harmony, and this rhythm, this melody to life."
Firerose's Story On How She Met Billy Ray Cyrus
In August 2021, Firerose shared the details of when she first met Billy Ray at Live With Kelly and Ryan, according to Firerose she met the musician on set while filming Hannah Montana, "We actually met 10 years ago on the set of Hannah Montana."
Firerose went on to say that Billy Ray has been a source of motivation to her all through her musical career, Billy Ray has "been a phenomenal supporter of my music. He's just really believed in me and continued to tell me to pursue my dreams no matter what and not give up. The music industry is not easy, but he's been just a really, really incredible support."
Be sure to catch up on everything happening with Billy Ray Cyrus right now. Come back here often for all the Billy Ray Cyrus' spoilers, news, and updates.
Editorial credit: Trina Stewart / Shutterstock.com