Mickey Guyton is making progress with her Vinyl collection. Just recently, Mickey made a post on her social media telling her fans that she has found some albums to add to her Vinyl collection. From the shots she took and displayed, she has added 7 albums from top female county artists to her collection. Her display boldly reeks of her support for women in country music.
Her post reads, "I'm starting a little vinyl collection, and I'd love for you guys to see what I've got," said Mickey before she asked her fans "What else should I get to add to my vinyl collection?" She concluded her post by asking her followers "What else should I get to add to my vinyl collection?"
How Mickey Guyton's Followers Reacted To Her Vinyl Collection
Lovers of county music, more especially lovers of female country music artists, all came under Mickey's post to suggest names of great female country musicians for Mickey to add to her collection.
Names like the legendary Dolly Parton, Carrie Underwood, Taylor Swift, Reba McEntire, Brandi Carlile, etc., were suggested to Mickey.
Even the iconic LeAnn Rimes stopped by to promise Mickey a copy of her new album "God's Work." LeAnn said, "I need to send you a #godswork vinyl."
No sooner had LeAnn promised to send her new album Mickey's way, did a newbie Stephanie Quayle suggest that Mickey also include her latest album "On The Edge." Stephanie simply said, "I think I know someone to add" and we picked the details from there.
While fans and followers were suggesting albums for Mickey to add to her collection, Mickey also suggested to lovers of good country music some albums that she considered her favorites for them to try out.
Mickey suggested albums like Kasey Musgraves' "Golden Hour," Ingrid Andress' latest record, "Good Person," Aretha Franklin's vinyl "Greatest Hits," Harry Styles, George Strait, Carly Simon, and Metallica.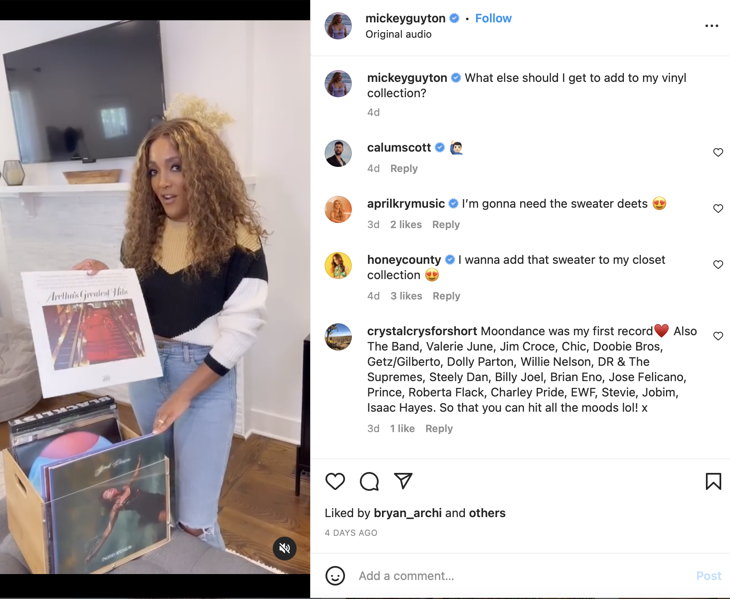 Why Mickey Guyton Suggested These Albums
Let's start with the breakout star Ingrid Andress. Ingrid's new album titled "Good Person" is out, and for Mickey to announce that the album is incredible means that it truly is.
Ingrid's album "Good Person" has a list of 13 tracks in it. The track is an emotional song that speaks about the sad days in a toxic relationship and finally finding true love in a healthy relationship.
Talking about Aretha Franklin's "Greatest Hits" Mickey said, "Aretha's "Greatest Hits," you just can't go wrong." Indeed there're no truer words than that. You just cannot go wrong with Aretha's " Greatest Hits."
Aretha was one of the greatest of her time, she was best known for her ever beautiful songs "Respect," "Freeway of Love," and "I Say a Little Prayer." Did I mention that Aretha made history by being the first woman to be inducted into the Rock and Roll Hall of Fame? Well, she was, in 1987.
Kasey Musgraves is another great county musician, and Mickey suggested that fans listen to Kasey's fourth album "Golden Hour"
Kasey's "Golden Hour" was released in 2018, and the album has a total of 13 tracks which Kasey co-wrote all 13. The album won four GRAMMY Awards – Album of the Year, Best Country Album, Best Country Solo Performance, and Best Country Song with "Space Cowboy."
Be sure to catch up on everything happening with Mickey Guyton right now. Come back here often for all the Mickey Guyton's spoilers, news, and updates.
Editorial credit: Ron Adar / Shutterstock.com