Country singer RaeLynn and her husband Josh Davis welcomed their first child, daughter Daisy Rae, on September 8, weeks before she dropped her latest album, Baytown.
From the moment RaeLynn held her daughter, she immediately knew she was in love and couldn't imagine how such an adorable little girl came to be hers. A few weeks on, the new mother is sharing her parenting tricks and how Diasy's character is blossoming. "She's definitely going to have a little sass to her."
Raelynn on Daisy's Personality and Preferences
Daisy's a charmer. Right from the moment she entered this world, she had her sweet mom in tears.
"When she came out and they put her on my chest, I just started crying because I couldn't believe that she was mine," The "God Made Girls" singer, 27, opened up to PEOPLE exclusively.
4:07 p.m. on September 8, RaeLynn and husband Josh Davis, 30, welcomed Daisy Rae in Nashville.
A few weeks after Daisy's arrival, the Voice alum released her second full-length album Baytown. Daisy and Baytown, which is RaeLynn's most vulnerable record to date, both arrived on September.
"It's been really, really cool to see two important things happen in the same month — to have a vulnerable record come out as I'm going into this new season of being a mom has been really special," the singer-songwriter told PEOPLE.
Daisy has been in our world for a month now and the little lady is already building up a personality. Proud mom RaeLynn couldn't get enough of Daisy and is always capturing her moments.
"She was a little bit of a spitfire last night! But she's very, very sweet. She's still figuring out her face, but when she wakes up — I have videos of it — she always looks at me and gives me and her dad a side-eye that is the funniest thing ever. It's like, "Why are you waking me up?! What the hell are you doing?" So she's definitely going to have a little sass to her, that's for sure. We're already seeing that in her personality."
"Of course, every baby loves to be warm because they're cuddled up in your womb for the last nine months, but Daisy loves these little things called Warmies," she continued. "They're stuffed animals you put in the microwave to warm up. She has a little elephant Warmie that she's obsessed with — when I put it near her she gets so cozy and it's the cutest thing ever."
As for who Daisy most resembles now, RaeLynn believes that she's got something of her and her husband in her.
"I found some baby pictures of Josh and I do think that she has his lips and chin. But she has my nose and my big eyes, for sure. I always had those bug eyes as a kid and she definitely has those. She's a good mix. And she's really long like Josh — I wasn't that long. She's got really long limbs. Her arms are so long that when we give her a bath, she just looks at them like, "Oh my God. Whoa." It's hilarious."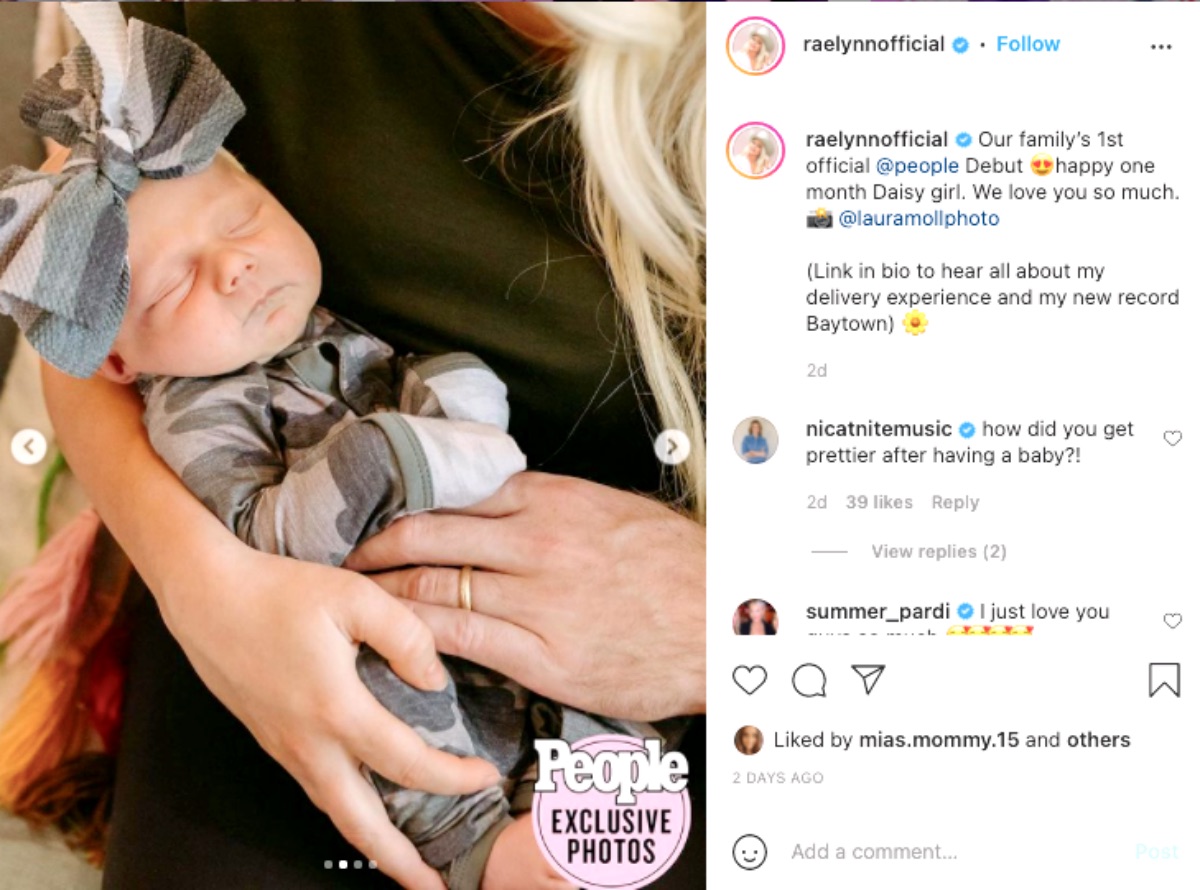 RaeLynn Discusses Choosing a Suitable Name for Her First Child
Picking a perfect name for your child can be challenging, intimidating, exciting and scary. For RaeLynn, she opted for names that mean a lot to her and represent something tangible.
"I always had a few names that I liked for her first name but it was never, "That's our daughter's name" when I heard it out loud. Never got to that point."
"It ended up that I was at Claire's at the mall, of all places, and there was this cute little girl with glasses and her hair up in curly blonde pigtails. She was trying to pick out something and she was just so cute and funny and sassy! I asked her, "What's your name, darlin'?" She goes, "My name's Daisy." And I was like, "Oh my gosh. That is my kid's future name." I got in the car and told Josh, "Whenever we have a kid, we have to name our kid Daisy." And he was like, "Actually, I really, really like that."
"Then I was stuck on a middle name. I've always loved the middle name Mae, but Mae doesn't really mean anything to me besides being born in May and that's M-A-Y. I was like, "She could be named after her Mommy and be Daisy Rae." So that's what we went for."
Be sure to catch up on everything happening with RaeLynn right now. Come back here often for all RaeLynn spoilers, news, and updates.