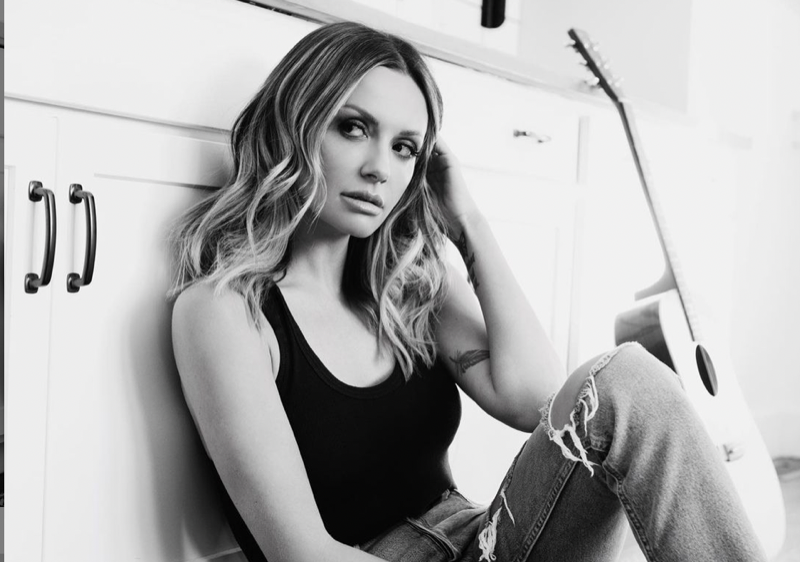 During the Grand Ole Opry, the 30-year-old songstress, Carly Pearce paid tribute to one of country music's greatest icons, Loretta Lynn, whose 50th album just dropped days ago on March 19. She explained before the performance that she thought Loretta's music was "fun" till she lived through it herself. So she decided to pay tribute to a woman she's never met before, but whose songs she's sang since she was a little girl.
Dear Miss Loretta
Pearce debuted the unreleased track Dear Miss Loretta on March 20 at the stage of the Grand Ole Opry in Nashville. Before beginning the song, she said that this was a kind of letter she wrote to Loretta Lynn, whom she never met, adding that she hopes to one day meet her and ask her all the questions she has for her.
She also stated that she feels like she has a lot in common with Loretta. The song made comparisons between the two women: one, a 30-year-old country singer, and the other an 88-year-old country legend.
"Your songs were all fun 'til I lived them myself … Now I know why you sing that way," she sings, accompanying her song with the guitar she's playing. Her voice and the minimalistic way she performed the song made it more vulnerable and relatable.
In the chorus she sings, "Dear Miss Loretta, we both grew up too fast / and I wish you could tell me / how you made it last / I ain't a coalminer's daughter / but I've sung it all my life / I ain't been a widow but I've been an ex-wife / and I hear your truth and I feel your pain / now I know why you've sang that way / Yeah, I know why you sing that way." It's such a relatable chorus, and adding that with the emotional lyrics and her powerful voice, it becomes hard not to pay attention as she slowly guides the audience on this sad little journey that promises to make one feeling stronger in the end.
After the performance, the 29 singer took to Instagram to share a heartfelt message about Lynn's influence on her life and music, "My grandma introduced to me to her music when I was a little girl, and made sure I understood that if I was going to sing country music being from Kentucky— I had to know the importance of Miss @lorettalynnofficial," the singer/songwriter captioned the video. "I've always loved her, but it wasn't until the last year that I really FELT what she's sang about all these years— and just how much we really do have in common. … Thank you Loretta, for making me feel like it's okay to write my truth and be unashamed.. just like you. 🤍 #dearmissloretta #opry."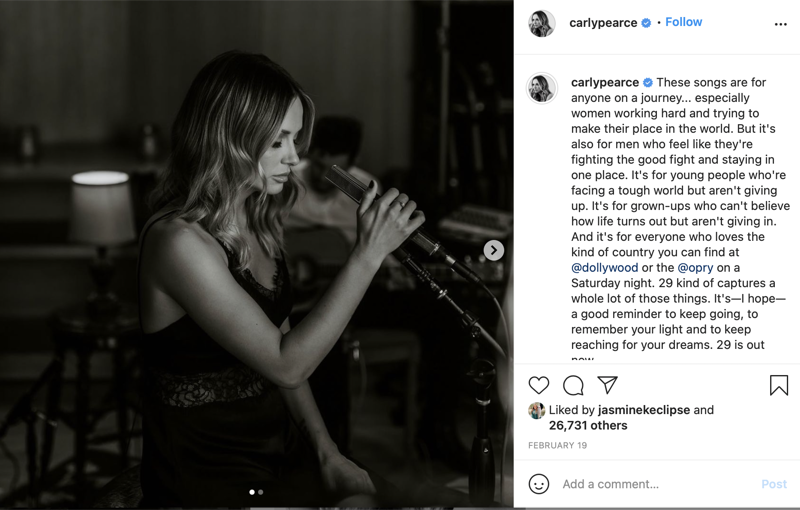 29
Carly Pearce released her latest project, 29, in February. The project was mostly filled with songs that spoke about her divorce from her ex-husband and fellow country artist Michael Ray. It isn't likely that the singer will forget her very last number in the 20s when she lost her friend and producer Busbee, and got divorced.
Talking about Loretta Lynn's influence on her life and career, along with Patty Loveless, Tammy Wynette and a few others, she described it as amazing that they were able to sing a song that feels to everyone who heard it as if the singer was talking directly to them in their kitchen.
Regarding the vulnerability and the amount of truth she revealed in her 7-song collection 29, she said that she's always been fortunate enough to have girl friends that are by her side through ups and downs. According to her, Kelsea Ballerini, Karen Fairchild and Lindsay Ell were the reason her latest work was so emotionally telling.
Loretta Lynn's newest album saw her promoting and being a part of raising new female voices in country music and collaborating with several female country artists. According to Lynn, "we girls gotta stick together."
Who knows what may result if Carly Pearce later met Loretta Lynn and asked her all of those questions she's got cooking up in her head, might it give birth to a new song?
Wow! @carlypearce this song means the world to me and you sang it on my favorite stage in the world @opry . I loved it and I love you! Maybe one of these days we can sing one together! #girlpower #westicktogether #fromtheheart #thankyou https://t.co/cCWkL5Uvxj

— Loretta Lynn (@LorettaLynn) March 23, 2021
Loretta's Lynn's reaction to the song
Carly Pearce and Loretta Lynn may not have met, but it certainly didn't stop Lynn from hopping on social media to tell her what she thought of the song.
"Wow!" Lynn tweeted. "@carlypearce this song means the world to me and you sang it on my favorite stage in the world @opry. I loved it and I love you! Maybe one of these days we can sing one together! #girlpower #westicktogether #fromtheheart #thankyou."