The country music star, Eric Church is set to come back on his "Gather again" Arena tour soonest. Sweetly, he plans to return to it by this year's fall – making him one of the pioneering artists to come back to a full concert since the Coronavirus outbreak brought everything to a halt in March 2020.
When is the Tour Happening?
Eric Church's "Gather again tour" is scheduled to kick start by September 17, 2020, at Rupp Arena Lexington, Kentucky. He would also make his second stop at Nationwide Arena in Columbus on September 18 and 55 other cities within the United States and Canada. Sweetly, the "Gather again" arena tour will end on May 20, 2022.
For the first time in many years, Eric Church's concert will take place through an in-the-round setup, with a stage at the center of each arena floor, and accommodating as many fans all over the United States and Canada as possible.
Personal Motivation kept Eric Focused
Remember, all he has done is play live shows all through his music career. However, he has been working tirelessly to return to work since the Covid-19 forced us all into a corner. Luckily, he is getting back on the wheels of the concert after the government made the compulsory lockdown flexible.
A Little Background History
Eric Church, the reigning country music entertainer of the year has been on-off the road for concerts since early 2019 – for his Double Down arena tour. The 2019 arena tour was estimated to be one of Billboard's highest-grossing country outings since the history lane of country music tours. The concert witnessed 56,521 music lovers in Nashville's Nissan stadium outnumbering Taylor Swift's concert records.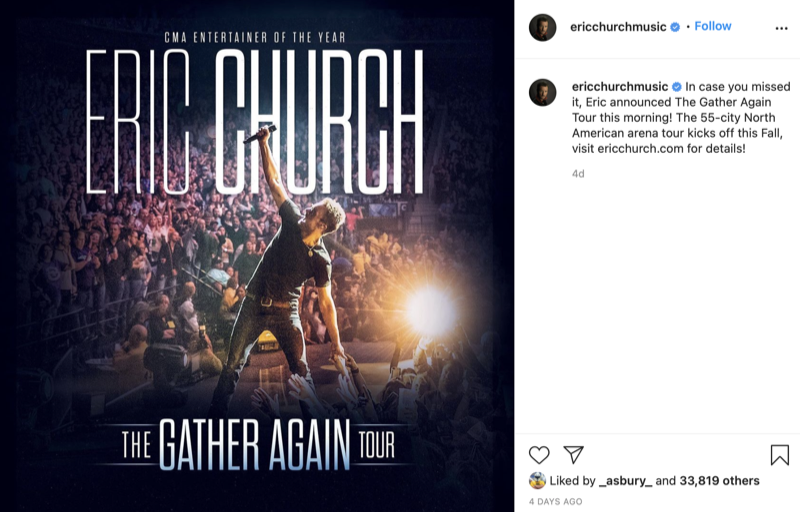 About the Tour and Covid-19 Vaccination
Sometimes within March 2021, Eric Church appeared on the cover of Billboard with a cover shot suggesting that the country musician and songwriter was getting a second dose of the Covid-19 vaccine. For a fact, the pandemic had caused him to cancel his Heart and Soul triple-album project and an arena tour in 2020. He said he had to meet up with epidemiologists, venue managers, and industry vets within his group with a determination to get back on stage.
Eric while speaking to Billboard for the cover story, that it became very clear to him that the possible way to get back to work was getting vaccinated. So, he needed to get the needles in his arms. He further said in his words "I just want to play shows. Politics' job is to divide – that's how you win elections. Those things that unite us are music and sports. The times when, whether you are Democrat or Republican or whatever, you throw your arm around the person next to you. We need that and I need that – obviously referring to music.
About Eric Church's Tour
The country music star says he is eager to get back on stage and share the music connection with thousands of audiences. In his words "honestly, there is a spirit moving around. I would even say the best shows is me – 20%; the audiences 80%. As far as I am concerned, all I am doing is starting the process and then they just carry it. He concluded while speaking with the Billboard.
Be sure to catch up on everything happening with country music. Come back here often for Eric Church news and updates.
Photo credit: Eric Church Instagram