It is going to be more than just a special night when country music legends Willie Nelson and George Strait will walk out on a stage to perform together.
Keep breathing, there's one little thing that makes the whole setup not entirely satisfying – it's not happening as fast as any reasonable country music loving fan would have hoped.
George Strait Opens Up about His Excitement Working with Willie Nelson
Willie Nelson has been in the country music business for more than six decades, racking up many hits and defining the genre with his outstanding songs. His debut album "And Then I Wrote", released in 1962, kickstarted his country music journey.
It's no wonder that George Strait, one of the most recognizable names in country music, is so excited to get to perform with Willie Nelson.
"I'm so glad I'll get to 'sing one with Willie' and I can't think of a better place to do it than Austin, Texas," Strait shared in a statement via press release. "Willie is an incredible musician and an even better person, so I know this will be a great night together along with our friends from Randy Rogers Band."
"Strait from Moody Center" will take place in Austin, Texas, on the evening of April 29, 2022. The performers will hit the stage as part of the celebration of the opening ceremony of the Moody Center, the University of Texas' new 15,000-seat arena.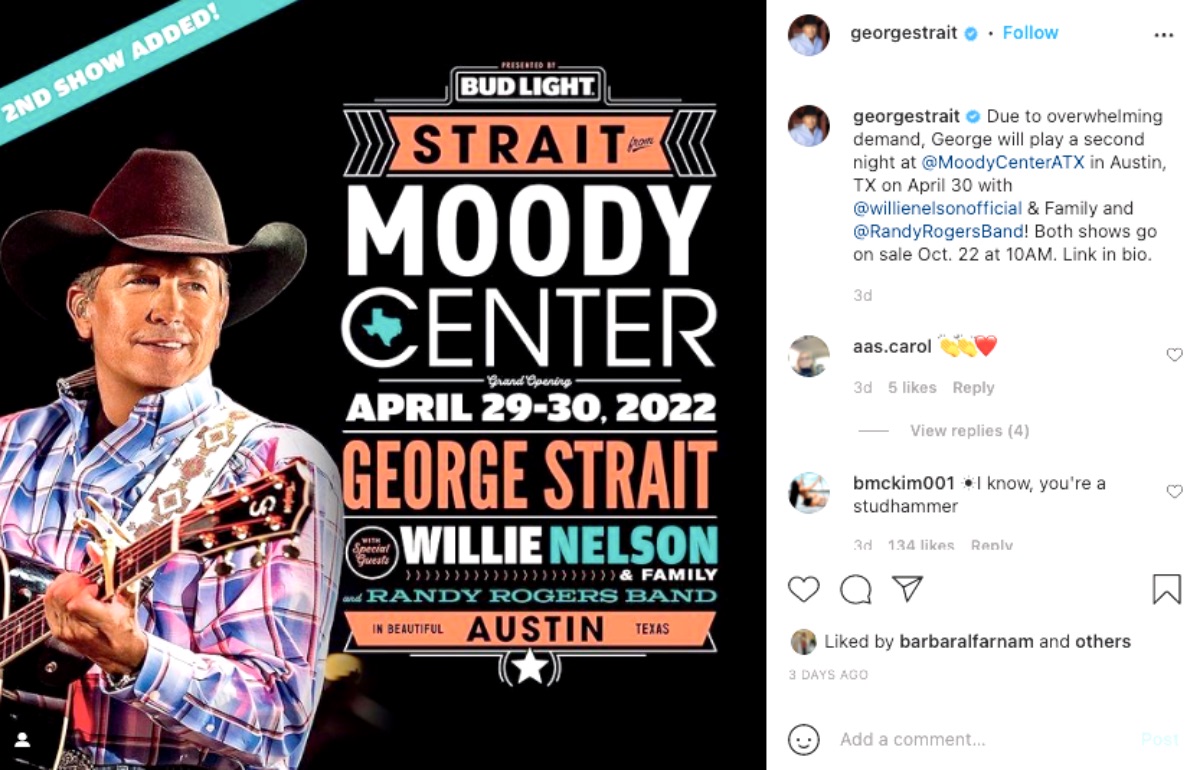 The one-time concert will include performances by Willie Nelson & Family and Randy Rogers band.
George Strait has mostly given up performing in large venues since 2012, even though he has kept up with performing multiple headlining shows and residencies in recent years, so the ceremony will be one of his biggest in years.
However, just recently, the country star headlined the Austin City Festival for the first time in his career on two different nights.
Be sure to catch up on everything happening with George Strait right now. Come back here often for all George Strait spoilers, news, and updates.