In partnership with Nashville Fashion Week, the Country Music Hall of Fame and Museum hosted a program Tuesday, Oct. 12, which highlighted the museum's free-to-access online exhibition "Suiting the Sound: The Rodeo Tailors Who Made Country Stars Shine Brighter."
Online Exhibit Highlights Country Music Hall Museum's Galleries and Collections of Stage Costumes and Archival Materials
The program exhibited the museum's galleries and rich collections of stage costumes and archival materials that showcase the stunning artistic skills of Western-wear designers whose work helped to create a long-lasting image for country music.
The program explored the breakout of the unique "rhinestone cowboy" look in the 1940s and 1950s, coming mostly from the tailor shops of Eastern European Jewish immigrants. The exhibit further examined how the style has contributed to fashion outside of the bounds of barn dances and honky-tonks.
The panel was moderated by Brenda Colladay, vice president of museum services at the Country Music Hall of Fame and Museum, along with acclaimed author, historian and filmmaker Holly George-Warren (How the West Was Gone); modern-day "rodeo tailor" Jerry Lee Atwood, who is known for his unique designs for his Union Western label – the designs have been featured in Vogue and commissioned by performers such as Nikki Lane, Post Malone and Lil Nas X; and singer-songwriter and multi-instrumentalist Chris Scruggs, who plays bass in Marty Stuart's Fabulous Superlatives band is the front-man of his own group, the Stone Fox Five.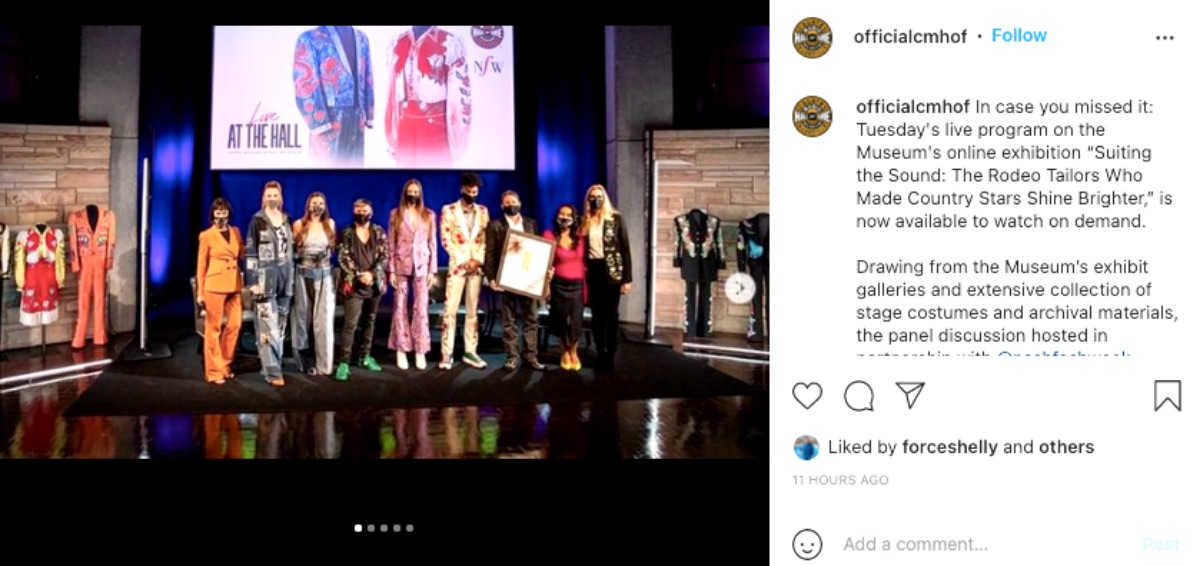 You can view the panel now on the museum's website.
As part of the partnership, the museum and Nashville Fashion Week provided Middle Tennessee designers and creators an opportunity to participate in a design competition by presenting their personal interpretation of country music stage wear. The designs would be influenced by the museum's online exhibition.
The public was invited to vote for their favorite designs based on creativity and originality from the eight finalists selected by Nashville Fashion Week. The three designs that got the most votes were displayed as a part of the program.
Be sure to catch up on everything happening with the Country Music Hall of Fame right now. Come back here often for all Country Music Hall of Fame spoilers, news, and updates