The book will include her recipes for Collard-Stuffed Wontons, Garth's Teriyaki Bowl, Chick Potpie Burger and Bacon Straws. The country singer recently dropped her fourth cookbook "Trisha's Kitchen: Easy Comfort Food for Friends and Family" late last month.
Trisha is a food lover and loves experimenting and trying out new recipes, especially since Garth Brooks is willing to occasionally lend his test buds.
Trisha Yearwood Opens Up about Perfecting Recipes
Garth Brooks is not especially big on collard greens, but when Trisha Yearwood, with the help of her sister Beth, perfected a recipe with collard greens, Garth Brooks happily ate his collard greens.
Trisha was also a little sly in presenting the dish to Garth because she didn't want him to turn it down before he got to taste it.
So, when she made her Collard-Stuffed Wontons for the first time at her Nashville home, with a little help from Beth, he didn't tell Brooks and his buddy what was in them when they came into the kitchen after working on the farm.
"I said, 'You try this.' Didn't tell them what it was. And they ate them all. They were like, 'These are amazing!'" Yearwood recalled. "And then I told him he ate his collard greens for the day."
The dish, which blends Asian recipes, is featured in Yearwood's latest cookbook. "Trisha's Kitchen: Easy Comfort Food for Friends and Family" has over 120 recipes which draw influences from China, Italy and Mexico's culinary skills.
As for the reason why Trisha Yearwood is such an authority on food, she credits her Emmy award-winning Food Network series "Trisha's Southern Kitchen" as the culprit. Five years after launching the show, the "She's in Love with the Boy" singer has a wealth of kitchen skills and loads of mouth-watering recipes.
"I've entered into a really cool phase and I really attribute the show for just giving me confidence to try new things. And now they've become kind of family favorites and they feel like things that have been in the family forever," she said.
Yearwood on Incorporating Her Family's Traditional Recipes
As a bonafide chef, Yearwood is not done learning new ideas and recipes, even asking at restaurants how the chefs make flavored dishes.
She once left a sushi restaurant in Tulsa, Oklahoma, with an idea that later inspired Garth's Teriyaki Bowl, which uses marinated chicken and steak.
The same restaurant helped her come up with the Steak & Avocado Rolls, which use soy wrappers to mimic sushi rolls. Yearwood and Brooks aren't fans of raw fish — "we're sort of roll-it-in-flour-and-fry-it people," she confessed, but since their girls are, the recipe becomes a compromise.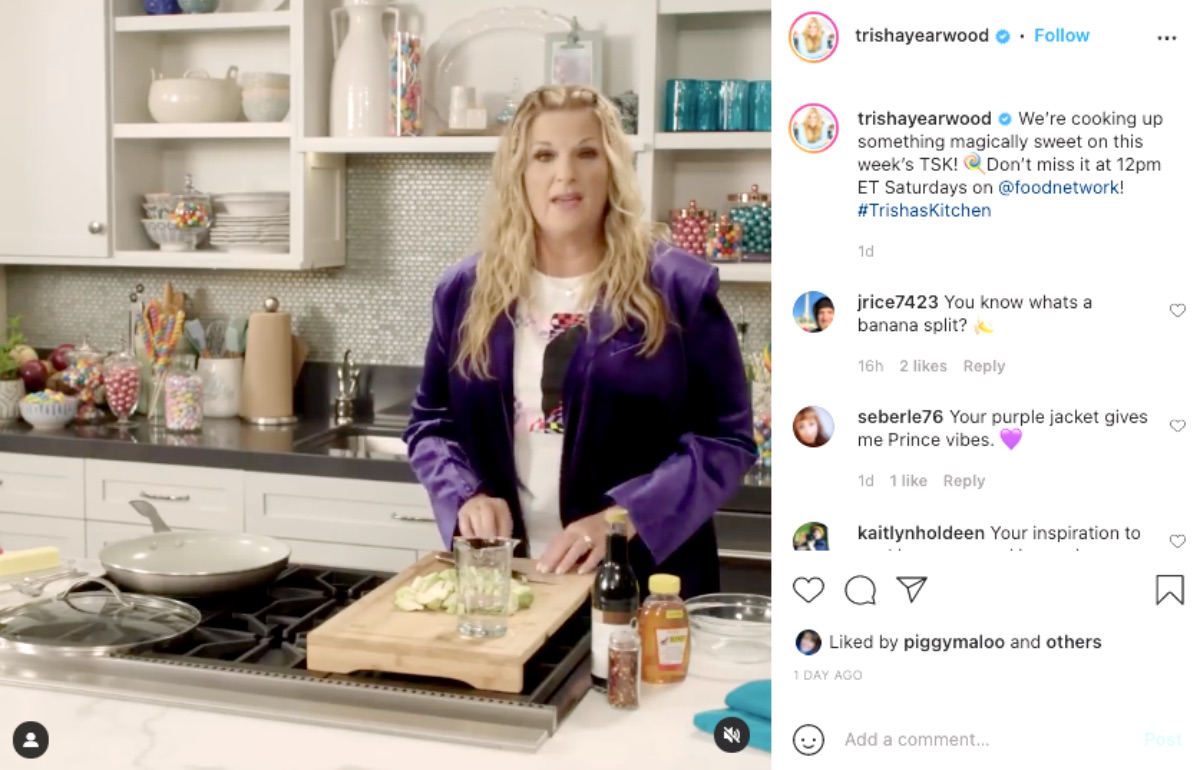 To be able to compile her latest recipe book, Yearwood also drew from several of her family's recipes, including those from her dad's mom.
Her grandmother was a good dessert maker but unfortunately, none of her recipes survived. It was resurrected when the family recently found a little book with handwritten recipes, featuring one for Hundred Dollar Cupcakes. Trisha and Beth also recreated a dish that was never written down, Jack's Fried Pies, named after their father.
To make her BBQ or teriyaki jerky, she doesn't go for humidifiers or any fancy equipment, especially when her oven would serve her just fine.
"It's really low and slow in the oven, like at 200 degrees for hours. It's not expensive to do. You can get a really inexpensive cut of meat and slice it yourself, or you can have your butcher slice it in strips for you and then you marinate it and then you just slow bake it. Then it can be as tender or as tough as you like," she said.
Be sure to catch up on everything happening with Trisha Yearwood right now. Come back here often for all Trisha Yearwood spoilers, news, and updates.