Halle Kearns, the country music singer/songwriter has dropped her debut single "Pick Me Up" on the 31st of July. The song which was about letting go and living in the moment gained nationwide radio play and 100,000 within the first four weeks of its release. The 24-year-old Columbia Missouri native proofed herself as one to look out for by releasing two more songs; "I Drink Whiskey" and "Shoes to Fill" before dropping her first extended play "Finally" on the 11th of December, last year.
Halle's reaction to the response to the release of her new EP
Halle exclusively told People how she made an effort to keep the pressure off and manage what she expected leading to the day of the release, that when Finally hit streaming platforms the immensely positive response was unbelievable. She mentioned that from July to December, she had no idea what had happened or how she made it to that point. The EP, "Finally" was released on her birthday and she said it was the most special day in her life. She also said she tried to get off her phone and be present that day to feel six years of hard work pay off.
The New Single "Plans"
The Columbia Missouri native singer/songwriter is set to release her new single "Plans", a pop-country song that showcases her ability to fuse relatable storytelling with captivating melodies, on the 16th of April.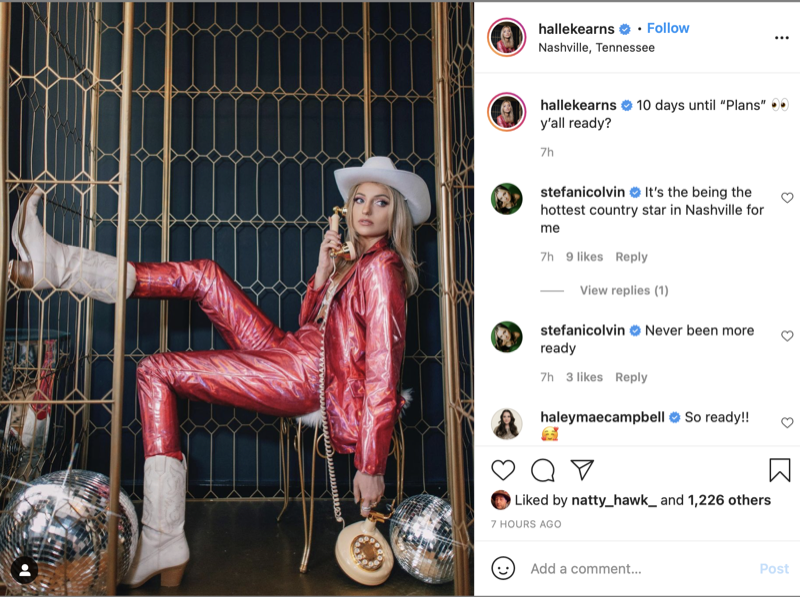 In the cover art, exclusively revealed to People Halle pulls off a disco-meets-western-inspired-look from one of her biggest inspirations, Kacey Musgraves, in a fringe bra underneath a metallic pink suit with a pair of white boots and a matching cowboy hat.
Kearns speaks about her inspiration and how she started her career
Halle spoke about her inspirations where she talked about how amazing Kacey Musgraves was and how she loved her. She mentioned that her other big inspirations include Ingrid Andress, who Halle said she loved everything about from her music to her branding, and Lainey Wilson, who is more of a traditional country type of person. Halle said it was refreshing because it is true to her and what she does.
The singer/songwriter also mentioned that before Musgraves and the others mentioned above, including Maren Morris and Kelsea Ballerini, who made for a new era for women in country music, she already knew she wanted to join the industry.
She said her parents were huge fans of country music and she had always listened to country music whenever she was in a car seat, that when she started to play the guitar it just came naturally to her. She also spoke on how hard she worked to figure out what she wanted to say and what her voice sounded like but it still fell under the country category.
Halle Kearns has been in the music industry for six years now and one person who had always supported her was her dad, who is also the inspiration behind her hit single "Shoes to fill".
Speaking on her repulsive 2020, she said it was nice to have good people around helping out but working independently made her realize that this what she was supposed to be doing. She also mentioned that remembering her passion and the reason why she is doing music will continue to be the most important thing.
Be sure to catch up on everything happening with Halle Kearns. Come back here often for Halle Kearns news and updates.
Photo Credit: Halle Kearns Instagram