Carrie Underwood, American singer, songwriter and actress has become one of America's favorite celeb sweethearts. The country singer was born March 10, 1983 and became a household name after winning the fourth season of American Idol in 2005.
Her incredible career is a story of pop and country genre crossover success: Her debut single, "Inside Your Heaven," made her the only country artist to debut at number one on the Billboard Hot 100 chart.
Her debut album, Some Hearts (2005), was the best-selling female country music debut album and she won three Grammy Awards for the album, including Best New Artist.
Here are five things to know about country music superstar Carrie Underwood.
#1 Carrie Underwood Has Brains and Beauty
Besides being a musical superstar, Carrie competed in numerous beauty pageants at her alma mater Northeastern State University and she was selected as the Miss NSU runner-up in 2004.
#2 Carrie Underwood Could Have Gone Into Politics
Carrie graduated NSU with a bachelor's degree in mass communication and an emphasis in journalism in 2006. During her college years she was a page for Oklahoma State Representative Bobby Frame and joined Sigma Sigma Sigma sorority.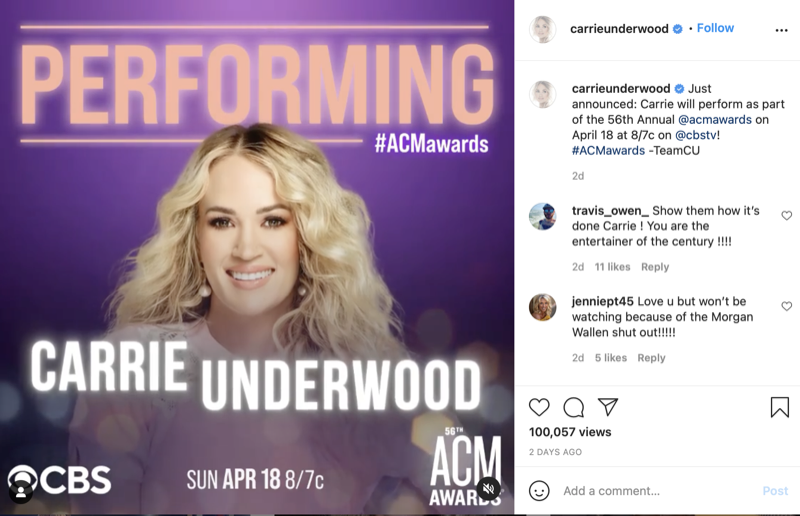 #3 Carrie Underwood Had an All American Life Before Hitting the Big Time
Carrie is a country music legend now, but back in the day she was the girl next door! Before hitting the big time her jobs included waiting tables at a pizza joint, working at a zoo, and a stint at a veterinary clinic.
#4 Carrie Underwood Is Country Music Royalty
On March 15, 2008, Carrie became a member of the Grand Ole Opry. Country hitmaker Randy Travis invited the songstress to join the coveted Opry and she was officially inducted by country icon Garth Brooks.
Is it any coincidence that that same year, on October 22, 2008, Underwood unveiled her very own wax figure at Madame Tussauds in New York?
#5 Carrie Underwood Is a Wife and Mother
Carrie and former NHL player Mike Fisher met at one of her concerts in 2008, and they were engaged in 2009. Mike gave Carrie a dazzling engagement ring with a yellow diamond that has been valued at $150,000.
The couple wed in 2010 at The Ritz-Carlton Lodge in Greensboro, Georgia. The couple's first son, Isaiah Michael Fisher, was born in 2015 and their second son, Jacob Bryan Fisher, was born in 2019.
Be sure to catch up on everything happening with Carrie Underwood. Come back here often for Carrie Underwood news and updates.