Country singer and songwriter Kenny Chesney is not about to embark on a tour in the fall when the SEC football season is in session. You can say that the man knows his fans, and he knows they'd rather watch the game than fill the stadium where he would be performing. As a SEC football fan, Chesney is keen on watching the games himself.
Chesney Ends Tour Ahead of the SEC Football
Chesney is a lifelong UT fan, and in his Thursday appearance on "The Paul Finebaum Show", he discussed his love for college football fandom. His love for the games started at a young age when he and his family didn't have an NFL team to root for, and this made them focus on the Vols.
"We didn't have a pro allegiance to anyone," Chesney said. "It was all Tennessee football and Tennessee sports, and that's all we had."
Every coming fall, the avid sports fan ends his shows so as to not compete with the game he and so many others love.
"We always end our tour right before football season, because I refuse to work during football season for two reasons," Chesney told Finebaum. "I want to watch the games, and I don't want to compete with SEC football. There's no way I'm going to do it."
This means that he and his touring crew end their shows before September, vacation for a week, enjoy the college football season and meet up next spring for more shows.
Kenny Chesney Promotes Legendary SEC Radio Announcers in New Documentary
For "More Than a Voice", a feature-length documentary film exploring legendary SEC radio announcers, Kenny Chesney, 53, joined forces with Finebaum to promote it. According to the musician, "they made the game larger than life".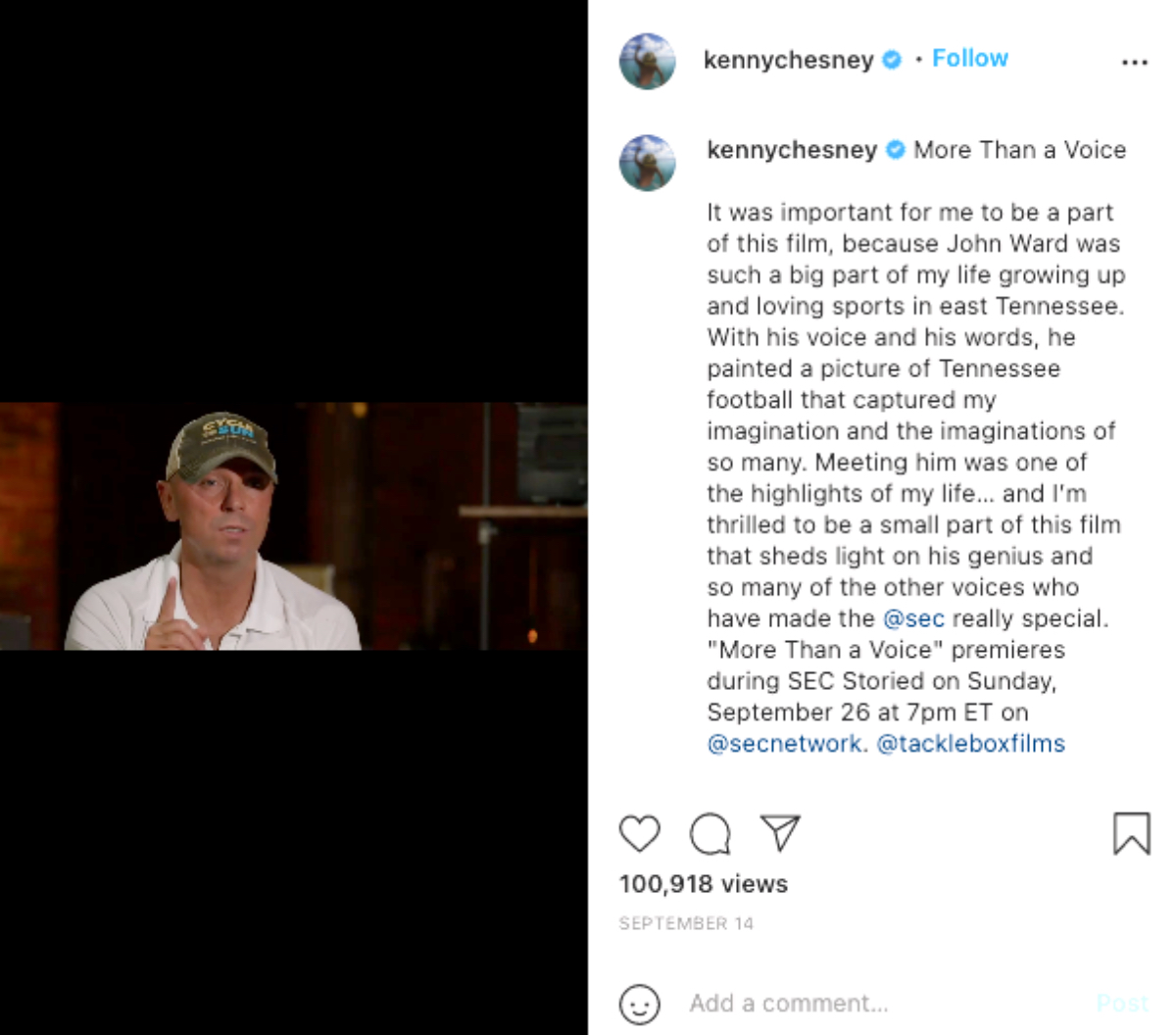 The first episode of the 11th season of the award-winning series by ESPN, "SEC Storied", will premiere later this month.
Chesney is serving as the executive producer of the film and is set to make an on-screen appearance. In the past, he has worked on several projects with ESPN films including "Boys of Fall," "The Color Orange: The Condredge Holloway Story" and the "The Believer," which focused on Steve Spurrier.
Earlier this year, Chesney revealed that his 2021 tour has been moved to 2022 as a result of capacity restrictions, which came about due to the ongoing pandemic. Per a press release by Chesney's team, an entire tour originally planned for 2020 was rescheduled for 2021, and moved to 2022 when the pandemic continued.
Be sure to catch up on everything happening with Kenny Chesney right now. Come back here often for all Kenny Chesney spoilers, news, and updates.