For country musician Jana Kramer, seeing her ex Mike Caussin doesn't make her feel bad or wish for the times when they were together, yet there's something about seeing him with other women that gives the singer a bad vibe. It's not love, it's not hate, and it's not even indifference.
Kramer Reveals it Freaks Her Out Seeing How Easy Her Ex Has a Good Time on Dates
Jana Kramer has been very open about surviving her recent divorce and the bitter moments that arise from it, even if the relationship was indeed a "toxic" one.
Sharing two children with the former NFL player – daughter Jolie Rae, 5, and son Jace Joseph, 2 – she formerly admitted that joint custody with her ex is hard because she'll definitely feel miserable the first time that her children will leave her house to stay with their father.
But apart from child custody, there's something else that's freaking the star out about the whole divorce and move on with your life thing. On the latest episode of her "Whine Down" podcast, the 37-year-old opened up about running into her ex-husband Mike Caussin during a night out with Jay Cutler.
She explained how "stung" she felt seeing him cozying up to other women when they bumped into each other at a bar opening in Nashville earlier this month.
"I will say that was really hard to see him there — seeing him flirt with other girls," Kramer said. "I mean, granted, I was there as well doing my thang, but that was really hard."
"You know what was hard? It looked so easy for him," she explained. "He didn't look like it bothered him one second. And that hurt, because I was like, 'He's untamed, he's uncaged and he's happy.' "
Kramer announced in April that she and Caussin, 34, were calling it quits after six years of marriage, with the divorce being finalized in July.
Jana Kramer Talks Therapy and Moving On
Jana Kramer confessed to talking to her ex at one point during the bar opening, which marked the first time she and Cutler were photographed together. The "Beautiful Lies" singer said that Caussin's reaction to speaking to her in public wasn't anything like she pictured it to be.
"I was like, 'This is awkward!' And he's like 'Not at all!' " she said on her podcast. "Like, I'm glad that he was fine with it. But at the same time — I talked to my therapist about it and was kind of like 'Just a little piece of me was kind of like, it would have been nice to be like, 'Yeah this is hard but I'm glad we can be cordial.' That's just acknowledgment that it might hurt a little. But I don't know."
The star further chatted about talking it through with her therapist and trying to come to terms with the situation.
"What kept coming to my mind was 'How did I get here? How is my ex-husband across the room?' " she said. "Like, how did I get here?"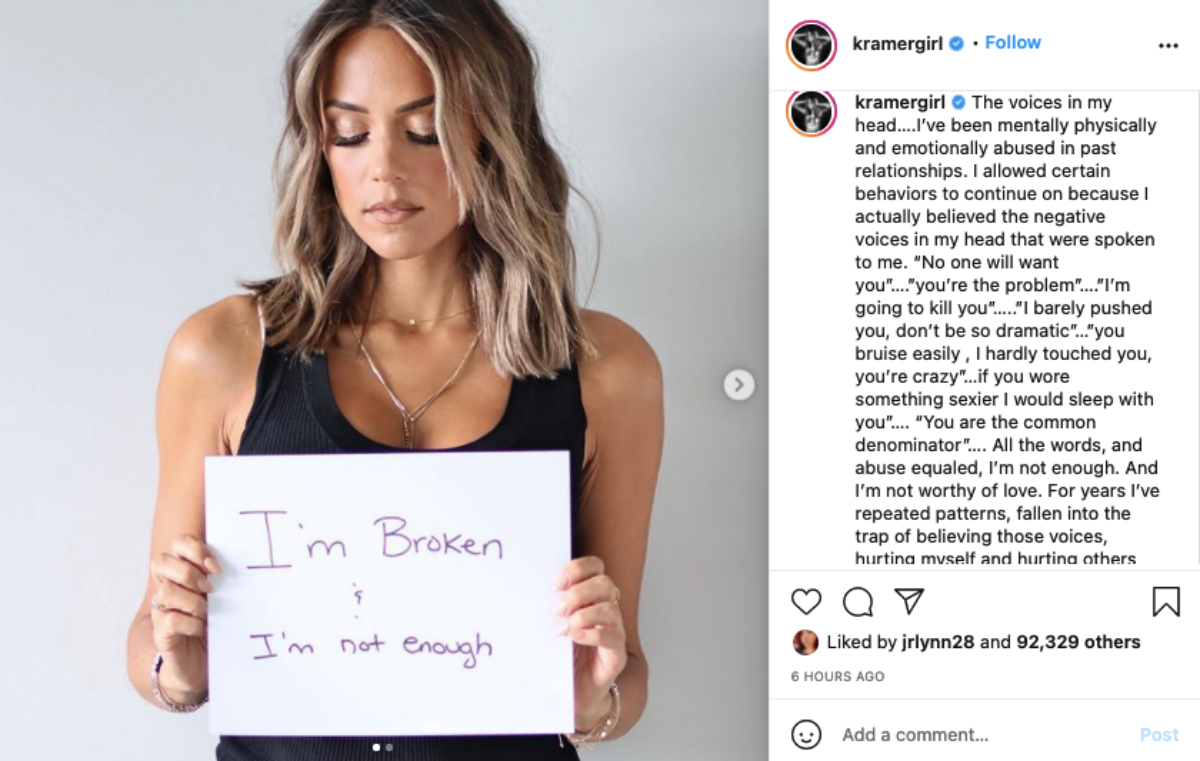 "It wasn't that I wanted to be next to him," she clarified. "It's not even that I still have feelings. I mean, none of those things are back because I don't want to be back in that relationship. That was a bad, toxic relationship. But what I thought it was and the memories, I'm like, 'How did I get here?' It was very strange."
Speaking about moving on, a source close to Kramer said that she and Jay Cutler's romance clicked from the start.
"Jay and Jana had a lot they bonded over with how their divorces played out," an insider said earlier this month.
Jay Cutler, 38 and a retired NFL player, divorced his ex-wife Kristin Cavallari in 2020 after ten years of being together. The pair share three children together.
Be sure to catch up on everything happening with Jana Kramer right now. Come back here often for all Jana Kramer spoilers, news, and updates.