Reba McEntire has become one of our favorite country music artists when we seek songs overflowing with emotion.
As a result, we wondered whether Reba herself currently has found true love. Has the "Does He Love You" songstress found the answer to that question in her own romantic life?
Get the inside story on Reba McEntire's love life below, from her divorce to whether she's married again.
Reba McEntire Gets Candid About Divorce
For 26 years, Reba McEntire was married to Narvel Blackstock. Beyond their married life, McEntire and Blackstock became involved in a business arrangement: Narvel took on the role of manager to the country music singer.
As a result, Reba felt her life was sailing smoothly. But in 2015, McEntire experienced a storm on those formerly smooth waves: Blackstock wanted to divorce.
The country music singer opened up in her "Living & Learning With Reba McEntire" podcast recently about how she felt.
Talking with friend and former co-star Melissa Peterman, Reba pointed out the difference between choosing to get divorced and discovering that your husband wants to divorce you.
"I think forging your own path, that's your choice. The divorce was not my choice," said McEntire candidly. "I did not want it at all. So it was left up to me of, 'Okay, kid, how you gonna handle this?'"
Reba admits she felt alone at that point. The individuals caring for her, her company, and her career all left her.
But that pivotal moment turned into a "Buckle up, buttercup'moment" of growth for the country music singer. Following her divorce, McEntire proved that she could manage life on her own.
Reba McEntire Takes Charge of Country Music Career After Divorce
Reba forged her own path following her divorce. From managing her career on her own to finding love once more, McEntire proved her strength to the world.
A "come to Jesus meeting" with the country music singer's team helped Reba to take charge again. She faced her crew and her band, determined to "gather my wherewithal, put my feelings aside and go forward."
And go forward again, playing "Catch Up 101," in terms of learning about the business side of her country music career, noted McEntire.
Reba found the silver lining in the situation.
"I had to learn so much that was dumped on my lap. But I think it's made me appreciate the business more," pointed out McEntire. "I've learned a lot. There I was again, forging another part of the territory I never even thought I would have to be involved in."
And now Reba has found love once more.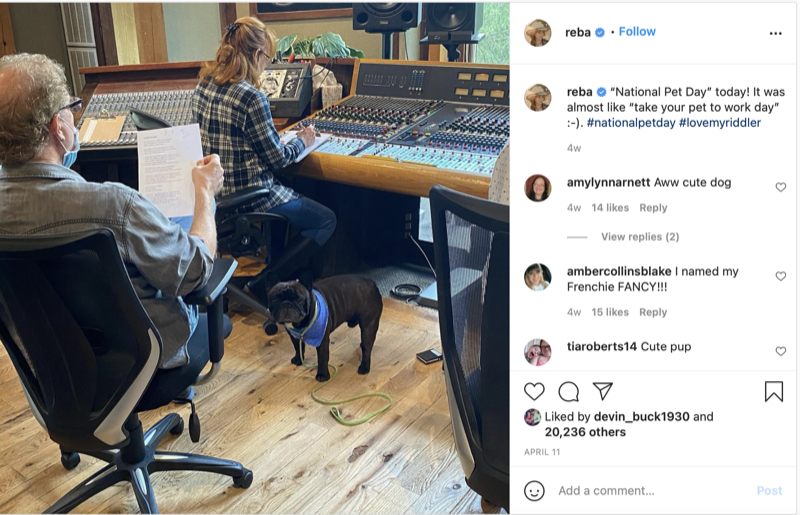 Reba McEntire Shows Her Love Life Has Gone To The Dogs (One in Particular!)
McEntire recently shared a glimpse of her new romance on social media. But has her love life gone to the dogs? Well, sort of.
The country music singer showed a photo of herself in the studio with a French bulldog.
The little dog, Riddler, visited Reba with his owner, her new boyfriend Rex Linn. Linn and McEntire met in 1991 when both filmed the TV movie, "The Gambler Returns: The Luck of the Draw."
Rex and Reba then reconnected, as she shared on her podcast, to enjoy dinner together. Throughout the pandemic, they communicated through "talking, texting, FaceTime."
Reflecting on the experience, McEntire called those virtual dates "a really good way to get to know people… It's good to have a person to talk to, laugh with, get into subjects about what's going on. Discussions about our past, our family, funny stories, him being an actor, me being an actress."
Reba shared that Rex also appreciates her country music classics, calling her new boyfriend "very into my music." In turn, she is "very into his career. It's just great getting to talk to somebody who I find very interesting, very funny, very smart, and is interested in me, too."
Be sure to catch up on everything happening with country news right here on Country Music Lane. Come back daily for country news and Reba McEntire updates.