Carrie Underwood Joins Other Country Music Stars In Celebrating Mother's Day: Best Country Songs About Moms [Video]
Country music stars like Carrie Underwood are getting ready to celebrate a very special event: Mother's Day!
From country music singers celebrating their own role as moms to musicians honoring their own mothers, we've got a round-up of country music's unique way of participating in Mother's Day.
And a bonus tip: Not sure what you're going to do for Mother's Day this year? Check out Carrie's special way of celebrating Mother's Day on Instagram and our own list of the best country music classics about moms for inspiration below.
And don't miss the special video at the end of the article!
Carrie Underwood Celebrates Motherhood
Many of Carrie Underwood's fans have followed her from the first time she timidly stood on the American Idol stage. We cheered as she won multiple awards, watched her honor other country singers at award shows, and faithfully purchased and cherished her albums.
But for Carrie, becoming a mom tops her list of special moments. Underwood and her husband Mike Fisher have teamed up as parents to two adorable sons.
Carrie's oldest son, Isaiah, was born on February 27, 2015. Isaiah Michael Fisher then got a baby brother, Jacob, in January 2019.
As a result, Underwood enjoyed two Mother's Day celebrations last year. And we're predicting that the country music songstress will cherish the special day this year with double the joy as well.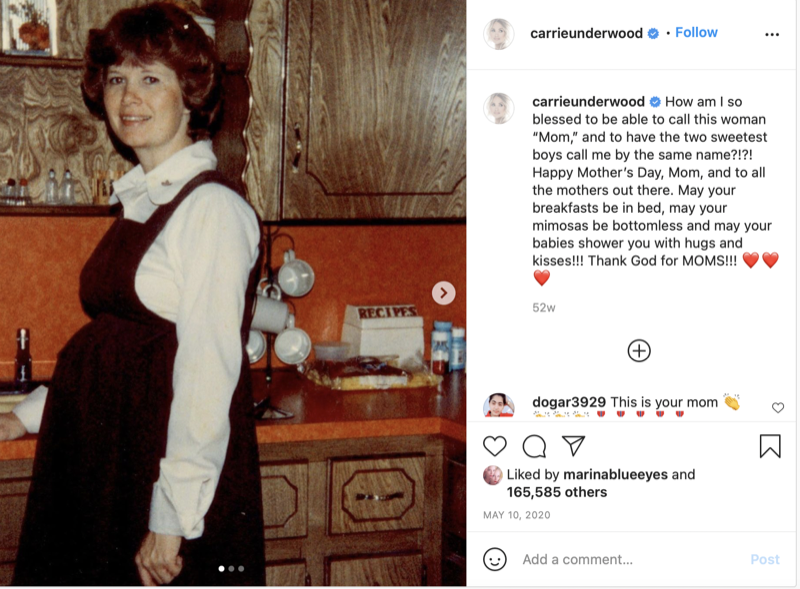 Carrie Underwood Shares Her Mother's Day With Instagram
Turning to Instagram last year at this time, Carrie shared the cutest Mother's Day card ever from her sons. Since Isaiah was 5 and his baby brother Jacob was only 1 year old, we're guessing that the precious handwriting belongs to Underwood's older child!
"Mom," read the front of the card, complete with scrawls of hearts. And on the back of the card, the little boy wrote, "Happy Mother's Day Mom. We love you, Mommy, forever and ever! You are the best mom in the universe!"
In addition to proudly sharing that card from her sons, Carrie celebrated her own mother, Carole Underwood. The picture showed Carole pregnant with the future country music star.
"How am I so blessed to be able to call this woman "Mom," and to have the two sweetest boys call me by the same name?!?!" gushed Carrie in her caption. "Happy Mother's Day, Mom, and to all the mothers out there. May your breakfasts be in bed, may your mimosas be bottomless and may your babies shower you with hugs and kisses!!! Thank God for MOMS!!! ❤️❤️❤️"
Awwww.
And Carrie Underwood is in good company when it comes to country music stars celebrating Mother's Day and moms. Check out the best country songs to play to remind you to celebrate your own mother on her special day.
Best Country Music Songs Celebrating Moms
We love you, mom! That's the message from country music singers of all eras and backgrounds.
And now, a drum roll please for our nominees for the best country music songs to play on Mother's Day to honor your own mother:
Martina McBride singing "In My Daughter's Eyes": Martina celebrates how children view their mothers, with lyrics including "In my daughter's eyes I am a hero; I am strong and wise, And I know no fear…"
Taylor Swift crooning "The Best Day": Reprising her country music classic celebrating her mother, Taylor takes us through the time she was "five years old…And look up smiling at you" to the "best day with you today" as she got older.
Faith Hill celebrating motherhood in "You Can't Lose Me": We dare you to listen to this song without tears! Faith sings about "a little girl, a little small for her age; A little too slow for the field day race; Momma's waiting at the finish line; And wipes the teardrops from her eyes…"
And last but not least, watch Faith Hill's official video of "You Can't Lose Me" below.
Happy Mother's Day!