Taylor Swift and Keith Urban recently teamed up for some new country music songs. But as Keith recently revealed, the way that the songs developed is very unusual.
Get the inside scoop on how Urban and Swift decided to work together to add to their country music success stories!
Keith Urban Reveals The Unexpected Place He Listened to New Taylor Swift Music
Visiting Ellen DeGeneres talk show recently, Keith recalled his unexpected discovery of Taylor Swift's new music. Urban, 53, and Swift, 31, apparently are texting pals (who knew?!).
Keith explained that prior to teaming up with Swift on her new re-recorded album, Fearless, he received a text from Taylor in a shopping mall food court. (Umm, while we picture the country music star in many locations, such as strumming his guitar for his wife Nicole Kidman in a secluded getaway, we never envisioned him in a shopping mall!).
"It's the craziest story," admitted Urban. "We were in Australia, I was doing some Christmas shopping at the shopping mall in December — because everybody does their shopping right before Christmas, every guy does. … I get a text from Taylor saying, 'I've got these couple of songs I'd like you to sing on, do you wanna hear them?'"
When Keith asked to listen to the songs, he received the unreleased Taylor Swift music and promptly put on his headphones to listen as he sat in the food court at the shopping mall.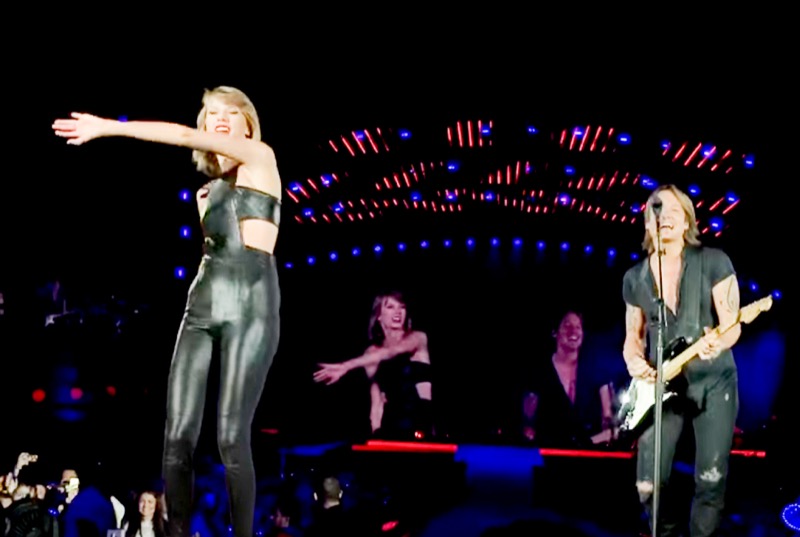 Taylor Swift, Keith Urban Songs: 'That's When' and 'We Were Happy'
"It was an unusual place to be hearing unreleased Taylor Swift music," Urban laughed about listening to the music in the mall. "But I loved the songs, and luckily got to put a vocal on both of those."
The result can be heard on Taylor's album that just dropped, "Fearless (Taylor's Version)." And while Swift has the glory of the title track, Keith's country crooning can be heard in two new tracks: "That's When" and "We Were Happy."
As for DeGeneres' reaction to Keith's story about Taylor? Ellen called it "hilarious" to envision a famous country star sitting in a mall food court and rocking out to secret songs texted from Taylor Swift.
"I was hungry!" Keith said in defense, laughing. "Where are you gonna go when you're hungry, Ellen?"
Keith Urban Reveals Daughters' Reactions to Taylor Swift Collaboration
Urban has two daughters with his wife Nicole Kidman. Faith is 10-years-old, while Sunday is 12. Keith revealed that both of his daughters were thrilled to learn that their father is so connected to Taylor Swift.
"[They are] big Taylor Swift fans, yes," admitted the country music star. "They were just excited that Dad got a text from Taylor Swift."
The excitement about the collaboration isn't limited to Keith Urban's and Nicole Kidman's kids, though. Taylor Swift has also shared her delight that Keith has agreed to work with her on the album.
"I'm really honored that @keithurban is a part of this project, duetting on That's When and singing harmonies on We Were Happy," Taylor announced on social media.
Swift recalled taking on the role of Keith's opening act during his Escape Together World Tour in 2009, which took place exactly one year following the release of her original Fearless album.
"I was his opening act during the Fearless album era and his music has inspired me endlessly," added Taylor.
Watch and listen to the video below: