Country singer Toby Keith will perform at Spotlight 29's Coachella Crossroads on Saturday, May 15. Coachella Crossroads is an open space venue located adjacent to Spotlight 29 Casino. The country music star will serve as the inaugural musical performance at the 50-acre outdoor entertainment complex Coachella Crossroads next month.
Toby Keith will be the first ever musical art to perform at Coachella Crossroads
Keith is set to make a stop at the venue in May for his nationwide tour "Country Comes to Town." His opening act will be country music singer/songwriter Jimmie Allen, best known for his hit songs Best Shot and Make Me Want To, according to a news release from the Twenty-Nine Palms Band of Mission Indians.
Keith's country music career has spanned decades with 19 studio albums released, two Christmas albums, and five compilation albums. He has raked in a total of 40 million albums sales worldwide and has charted 61 singles on the Billboard Hot Country Songs charts, including 20 number one hits and 21 additional top 10 hits. He's charted two number one hit songs, Beer for My Horses and As Good As I Once Was for as long as six weeks for both songs.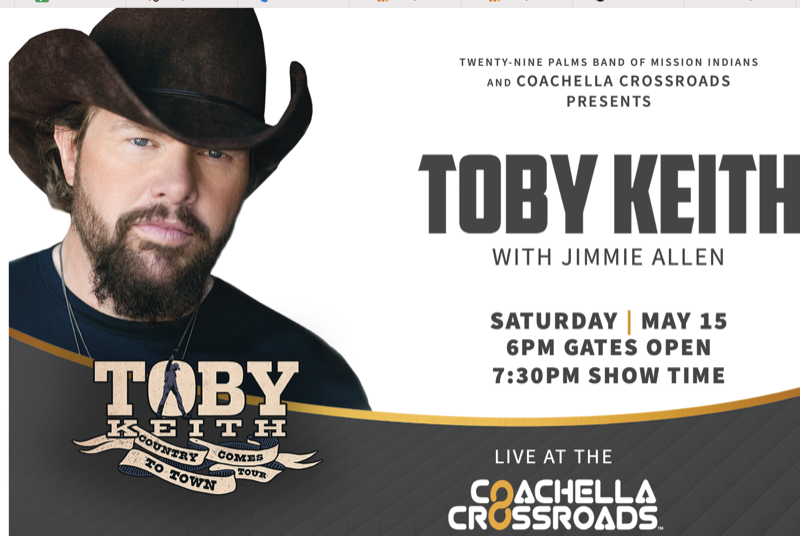 COVID-19 Safety Guidelines
The California Department of Public Health issued new guidelines for the conduction of outdoor live events, graduation ceremonies, amusement and theme parks. Live events will be allowed to resume when the rule takes effect on April 1, but only at 20% capacity.
Riverside County is also currently in the red tier – which means it is still an area of high risk for the spread of the virus. Under the new guidelines, there can only be in-state spectators. The capacity is expected to increase once Riverside County makes it into the orange and yellow tiers.
Coachella Crossroads may not adhere to the guidelines as it is located on tribal land and Native American tribes have sovereignty, but according to a statement from Chairman Darrell Mike in their news release, the tribe is working with local and state officials.
Officials for Coachella Crossroads have not yet responded to requests for comment on specific COVID-19 safety precautions, including whether masks will be required and how people would be distanced. The released statement from their Chairman Mike reads that the guidelines will be made clear as the event date approaches. "We will provide our community with pertinent information on concert preparedness, including what may be required beyond a ticket to enter festival grounds."
The press release also notes that while "the overall capacity of the event space is much higher," 10,000 tickets will be sold and 2,000 of them will be for close proximity seating.
This may be the first time that a music festival is being held at the venue, but several other festivals and cultural events have taken place in it since it was opened by the Twenty-Nine Palms Band in 2019.
People can buy tickets for the performance starting from 10 a.m. Wednesday, March 31. The ticket prices range from $65 for lawn seats to $175 for reserved seating. If you want more information concerning the event and tickets, visit coachellacrossroads.com.