Brad Paisley's Wife is Kimberly Payne Williams-Paisley an American actress born on September 14, 197. The talented actress is known for her co-starring roles on According to Jim and Nashville and Father of the Bride movies which brought her to the limelight in 1991. For her roles in these movies, Kimberly Payne Williams-Paisley was nominated for several awards. Four years down the line, she was still counting nominations and awards as she starred in the sequel Father of the Bride Part II in 1995.
Throughout her acting career, she has guest-starred on TV shows including Tales from the Crypt, George Lopez, and Less Than Perfect. Kimberly has also become a household name for her unique roles in made-for-TV movies, including Safe House, The Christmas Shoes, Lucky 7, Shade – a short movie that she wrote and directed. Kimberly Payne Williams-Paisley is married to country musician Brad Paisley, with whom she has two sons.
Seven Interesting Facts About Country Music Star, Brad Paisley's Wife. Kimberly Williams-Paisley Facts
1) What major movies brought Kimberly Payne Williams-Paisley into the limelight?
Kimberly became a sensation in the movie industry after co-starring roles on According to Jim and Nashville, as well as her breakthrough performance in Father of the Bride (1991) and its sequel, Father of the Bride Part II (1995).
2) How Did Country Music Star, Brad Paisley, and Kimberly first meet?
Our very own Brad Paisley first noticed actress Kimberly Williams on TV, while watching 1991's Father of the Bride with a former girlfriend. Interestingly, his supposed girlfriend was long gone by the time the sequel of Father of the Bride Part II came out in 1995.
In a 2009 interview with Good Housekeeping magazine, Brad confessed that he was drawn to Kimberly on the silver screen and that he thought, "She seems like a great girl, smart and funny and all those things that are so hard to find."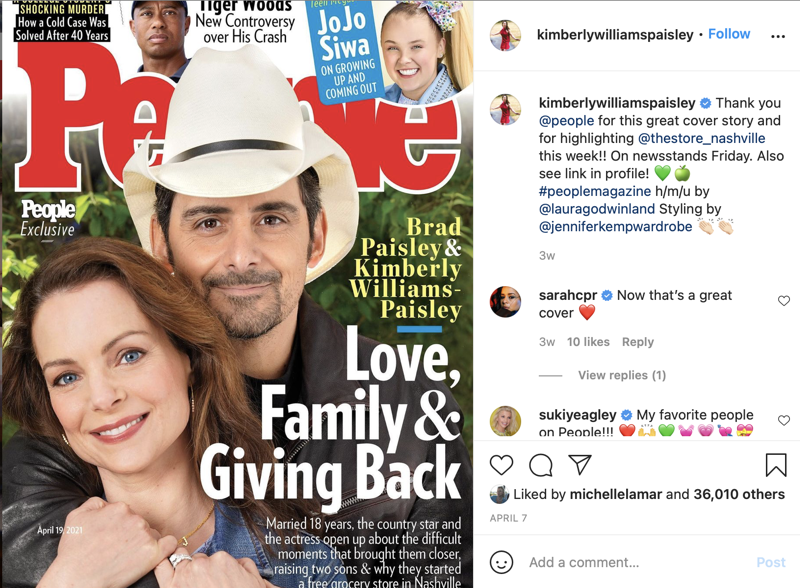 3) When did the two legalize their union?
Kimberly Payne Williams-Paisley walked down the aisle with Brad Paisley on March 15, 2003, at the Stauffer Chapel on the campus of California's Pepperdine University.
4) How many kids do they have?
At the moment, Kimberly Payne Williams-Paisley has two sons with Brad Paisley, William Huckleberry Paisley (born February 22, 2007), and Jasper Warren Paisley (born April 17, 2009).
5) Where was Kimberly Williams-Paisley born?
Kimberly Williams-Paisley was born on September 14, 1971, in Rye, New York. Kimberly has English, Welsh, German, and French ancestry.
6) What books has Kimberly Payne Williams-Paisley written?
The talented actress has taken her time to pen down a book titled Where the Light Gets In. Kimberly explains that the book details her mother Linda's battle with a rare form of dementia called primary progressive aphasia and the way her family came together as one to understand the disease and accept their mother's declining condition. Sadly, Linda (Kimberly's mother) passed on in 2016. In addition to the previous book, she has also written a children's book and has contributed immensely to several articles and major magazines.
7) What Charitable cause is Kimberly currently involved in within Nashville?
The couple opened a charitable store (The Store) a year before the covid-19 hit the world. For truth, it has helped several people including the young and the old in Nashville during this pandemic period.
Be sure to catch up on everything happening with country music. Come back here often for Brad Paisley news and updates.
Photo credit: Kimberly Williams-Paisley Instagram