Carrie Underwood Just Achieved Her Fifth Top Spot On Billboard Top Album Sales With Christian Country Music Songs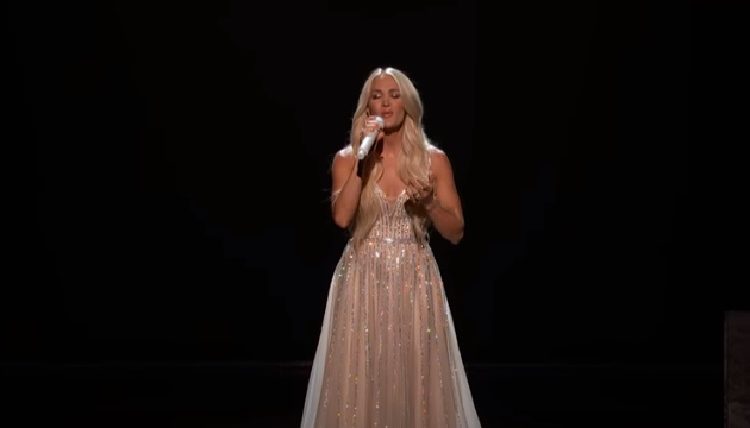 Carrie Underwood first charmed country music fans when she appeared on "American Idol."
Wide-eyed and naive, Carrie even managed to soften the heart of the Grinch among the judges, Simon Cowell. Even Simon grinned when Underwood won the ultimate American Idol prize.
Fast-forward to today. Once again, Carrie proves that she definitely deserved American Idol's top spot. Find out Carrie Underwood's newest country music achievement below.
Carrie Underwood Soars to Billboard Album Top Spot
The top spot on the Billboard Top Album Sales Chart plays an important role in the success of both individual songs and albums.
Now Carrie has done it again, nabbing her fifth Number One ranking on the Billboard Top Album Sales chart with the Christian album, "My Savior."
The Christian country music album dropped in late March through the Capitol Nashville/Universal Music Group Nashville. It took only days for "My Savior" to show Carrie's talent by soaring to the Number One spot.
The album's sales (68,000 copies in the U.S. in the week ending April 1) achieved two distinctions:
Carrie Underwood's "My Savior" won the second-biggest sales week of 2021.
"My Savior" also sold the most albums fronted by a female singer in 2021.
'My Savior' Shows Her Strength In Christian Country Music
While Carrie is skilled in all types of country music, Underwood is particularly strong in the Christian country music genre.
The "My Savior" album has special meaning for Carrie. Underwood shared that she has "always" longed to create a gospel album that combines country music with Christian songs.
Reflecting on how "My Savior" fulfills her dream of a country music gospel album, Carrie talked recently about how she grew up in church. That experience contributed to her Christian music achievements today.
"[Creating a country music gospel album] is something that I've always wanted to do," said Underwood. "I grew up on this music, it's such a pillar of who I am as a person but also as an artist."
And while we may know her first from her appearance on the American Idol stage, Carrie says that her first experience singing on stage took place at her church.
The country music songstress described churches as "such a warm, loving environment." And just like country music itself, churches offer a "supportive" community, added Underwood.
"I sang these songs when I was little and now as an adult, they hold such a higher purpose and deeper meaning for me singing those lyrics," said Carrie. "You never know who is gonna need whatever song it is you're putting out, whether it's something sassy or whether it's something really deep and meaningful."
Carrie Underwood Gives Thanks For Christian Faith
The Grammy Award winner shared how much she appreciates her own Christian faith. Carrie hopes that her Christian country music songs provide others with the "peace and comfort" that she finds in gospel music.
"I feel like when you do have something higher to look to you have hope," explained Underwood. "So even in the worst of times, you have something that you can cling on to and I am so thankful that my family grew up in church and now I'm surrounded by people that have faith."
Reflecting on her years as a country music singer, Carrie also gave thanks for her talent.
"We get to sing about our faith and it is welcomed, so I am just so lucky and blessed," she summed up.
Keep checking Country Music Lane for more Carrie Underwood news and daily country music updates.