Blake Shelton has reigned as the country music king for years. Then came "The Voice," a prime-time TV singing competition.
"The Voice" gave Blake a new challenge. Could Shelton use his country music experience to coach his team to victory over other singers?
We watched and cheered as Blake repeatedly achieved the winning "Voice" team. Now Shelton is looking back on 10 years and 20 seasons on "The Voice." Join us to see what Blake has achieved, and don't miss the videos!
Blake Shelton Takes Country Music Talent To 'The Voice'
For Shelton, working on "The Voice" has provided him with a wealth of opportunities. In the past 10 years, Blake has learned to mentor young and hopeful country music artists.
Beyond that, Shelton had the opportunity on "The Voice" to showcase his humor and interactions with other singers. Adam Levine, for example, provided the perfect match to Blake.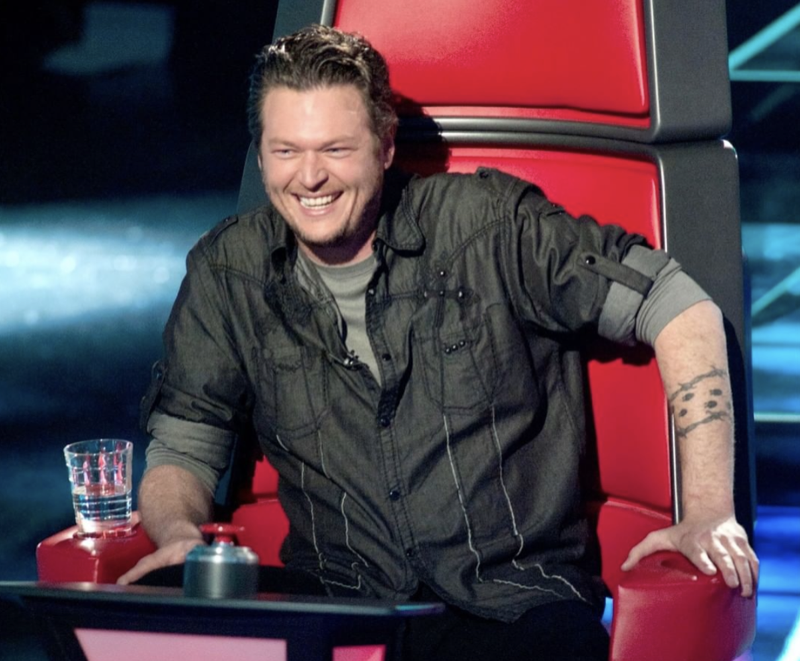 The Maroon 5 frontman and the country music king quickly became best friends. Their humorous exchanges delighted viewers, with Adam teasing Blake about his domination of the country music category.
And then there was Gwen Stefani. Shelton and Stefani, both recently divorced, became friends on "The Voice."
That friendship turned into true love. Blake and Gwen even created a country music duet. And now that they're engaged, Adam Levine proved that he's still Shelton's BFF by discussing the possibility of singing at Gwen's and Blake's wedding. Awwww!
Blake Shelton Has His Own Country Music Dance Moves
Shelton also was the star in "The Voice" episode airing May 3. That special show celebrated the the Voice's 10th anniversary.
Watch the video below to look at the highlights from all the seasons since the first episode in April 2011.
We've loved every season of The Voice, and Blake Shelton ranks high on our list of reasons. His determination to persuade all the country music singers to join his team has resulted in some OMG moments (remember when Shelton brought out a puppy to get a contestant to sign up for Team Blake?!).
When we talk about humorous moments on "The Voice," seeing Blake Shelton dance deserves an award.
Two of the current coaches, John Legend and Kelly Clarkson, put their own spin on Blake's dancing abilities.
"Blake has dance moves? No. We're not calling those dance moves," teased John.
Shelton's country music competition, Kelly Clarkson, agreed.
"Shufflin' Shelton — his shoulders go up and his face gets really gross. I don't know what it is," joked Kelly. "I don't know what's happening there. But it's funny!"
We'll leave it to Blake's BFF and former coach on "The Voice," Adam Levine, to sum up what Shelton's dance moves have contributed to the show.
"I don't think you've lived until you've seen Blake's happy dance," pointed out Adam.
Keep checking Country Music Lane for more country music news and concert details, and Blake Shelton updates.