Carrie Underwood, who is also a seven-time Grammy winner, has decided to go back to her roots and childhood days that are filled with church choirs and glorious gospel songs. Her latest project My Savior is her eight studio album and the first gospel album to be released by one of the highest selling country singers. She's already a giant force in music with 27 no. 1 hits, along with a debut single that debuted atop the hot 100 billboard chart making her the only country artist to achieve such a feat.
The album features thirteen tracks, with Underwood co-producing the album with David Garcia, who also co-produced her sixth album Cry Pretty.
As for Carrie Underwood, making a gospel album has always been something that she's wanted to do, saying that "It's a pillar of who I am."
What My Savior means to Carrie Underwood
Carrie Underwood, 38, appeared on Friday's episode of TODAY to discuss her new gospel album and what propelled her to release a full-length gospel album. My Savior is out this Friday and it is influenced by her childhood experiences.
"It's something that I've always wanted to do," Underwood commented on her very first gospel album, "I grew up on this music, it's such a pillar of who I am as a person but also as an artist."
The singer of Jesus, Take the Wheel said that the first time she ever performed music in front of a crowd was at her church, and that they are "such a warm, loving environment."
View this post on Instagram
"I sang these songs when I was little and now as an adult, they hold such a higher purpose and deeper meaning for me singing those lyrics. You never know who is gonna need whatever song it is you're putting out, whether it's something sassy or whether it's something really deep and meaningful."
She added that she hopes "people find some peace and some comfort in these songs."
She said that her faith has provided her with hope and something strong to cling onto. "I feel like when you do have something higher to look to you have hope," the country singer/songwriter explained. "So even in the worst of times, you have something that you can cling on to and I am so thankful that my family grew up in church and now I'm surrounded by people that have faith."
She further said that she feels she has an advantage as a country artist because they can "get to sing about our faith and it is welcomed, so I am just lucky and blessed."
The new album contains popular classics like How Great Thou Art, Amazing Grace, Softly and Tenderly, and I Surrender All.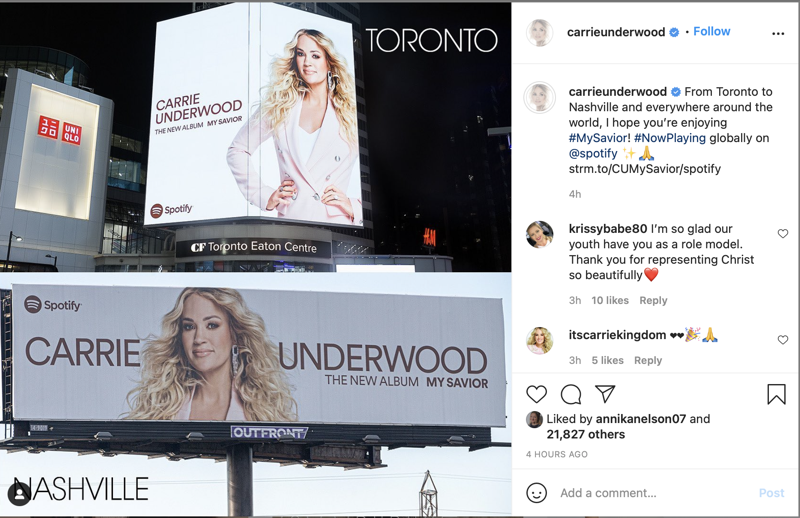 Free Concert on Easter Day
In honor of this album she's been yearning to do for years, she's throwing a free concert for the fans, and guess what, it's on Easter day. Easter's gotten a whole lot more interesting now, hasn't it?
She will be performing songs from the new album during a livestream event from the Ryman Auditorium in Nashville, Tennessee on Easter Sunday via her Facebook page. The performance will also cater to underprivileged children's needs by giving the donations raised during the event to Save The Children.
Be sure to catch up on everything happening with Carrie Underwood. Come back here often for Carrie Underwood news and updates.