Carrie Underwood, Luke Bryan 'Stay Fabulous' At Las Vegas Residencies In New Hotel [Watch the Video!]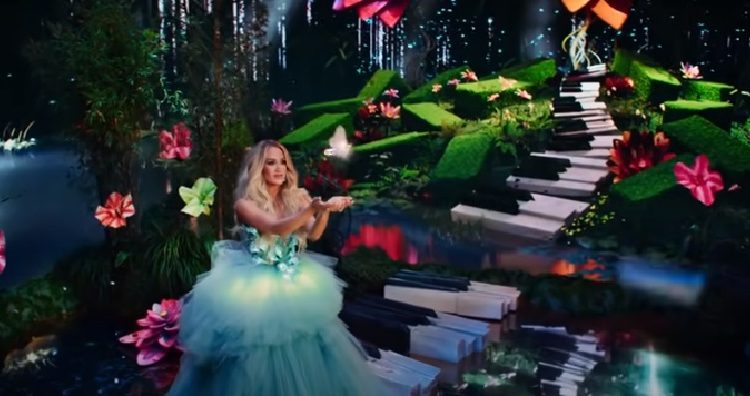 Get ready to sing, "That's My Night" by Luke Bryan, because it's going to be YOUR night to enjoy our favorite country crooners as they take up residencies in Las Vegas.
What happens in Vegas doesn't stay in Vegas when it comes to country music: Fans everywhere are ready to book their hotels to fly to Las Vegas for trips they'll hold in their hearts when they return.
Get the inside story, y'all, on how Carrie Underwood and Luke are going to "stay fabulous" at Vegas residencies in a new hotel! And don't miss the colorful, compelling video featuring BOTH country music artists!
Carrie Underwood Promised Instagram Exciting News: Now She's Fulfilling That Promise!
A few days ago, Carrie Underwood told her Instagram fans that she was "all aflutter with something exciting coming April 21!"
Some fans thought that the exciting news might be Carrie's first Las Vegas residency… and they were right!  Carrie subsequently returned to Instagram to update her fans on her news.
"I had so much fun working with @resortsworldlv and @celinedion @katyperry @lukebryan @tiesto @zedd! More info coming soon!!" wrote Underwood. "#ResortsWorldLV opens this summer. #stayfabulousvegas rwlasvegas.com"
View this post on Instagram
The "stay fabulous" hashtag resonates with the other singers who will take up residencies. In addition to Carrie, Celine Dion and Katy Perry will delight their own fans at the new Resorts World hotel in Las Vegas.
And Underwood isn't the only country music crooner to head to Las Vegas for a residency.
Country Music Superstar Luke Bryan Delights Fans with Las Vegas News!
Just like his country music pal Carrie Underwood, Luke Bryan turned to Instagram to thrill his fans with the news of his Las Vegas residency at the Resort World.
"Booking my trip to @resortsworldlv immediately!" wrote Luke in his Instagram caption. "Looks like a good time to be had in Las Vegas when the resort opens this June 24. Check it out on rwlasvegas.com #StayFabulousVegas #ResortsWorldLV"
Carrie Underwood, Luke Bryan Star In 'Stay Fabulous' Video: Watch!
Although the Resorts World Las Vegas hotel won't open until June, the luxury facility is offering a "Book Now" feature for country music fans. And you won't be alone if you decide to book early. According to the site, about 200 reservations have been made in the past week.
As for performances by our favorite country music singers, the hotel promises that The Theatre "will include two private lounges, special access bars and VIP opportunities…wrapped within our cascade of entertainment, starting with Dawg House Saloon."
Feel like you just can't wait until Carrie Underwood and Luke Bryan step on stage in Las Vegas? Then check out the "stay fabulous" promo video below!  Keep checking Country Music Lane for more Luke Bryan & Carrie Underwood Vegas news and updates.