Country Music news teases that you may have never heard of Troyal Brooks but what if we gave you his full name: Troyal Garth Brooks. That's better, everyone who isn't living under a rock knows who that it!
The mega-selling country hitmaker who goes by his middle name was born February 7, 1962 and is credited with changing the landscape of country music.
When the American singer and songwriter came on the musical scene in the 80's his unique blend of rock, pop and country music took the audience by storm and since then the consistent hitmaker has never looked back.
Garth Brooks Is a Multi-genre Star
Decades after his amazing debut Brooks is the only artist in music history to have released nine albums to achieve diamond status in the United States, besting the record set by the Beatles with six.
In case you want to check out those albums they are: Garth Brooks, No Fences, Ropin' the Wind, The Chase, In Pieces, The Hits, Sevens, Double Live, and The Ultimate Hits.
Brooks has released 23 records including 13 studio albums, two live albums, three compilation albums, three Christmas albums and four box sets, along with 77 singles. As you might imagine, with cred like that he has also won his fair share of awards!
Garth Brooks Is an Incomparable Hitmaker
Overall Garth has won two Grammy Awards, 17 American Music Awards and the RIAA Award for best-selling solo albums artist of the century in the U.S.
Despite his glittering and successful career, there was a time when Brooks felt it necessary to take a break from recording and performing.
He announced that he was retiring in 2001 and stayed mostly silent until 2005. Still, during this time, he sold millions of albums and released new singles here and there.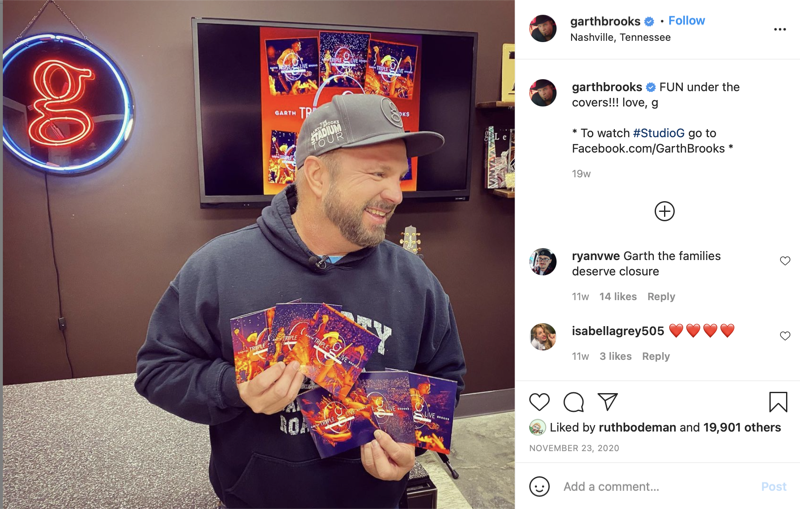 Garth Brooks Could Not Stay Retired
In 2005 Brooks initiated a partial comeback and in 2009 he began Garth at Wynn, a concert residency at Las Vegas' Encore Theatre which ran until 2014.
Then in 2014 the amazing hitmaker announced his signing with Sony Music Nashville and later that year launched a comeback world tour. His wife and fellow country musician Trisha Yearwood joined him and the sold out concerts lasted until 2017.
The fun wasn't over yet however, as he followed up the world comeback tour with his Stadium Tour in 2019. Garth continues to make music and his latest album is titled Fun and was released in November 2020.
Be sure to catch up on everything happening with country music. Come back here often for Garth Brooks news and updates.