Country hitmaker Jimmie Allen stepped on the dance floor of Dancing with the Stars this week with Emma Slater and paid an emotionally filled tribute to his late father.
This week, the remaining 13 contestants were asked to incorporate iconic Disney characters into their routine and to take part in the Mickey Mouse Dance Challenge, where they were tasked to copy famous Mickey Mouse moves into their dance routine.
Country Singer Jimmie Allen Praises His Late Father as His Hero
Contestants were further asked to honor their heroes, and Allen couldn't say enough about how his father's ideals were the reason he's living his dreams.
"When I think of heroes, I think of my Father," Allen emotionally shared during rehearsals for their Paso Doble. "He's the one that raised me on 'never make an excuse' and that's helped me so much with my career."
The "Make Me Want To" singer started to get emotional as he remembered his father's last days on Earth.
"He died in 2019 from Kidney failure. I definitely miss him everyday. So, I knew my Dad was going to die in the next day or so [at the time] and I was going to go to the hospital, but they said he was non-responsive, couldn't talk," Allen recalled. "So I was like, 'do I want to be in this hospital just watching him lay there like that?' So, I went to me and my dad's favorite fishing spot. For me, that was a peaceful way to remember my Dad and be okay just knowing that I was going to have kids he'll never meet."
Allen gave it his all to make sure that the dance is good enough to be dedicated to his father.
"If I botch this dance, I'm not dedicating it to my Father, but if I kill it… It's for my Dad. In the words of my Dad, 'get it done or don't,' and I want to get it done."
Allen and Slater, dubbed "Team Gemma" performed the Paso Doble stunningly, which was set to the tune of "I'll Make a Man Out of You" from the movie Mulan.
Thoroughly in character, the duo sported Mulan's signature battle robe, leaving the judges and audience in awe as they moved around the dance floor.
Jimmie Allen and Emma Slater's Dance Routine Praised for the Execution of Their Mickey Mouse Dance Challenge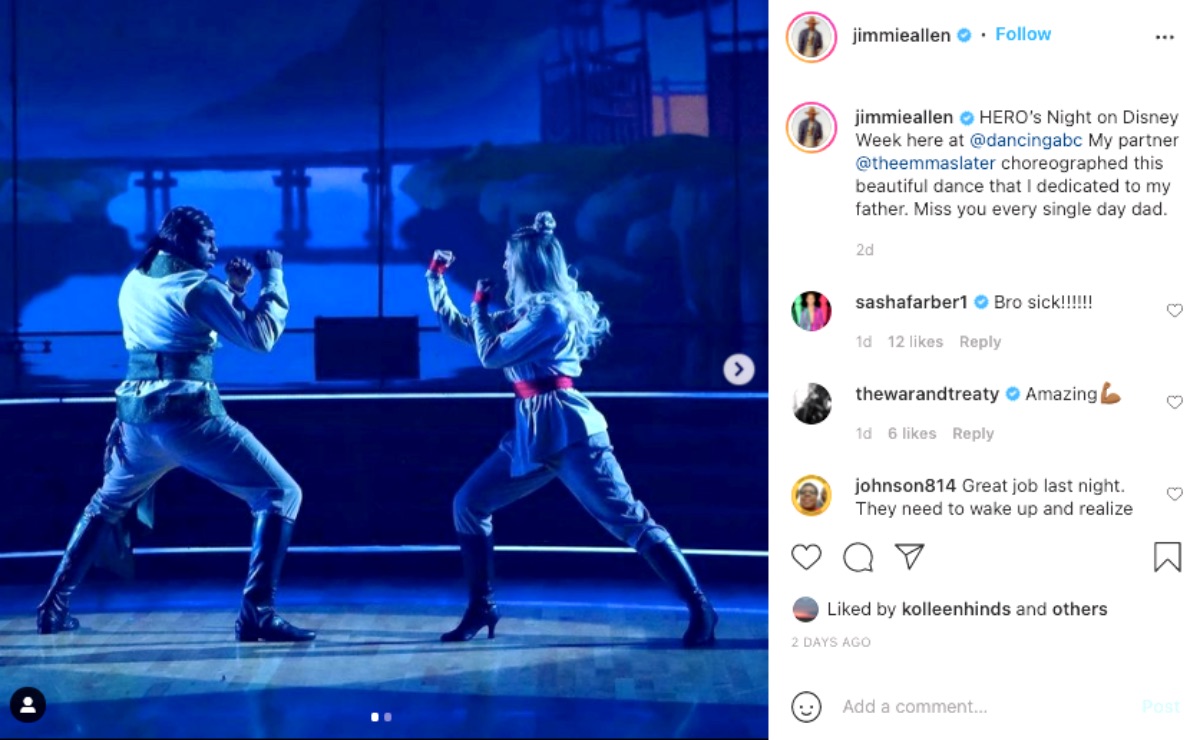 Jimmie Allen and Emma Slater's unique dance was praised for the passion it inspired.
"That was incredible, there was dignity, there was passion," Carrie Ann Inaba complimented. "I loved how you did the Mickey challenge. You added that spice… Everything about that dance made me feel… It was just delicious. I just loved it."
Len Goodman praised the pair's routine and also offered some criticism about its execution.
"The Paso Doble feeling for the dance, there was a little bit of walking around going on which I wasn't too keen on, however, what I really liked was the Mickey dance challenge," Goodman said. "That was right in character, full of passion, strength. Fantastic, well done."
Derek Hough described the performance as a "full music video" since Allen didn't miss a word in the song.
"Jimmie, what I'm so impressed about you with is your texture and your movement, the resistance when you move something you don't just hit it," Hough said. "You actually move through it, it looks just wonderful and also this is my favorite Mickey dance challenge so far. So well done brother."
"Are you auditioning for the live version on Broadway?" Bruno Tonioli cut in.
"I'm working on it…" Allen replied, before Tonioli said, "Carry on like this, you're going to get it."
Team Jemma ultimately earned a score of 30/40 with 8's from Inaba and Hough and 7's from Goodman and Tonioli.
New episode from Dancing with the Stars will air on Tuesday (Oct. 12) at 8/7c with performances inspired by Disney Villains.
Be sure to catch up on everything happening with Jimmie Allen right now. Come back here often for all Dancing with the Stars spoilers, news, and updates.