Country music songstress Miranda Lambert is famed for her emotional songs that have the power to cause her fans to become tearful. But recently, it was Miranda herself who broke down in tears as her country music fans watched.
Learn what made Lambert cry and her explanation to her TikTok fans below.
Miranda Lambert Tells Country Music Fans Exactly What Caused Her to Break Down In Tears At History-Making Concert
Years from now, country music history will include this milestone: Songstress Miranda Lambert performed at her very first concert following the beginning of the coronavirus pandemic — and she couldn't stop crying!
While fans were concerned to see their country music queen sobbing, Lambert herself actually felt no such sorrow. Miranda turned to TikTok to explain her tears to her fans.
"First show back. Love y'all," wrote Lambert in the caption of her TikTok video. Miranda included a big red heart to show her love for her country music fans.
Waving to her fans from the stage and trying to wipe the tears from her face, Lambert paused before explaining to her audience why she couldn't stop crying.
The 37-year-old explained that it was her first show back in more than a year after the coronavirus pandemic and lockdown began. Looking out over the crowd (which was carefully seated to maintain a social distance for safety), Miranda chose Billy Bob's Texas in Fort Worth, Texas, for her return to the stage.
Lambert's bandmates received hugs that showed her emotion. As the country music songstress performed "The House That Built Me," her happiness continued to shine through the tears.
"First show back in over a year. I missed y'all so much," noted Miranda in the video captioning.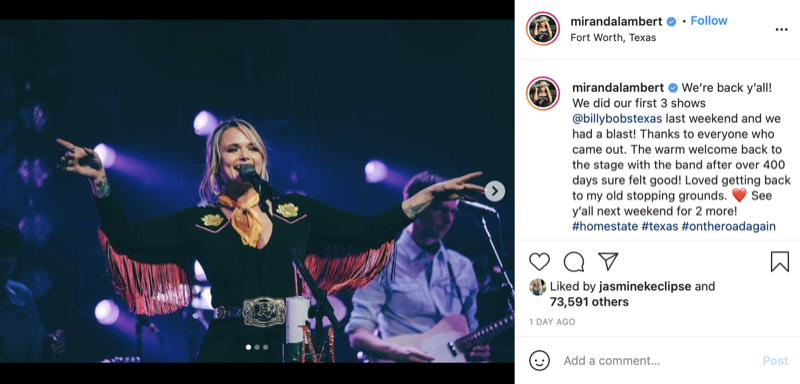 Miranda Lambert Reveals What Performing Means to Her: What's Next For Country Music Queen?
"No matter what I've ever done in my career and what I'm still gonna do, somehow I still feel most at home on a barstool under a neon sign. I walked in here, and I took a little tour around, and I just felt so at home," revealed Miranda to the audience. "I remembered why I do this and why I missed y'all's faces so damn much."
Lambert's country music fans returned her love. At one point, when Miranda's tears halted her ability to sing, the audience stepped in and even sang some of the lines for her.
And for those of us who couldn't make it to the performance, the country music queen has a special surprise. Lambert is teaming up with Jack Ingram and Jon Randall to drop a new album, The Marfa Tapes.
The album contains songs that Miranda penned during the coronavirus pandemic, and the country music singer views the album as her "burst of creativity."
Lambert also shared that she truly feels she has "the best job in the world." And when she doesn't write songs or perform, the country music songstress feels the difference.
During the pandemic, Miranda did take some time off from music.
"The first six months of 2020, I didn't write anything. I didn't do anything," Lambert recalled. "I painted and cooked. Like everyone else, I ate too much and tried out all the wine and found all the places we had it hidden."
But after that six-month sabbatical, Lambert "started to miss [country music songwriting] so much I was like, 'I need to create. I don't feel like myself.' That's where Marfa came in."
Miranda will release The Marfa Tapes next month to share the result of her "need to create" with her country music fans.
Be sure to catch up on everything happening with Miranda Lambert right now. Come back often for country music and celeb news and updates.
Image credit: Miranda Lambert Instagram & ABC Disney Media