Blake Shelton's BFF Reveals How He REALLY Feels About Country Music King Wedding To Gwen Stefani, and It's a Bombshell!
Blake Shelton is famed as both a country music king and coach on The Voice. In that latter role, Shelton also gained fame for a very different reason: His strong friendship with rock musician Adam Levine, who has enjoyed his own ride on the fame train as the lead singer for the band Maroon 5.
Now Blake's BFF (Best Friend Forever) is revealing how he REALLY feels about Shelton's upcoming wedding to Gwen Stefani. And it's definitely not what most of us would predict!
Blake Shelton Delighted Country Music Fans With Plans to Wed Gwen Stefani… But There's One Supposed Fan Who's Not So Thrilled
When Blake Shelton and Gwen Stefani revealed that they were engaged, their fans were thrilled. The two began their romance amid personal struggles: Blake had recently gone through a divorce from his now-ex wife Miranda Lambert, while Gwen had split from her now-ex husband Gavin Rossdale.
Initially, Shelton and Stefani sought to keep their romance private. But rumors soon soared that their friendship, which began when they were coaches on The Voice, had blossomed into love.
For once, the gossip mill was right, and Blake and Gwen are now planning their wedding. We'd assume that their friends are happy for them. But there's one person who recently served up some unexpected comments about his views on his BFF Blake Shelton planning to tie the knot with Gwen Stefani. And Adam didn't exactly choose the most private way to share his feelings.
Visiting Ellen DeGeneres' talk show recently, Levine announced that he does not feel that Blake and Gwen should get married.
"I don't support their marriage," Adam said on air during the broadcast.
Why not? Levine contended that the two are not equal partners.
"[Gwen Stefani is] so cool, and he's not," explained Adam about what he sees as a disturbing difference between Gwen and Levine's supposed BFF Blake.
Ellen tried to defend Shelton, describing the country music singer as "very funny and very smart."
But Adam didn't seem to agree, calling Blake "vaguely charming."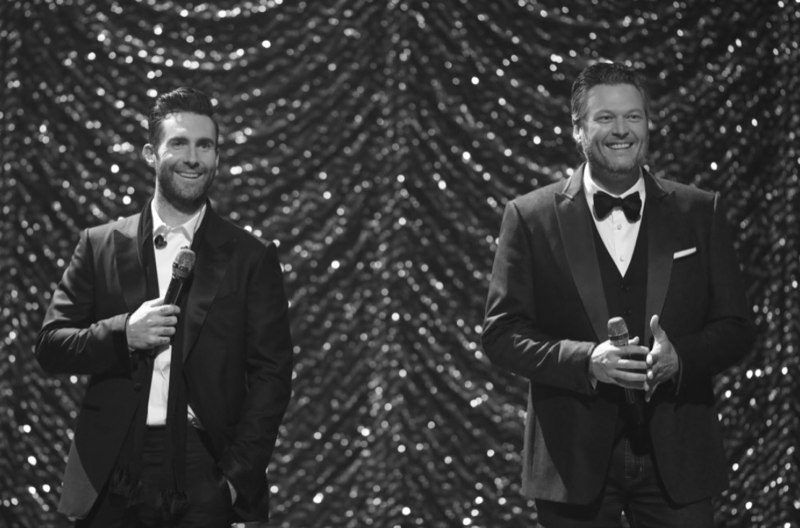 Will Adam Levine Perform At Blake Shelton and Gwen Stefani's Wedding?
Based on those rather rude comments about Blake tying the knot with Gwen, we might think that Adam has ended his friendship with Shelton and won't attend the wedding. Wrong.
Levine followed up his slams about Blake and Gwen marrying with a confession: He actually does miss seeing the country music singer as much as he did when they worked together on The Voice.
As for whether Adam might perform at the wedding? Levine revealed that he does plan to attend the ceremony, and joked that he might even object just to tease Shelton.
"I missed making so much fun of him," confessed Adam. "I'll go to the wedding and I'll object. I probably won't be invited now that I'm saying this on live television. But I'll be there somehow."
Earlier this year, Levine was interviewed by SiriusXM about Blake and Gwen marrying. At the time, he joked he would not perform at their wedding because the couple would not be able to pay him enough money.
"They can't afford me," teased Adam.
In reality, though, Levine admitted that Shelton and Stefani had not asked him to perform. And the friendship that fans enjoyed when Adam and Blake were coaches on The Voice appears to have survived Levine's exit from the show.
Adam said that he "would love" and feel "honored" to sing at the wedding.
"I was just texting with them. I love them so much," shared Levine sincerely.
And he revealed that he stays in touch with both Gwen and Blake via text messages, adding, "I just texted them 10 minutes ago just like 'I miss you guys. I love you guys.'"
Keep checking Country Music Lane for more country music news and concert details, and Blake Shelton updates.
Photo Credit: Trae Patton/NBC