Country news reveals that living legend Dolly Parton never fails to impress, whether it's with her acting, singing, humanitarianism or down home sense of humor.
She was a featured guest at UCLA's #WOW: Whole Health Includes Mental Health event on Thursday night and she had the audience cracking up with her wit which at times came at her own expense.
The Grammy winner appeared virtually and performed her song Light of a Clear Blue Morning. The event also featured soccer player Landon Donovan, filmmaker Ava DuVernay and actress Mindy Kaling.
Dolly Parton Says That Botox Makes Her Look Happy
The #WOW: Whole Health Includes Mental Health event was hosted by Friends star Lisa Kudrow and featured speakers from the mental health field including doctors and experts, plus plenty of well known celebrities.
At one point she said, "I'm often told I look so happy, but to be honest … that's the Botox. Well not all of it, but some of it anyway!"
She went on to say, "But seriously, we all experience moments of anxiety or depression at one time or another. I believe it's how we handle those moments that ultimately defines us."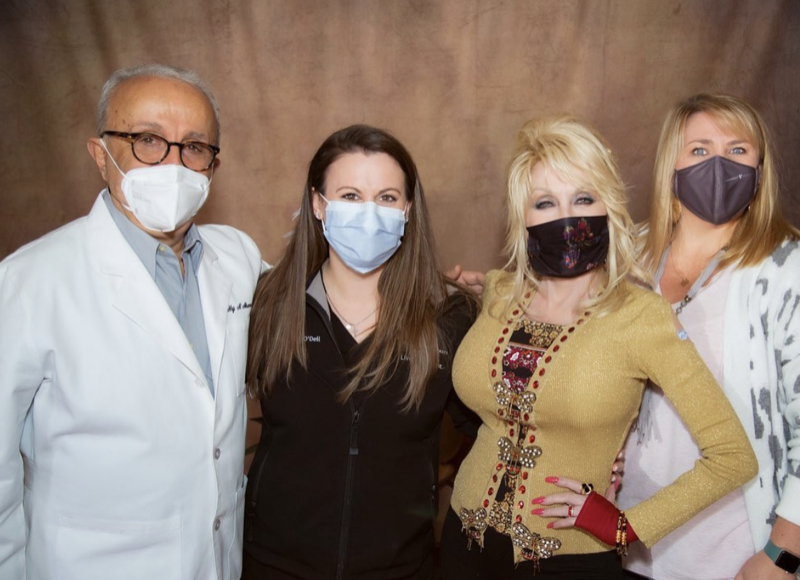 Dolly Parton Has a Great Sense of Humor
Dolly looked her usual stunning self for the event. Her blond locks were exquisite and flowing and her makeup was impeccable. She complemented her look with a dark gold top.
After speaking about mental health, she pulled out an acoustic guitar and performed Light of a Clear Blue Morning.
According to the organization's website, "#WOW aims to 'impart actionable, evidence-based solutions to improve whole health and well-being for you and your community and raise awareness around mental illness stigmas."
Dolly Parton is a Successful Singer and Actress
Dolly has long supported philanthropic endeavors so her participation at the event held to raise money for the UCLA Friends of the Semel Institute Research Scholars and UCLA Resnick Neuropsychiatric Hospital Board of Advisors Clinical Innovation Grants came as no surprise.
This year alone Dolly donated a million dollars to help fund Moderna's COVID-19 vaccine and her literary non-profit called Imagination Library has delivered over 150 million books to children.
Parton told GMA this week, "If you can read, you can self-educate yourself, and you're just lost if you can't. I just think it's important for children to learn to read in the early years, to learn to love books and all that, so I'm just so proud to have been a part of anything that's good and that's making life a little better for people."
Be sure to catch up on everything happening with country music. Come back here often for Dolly Parton news and updates.
Photo credit: Dolly Parton Instagram