Laine Hardy, the winner of American Idol's 17th Season released his first full-length album, Here's to Anyone, on Friday. In an exclusive interview with PEOPLE, the upcoming country artist talked about fighting his way through fleeting music competition fame to be able to make the music he loves.
Laine Hardy on Going from the Awkward Teen Who Won a Singing Competition to Performing at the Grand Ole Opry
Laine Hardy had to claw his way to the very top of American Idol, beating out other promising and talented singers, in order to come out the winner. And while the win is definitely nothing to sneeze at, Laine knows that the work is nowhere near done. He's proven himself to American Idol, now, can the 21-year-old prove himself to the wider world?
"I'm just really, really introverted," he told PEOPLE, following the release of his latest project, Here's to Anyone. The album is made up of 11 hearty songs, produced by Michael Knox. "But I'll get there."
He's accomplished quite a feat as of recently for him to be satisfied with where he is at the moment. Just last month, the singer made his Grand Ole Opry debut and performed alongside country music industry giants like his fellow American Idol alum Lauren Alaina and mentor Bobby Bones. The honor of that is not lost on him.
"It just feels like a dream to have been given that opportunity," Hardy remarked. "I know a lot of my influences growing up have stood on that wooden circle at the Opry, and to be able to stand in the same place, that's pretty cool. It was a dream of mine that I got to make true."
The attention that his music is beginning to get is also not making him too confident, as he quietly added, "There is good confidence and there is bad confidence."
Laine Hardy on Why He Doesn't Trust Himself Yet to Write His Own Songs
When it comes to songwriting, Laine admits that he'll rather just leave it to the professionals for now until he can trust himself with writing a great song.
Some of the songs do have influences from his childhood growing up in Louisiana and features Hardy's classic rock and traditional country influences.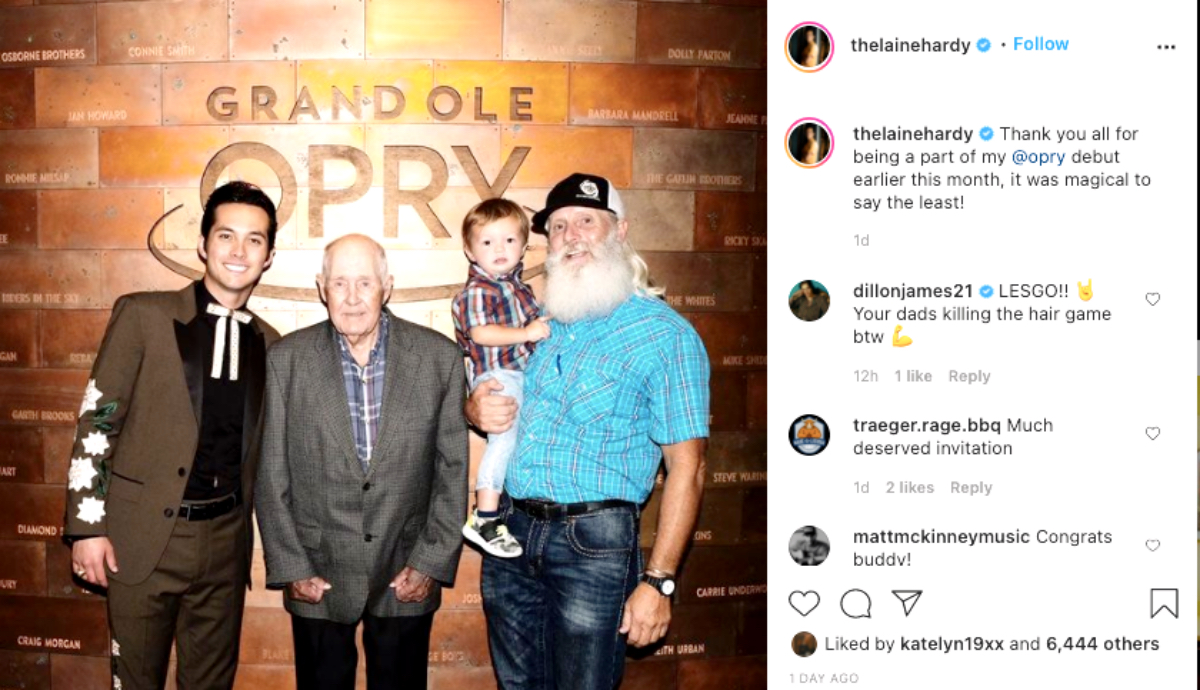 "I ain't too comfortable yet with releasing any original stuff I've written, because I want it to be okay," explains Hardy, who does have co-writing credits on album cuts "One of Those" and the impressive "Other LA."
"There are a lot of songwriters out of Nashville that are just so great, and they write these songs that tell these stories that really talk to me. And to be able to tell these stories out on the road and out on the streaming services and everything…I just feel grateful to be able to do that with these people's songs because it's their story too."
Hardy is currently on his Monster Energy Outbreak headlining tour.
Be sure to catch up on everything happening with Laine Hardy right now. Come back here often for all Laine Hardy spoilers, news, and updates.