Katy Perry, the new mom and busy 36-year-old popstar doesn't have time for shaving anymore as she'd rather cuddle with her first child Daisy Dove than pick up a razor. As for the Luke Bryan tease, the "Roar" singer clapped back at him saying that she "don't got time!"
Luke Bryan Tells Katy Perry To Do Something About Her Leg Hair
American Idol judges, Luke Bryan Tells Katy Perry recently got together on set to film the Mother's Day episode of the singing competition series on Sunday (May 9), when Bryan noticed something that probably wasn't any of his business and criticized Katy for it. He caught a glimpse of Katy's leg hair peeking through the white Toni Maticevski trousers she wore on the show that night and jokingly called out the 36-year-old singer/songwriter for not shaving her legs despite Katy juggling her music career with raising a daughter she shares with Orlando Bloom. The couple welcomed their first daughter Daisy Dove Bloom in August 2020.
"I know you're a mom and everything, but we got to do something about this leg hair," Luke Bryan commented with a laugh on a video that Katy recorded on her Instagram Story, which later zooms in on her legs, while Stevie Wonder's "Isn't She Lovely" plays in the background.
"No! I don't got time! I'd rather cuddle with my daughter!" Katy yelled back, adding weight to the response with the hashtag MOMSKNOW in the video. She also added a funny gif of a tired mom with her baby.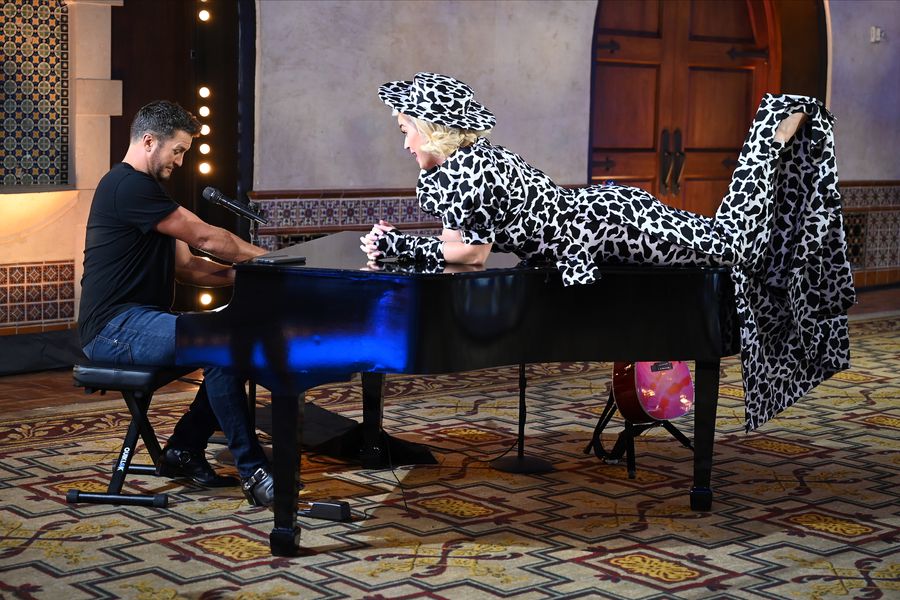 Who could blame the mom to 9-month-old Daisy who balances motherhood with her appearances on American Idol for not having time for tasks like maintaining a smooth leg.
In April, the "Dark Horse" singer told contestant Cassandra Coleman that she hasn't actually picked up a razor since she welcomed daughter Daisy. "As a new mother, I don't have very much time, so I have quit shaving my legs," Katy said at the time. "But when you sang, the hair on my legs grew an inch and a half. So, full-body chills."
Katy Perry Reflects On The Joy of Motherhood
Katy Perry revealed last month that motherhood is "the best job" in a virtual conversation with Bloom's ex Miranda Kerr. (Bloom and Kerr share 10-year-old son Flynn).
"It's the most fulfilling," she shared. "There was no feeling like the feeling when I had my daughter. That was like all the love I was ever searching for what like 'Bam.'"
"The love from your children is constant and unconditional and isn't based on what you have, what you don't have, what career, what product and that's definitely made me feel so full to know that there's this unwavering and unconditional love," Katy said. "I'm so glad I made the conscious decision to actually try and do that because I didn't want to miss out on that opportunity… It's been the best thing."
Be sure to catch up on everything happening withLuke Bryan . Come back here often for Luke Bryan news and updates.
Photo credit: ABC/John Fleenor