Jason Aldean stuck up for his wife when she recently received a lot of backlash for supposedly dragging her kids into her political views. Brittany posted pictures of her kids wearing anti-Biden T-shirts, and her country musician husband Jason Aldean defended her views from the hundreds of critics.
Jason Aldean Defends Wife's Views, Calls America "the Greatest Country in the World"
Jason Aldean took to Instagram to share his opinion on the controversial post shared by his wife. "I will never apologize for my beliefs or my love for my family and country," Aldean wrote Thursday alongside a photo of his silhouette in front of an American flag. "This is the greatest country in the world and I want to keep it that way. #unapologetic #phoenixwasfire"
Brittany Aldean shared a photo wearing a shirt that reads "Anti Biden Social Club". Another picture she shared showed the couple's children, son Memphis, 4, and daughter Navy, 2, wearing black shirts emblazoned with the message "Hidin' From Biden."
Aldean himself did not share his political views and was not pictured wearing anti-Biden merchandise, but he did comment on a picture of his son wearing one of the shirts, writing, "My Boy!"
When one Instagrammer accused Brittany of using her kids as "political props", Aldean fiercely defended his family.
"Watch ur mouth lady! We will teach our kids what we think is right and what we think is best for their future. If you think what is happening right now is 'great' for the future of our kids and grandkids, u are delusional!" When a commenter noted, "If you thought Trump's path for America was any better, you're delusional!," to which Aldean responded, "Definitely better than what we got now! Please tell me one thing that the current administration has done that is positive? Just 1!!!"
In the past, Aldean has opted to keep away from politics so as not to alienate a part of his fanbase, like many other country artists. In 2016, he told Rolling Stone that he wasn't able to vote in the 2016 presidential election and attributed it to his move and not being registered in the correct county.
When asked if he would have voted for Trump in the 2016 elections, he refused to disclose his opinion on that subject, instead saying, "I don't know if I'm going to cross that road with you. That's one subject I do stay away from. Politics is a no-win."
However, in August, during his first weekend resuming his tour after a 17-month break due to the coronavirus pandemic, Aldean told a concert audience, "The coolest thing right now is I'm looking out seeing all you guys, and I don't see one f—ing mask. I've had just about enough of that sh–."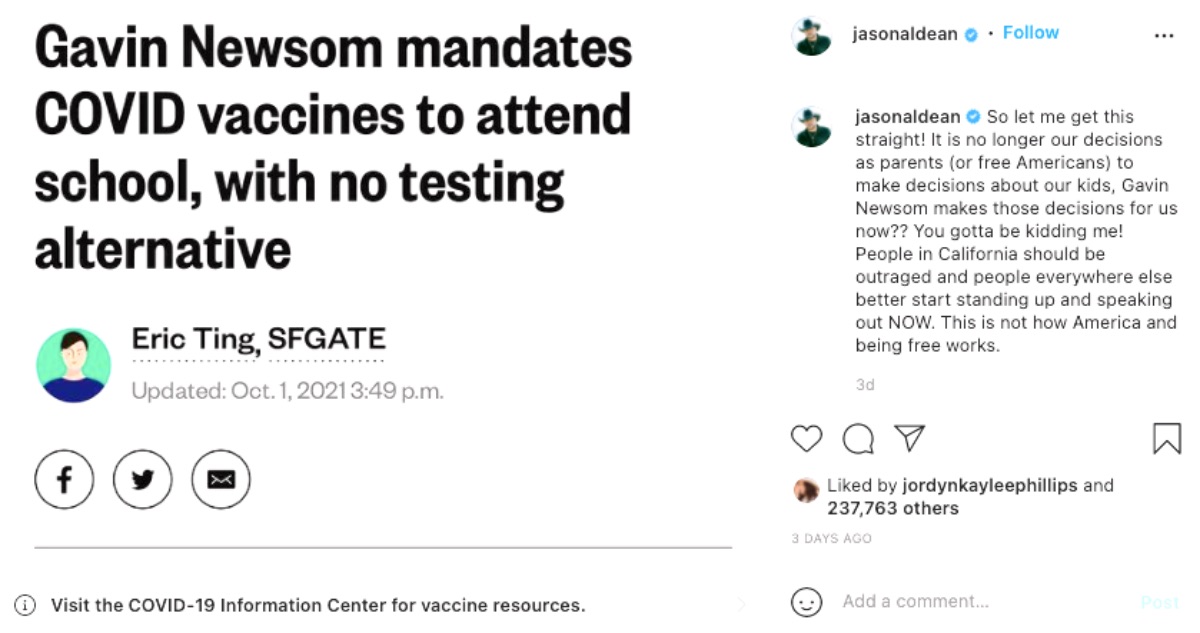 In August, Brittany, who has always been open about her political views, said in an Instagram Story, "I personally don't give a damn if people don't agree with me. I think it's important now more than ever to stand for what you believe, even if it goes against the grain. Do your research, and form your own opinion — speak out if you wish. But most importantly, don't bully people who feel differently than you."
Aldean's latest collaborative single with Carrie Underwood, "If I Didn't Love You", currently sits in the top five on Billboard's Country Airplay chart. He is set to release a 30-song double album "Macon, Georgia" next year.
Be sure to catch up on everything happening with Jason Aldean right now. Come back here often for all Jason Aldean spoilers, news, and updates.