Scott McCreery who first signed with Mercury Nashville fresh off his American Idol days has recently signed an exclusive, worldwide publishing agreement with Universal Music Publishing Nashville.
Scott McCreery And His Musical Career
McCreery rose to prominence when he won the American Idol in its tenth season, and has since thenreleased albums that are successful and has collected notable awards due to his musical works. The country music artist is a three-time BMI Award winner for being the writer of one of the top 50 songs of the year in 2015, with his hit song "See You Tonight," in 2018, he won with his song "Five Minutes," and in 2019 for "This is it."
Other awards include the NSAI Songwriter Award for One of the Top Ten Songs I Wish I'd Written for "Five More Minutes" in 2018.
So far he has released four studio albums and is a multi-platinum selling artist. The singer-songwriter has writing credits on all eleven songs from his most recent album. His debut studio album landed in the top spot of the Billboard 200 with 197,000 sales in its very first week.
The album was certified platinum on January 6, 2012, and its success led to him being the first country act to debut at number one with their first studio album. Another record he broke with his debut single is that at 18 years, he became the youngest man to open at the top of the chart with their debut release.
He's also enjoyed success in his other three albums, with singles from each album performing favorably.
McCreery also shares songwriting credit on his latest single "You Time."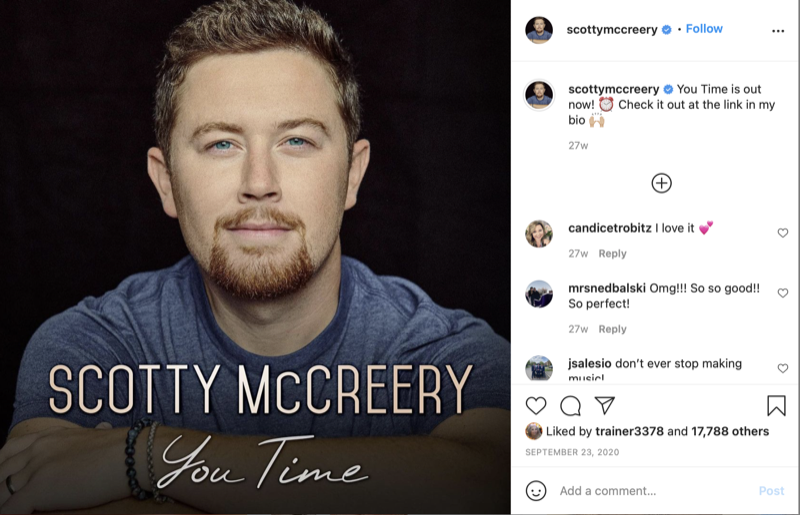 Scott McCreery News – Signing With Universal Music Publishing Nashville
Terry Wakefield, the Senior Vice President of A&R, UMPG Nashville issued a statement regarding the new deal they signed with the I Love You This Big singer, "We all watched as Scotty came into the scene as a high school athlete who simply loved to sing and entertain. He has now grown into one of country music's most consistent hit makers. We are thrilled to represent him and his songs."
"Writing songs is one of my favorite things to do," McCreery commented. "I've written nearly all my life, and since coming to Nashville ten years ago, I've had the opportunity to co-write with many talented songwriters in town who have both taught and encouraged me. Signing with Universal Music Publishing and working with Troy Tomlinson, Terry Wakefield, and all the great folks on their team is another big step in my songwriting journey. I am proud to call Universal Music Publishing my home."
McCreery is currently writing and working on his highly anticipated follow-up to 2018's acclaimed album Seasons Change, and the newest single "You Time" serves as its lead single. The song is written by McCreery, Frank Rogers and Aaron Eshuis. The track is produced by Rogers, Eshuis and Derek Wells, and as of now, the track has garnered more than 11 million streams since its release and is steadily making its way up the country charts.
McCreery is currently represented and managed by Triple 8 Management's George Couri and Scott Stem. WME's Nate Towne handles McCreery's booking.
Be sure to catch up on everything happening with Scott McCreery. Come back here often for Scott McCreery news and updates.