Pistol Annies, the group made up of Miranda Lambert, Ashley Monroe, Angaleena Presley, debuted in 2011 and split up in 2013. In 2017, the group reunited to record an album released on November 2, 2018. The album, Interstate Gospel, is currently the last album released by the trio.
Pistol Annies to Release Their First Christmas Album
Pistol Annies cunningly held the news long enough to thrill fans with the latest announcement. Now, fans are looking forward to celebrating the upcoming holiday with some new Christmas tunes. The news was announced via the group's official social media channels on Thursday.
The Christmas album, titled "One Hell of a Holiday", will be dropping on October 22.
"It's gonna be a Hell of a Holiday y'all! Our first Christmas album will be out Oct 22," the group wrote on social media, concluding the happy message with two hearts and one Christmas tree emoji.
The project will be made up of 13 songs and the lead single "Snow Globe" is now available worldwide.
The rest of the tracks are as follows: "Hell of a Holiday," "Harlan County Coal," "Come on Christmas Time," "If We Make It Through December," "Make You Blue," "Leanin' on Jesus," "The Only Thing I Wanted," "Believing," "Happy Birthday," "Sleigh Ride," "Joy" and "Auld Lang Syne."
Country singer Maren Morris was amongst the many who expressed their joy on hearing the news, "Y'all are gonna make me like Christmas music."
Before the big reveal, the group teased fans to expect something big from them soon. "We've been thinking about…finally sharing the news we've been holding onto for months early tomorrow morning. Whew," they wrote on Wednesday, adding a fire emoji. "We've had a hell of a time holding this one in."
The Grammy-nominated group recently celebrated their 10-year anniversary as Pistol Annies.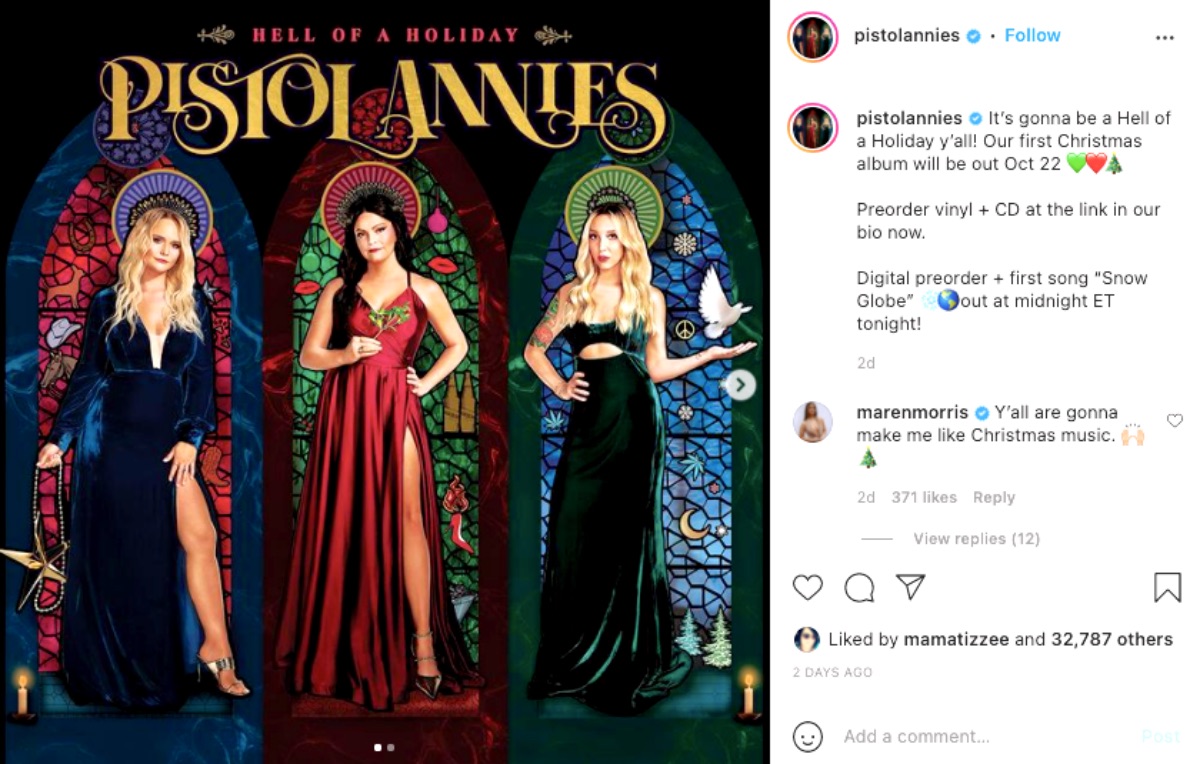 The trio have been through a lot in their personal lives and have worked on solo musical projects since their 2018 album. Lonestar Annie (Lambert), 37, married Brendan McLoughlin in January 2019, and released a collaborative album "The Marfa Tapes" in May.
Hippie Annie (Monroe), 35, recently put out an EP of cover songs with Tyler Cain called The Covers. She also began receiving chemotherapy treatments this summer after being diagnosed with blood cancer in July.
Holler Annie (Presley), 45, welcomed her second child daughter Phoenix Joolena, in January 2019.
Be sure to catch up on everything happening with Pistol Annies right now. Come back here often for all Pistol Annies spoilers, news, and updates.