Jimmie Allen headlined this year's Secret City Festival. The singer, who signed to Broken Bow records and released his first single "Best Shot" in 2018, is also a contestant in this year's Dancing with the Stars. Allen, along with special guest Josh Kiser, performed to an enthusiastic audience on Friday, September 24.
He got the crowd jumping and singing along with him as he performed some of his hit songs on stage.
Jimmie Allen Rocks the Stage During His Friday Performance
After Kenn, a Cleveland, Tenn. native, opened Friday's concert with some bluesy country songs, the crowd moved in front of the stage in anticipation of Allen's arrival. When he took the stage, the fans simply lost it, and even though the crowd was at half capacity because of COVID-19 guidelines, it didn't sound like it.
"I am very sore, from practicing for 'Dancing with the Stars' this morning," he told the crowd. "I have a new respect for dancers."
Allen then went on to show off some of his dance moves, which, along with his soulful voice and the band's energy, got the crowd pumped.
Jimmie Allen's Musical Achievements
Since his official debut in 2018, Jimmie Allen has gone from strength to strength. "Best Shot", his first official single, became a Number One hit on the Billboard Country Airplay chart in November 2018, making him the first black artist to send his debut single to the top of the chart. Allen also became the first black solo performer to win New Male Artist of the Year at the 2021 ACM Awards (he also performed a duet with Brad Paisley at the event).
Last year, Allen, 36, released the collaboration project "Bettie James," featuring Brad Paisley, Darius Rucker, the Oak Ridge Boys, Noah Cyrus, Mickey Guyton, Tim McGraw and other musical artists.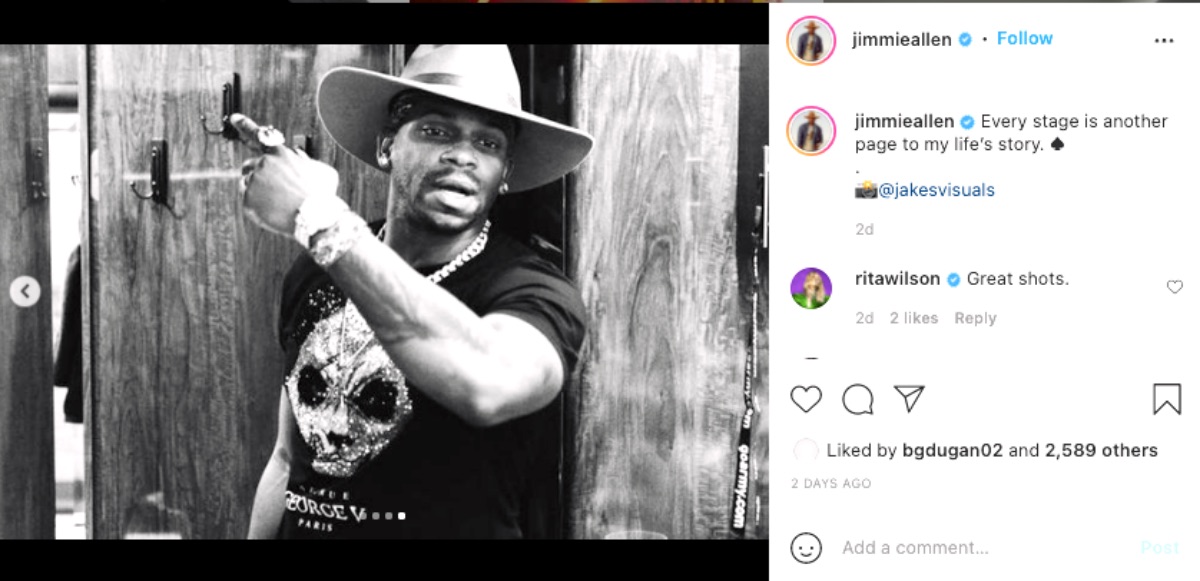 In June, he released a follow-up to his successful 2020 full-length project, "Bettie James Gold Edition." It featured nine new songs, with additional collaborations from Babyface, Keith Urban, Little Big Town, Neon Union, Pitbull, Monica, LANCO and others.
His latest single, "Freedom was a Highway," also features Brad Paisley. Allen appeared as a special guest this summer on Paisley's tour.
Be sure to catch up on everything happening with Jimmie Allen right now. Come back here often for all Jimmie Allen spoilers, news, and updates.